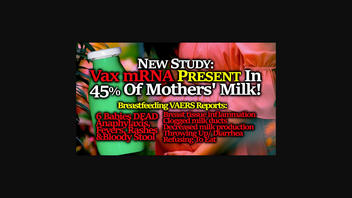 Did six babies die after drinking breast milk that contained traces of a mRNA COVID-19 vaccine? No, that's not true: There is no evidence to support such claims and alleged cases are unverifiable. In September 2022, vaccine skeptics misrepresented a research letter published in the medical journal JAMA Pediatrics to seed doubt about the safety and efficacy of COVID vaccines. They also claimed that six infants died after drinking breast milk from their vaccinated parents. Each of these cases was said to have been documented in the Vaccine Adverse Event Reporting System, a national safety-alert program for vaccines.
The claim appeared in a September 26, 2022 post on the self-publishing website Substack (archived here). It opened:
After millions of pregnant & breast-feeding women were urged incessantly to take the controversial mRNA shots, we are FINALLY being told by a JAMA publication that the vaccines are passed through the breast milk to the baby. Many pregnant, breast feeding & future mothers were COERCED & FORCED to take these shots and subject their current and future babies to possible deleterious effects. They deserve justice. ...

According the the US HHS's VAERS system, at least 6 babies have been reported DEAD after drinking their mothers' vaccinated breast-milk.
This is what an image with the post looked like at the time of writing: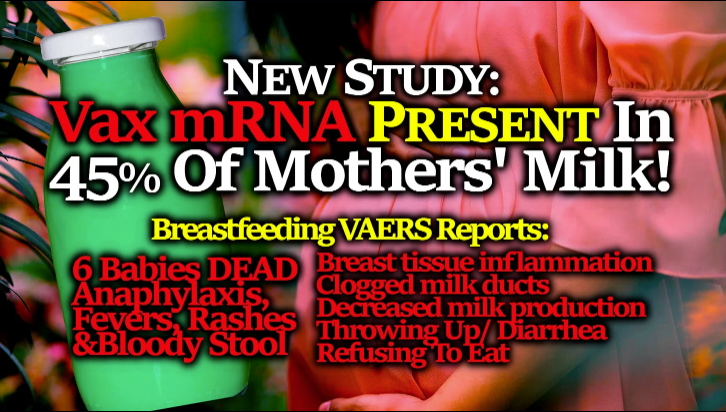 (Source: Substack screenshot taken on Wed Sep 28 18:41:05 2022 UTC)
This claim is related to a previous allegation fact-checked by Lead Stories about a research letter, or a description of a study's results, published in JAMA Pediatrics. That claim said that breastfeeding was unsafe for babies the first two days after their mother received a COVID vaccine since traces of mRNA had been found in breast milk. However, the research letter itself said that "breastfeeding after COVID-19 mRNA vaccination is safe."
Lead Stories contacted JAMA research letter co-author Dr. Nazeeh Hanna to determine the extent to which trace amounts of vaccine in breast milk may be of concern. In an email sent on September 30, 2022, Hanna wrote that the paper was "misrepresented in many social media posts." For example, his team was "not sure if this trace amount is even biologically active," meaning that there is not an established connection between exposure to trace amounts of COVID vaccine in breast milk and adverse health effects.
Using the JAMA paper, social-media users claimed that the deaths of six babies were recorded in the Vaccine Adverse Event Recording System (VAERS). The system, however, includes self-reports, which means that VAERS information is anecdotal evidence that has not been verified by medical experts, such as to determine whether there was actually mRNA present in the breast milk and if so, at what level. "The report of an adverse event to VAERS is not documentation that a vaccine caused the event," information on the system's website states.

The Centers for Disease Control and Prevention, which co-manages VAERS with the Food and Drug Administration, cautions that:
Anyone, including healthcare providers, vaccine manufacturers, and the public, can submit reports to the system. While very important in monitoring vaccine safety, VAERS reports alone cannot be used to determine if a vaccine caused or contributed to an adverse event or illness. Vaccine providers are encouraged to report any clinically significant health problem following vaccination to VAERS even if they are not sure if the vaccine was the cause. In some situations, reporting to VAERS is required of healthcare providers and vaccine manufacturers.

VAERS reports may contain information that is incomplete, inaccurate, coincidental, or unverifiable. Reports to VAERS can also be biased. As a result, there are limitations on how the data can be used scientifically. Data from VAERS reports should always be interpreted with these limitations in mind.

(Bold added by Lead Stories)
As millions of vaccines are given to children under the age of 1 each year in the U.S., it can be difficult to say definitively whether a self-reported event was related to a particular vaccine.
Text on the VAERS website states:
A report to VAERS generally does not prove that the identified vaccine(s) caused the adverse event described. It only confirms that the reported event occurred sometime after vaccine was given. No proof that the event was caused by the vaccine is required in order for VAERS to accept the report. VAERS accepts all reports without judging whether the event was caused by the vaccine.
Lead Stories contacted the CDC and the Department of Health and Human Services, which operates the CDC, for comment, but did not receive a response by the time of this fact check's publication. If a response is received, we will update the article accordingly.