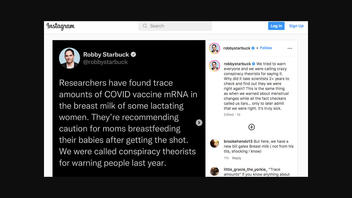 Do the trace amounts of COVID-19 vaccine mRNA found in breast milk during the first two days after vaccination make it unsafe for babies? No, that's not true: There's no evidence to suggest breastfeeding after COVID mRNA vaccination should be avoided. While some vaccine skeptics have used a research letter published in JAMA Pediatrics to warn against COVID shots, the paper itself says "breastfeeding after COVID-19 mRNA vaccination is safe."
The claim appeared in an Instagram post on September 26, 2022. It opened:
Researchers have found trace amounts of COVID vaccine mRNA in the breast milk of some lactating women. They're recommending caution for moms breastfeeding their babies after getting the shot. We were called conspiracy theorists for warning people last year.
This is what the Instagram post looked like at the time of writing: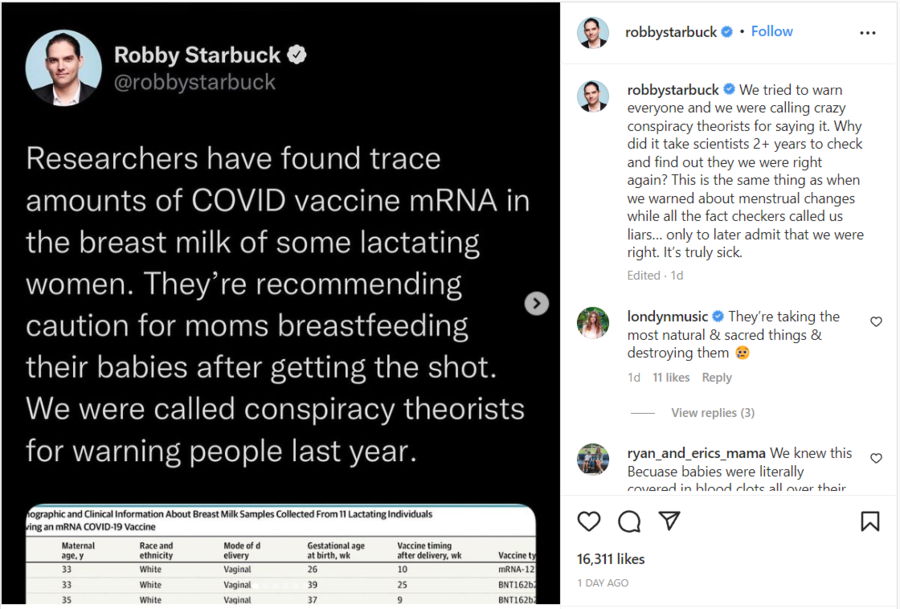 (Source: Instagram screenshot taken on Wed Sep 28 18:41:05 2022 UTC)
When asked whether the social media post accurately represents his work, paper co-author Dr. Nazeeh Hanna said this in a September 28, 2022, email to Lead Stories:
I don't think so. I hope people read the article, not the [Instagram post].
Hanna is a professor of pediatrics at NYU Long Island School of Medicine and is also the chief of neonatology at NYU Langone Hospital-Long Island.
The Centers for Disease Control and Prevention recommends COVID-19 vaccination for all people 6 months and older, including those pregnant or breastfeeding:
Evidence continues to build showing that COVID-19 vaccination before and during pregnancy is safe, effective, and beneficial to both mother and baby. The benefits of receiving a COVID-19 vaccine outweigh any potential risks of vaccination during pregnancy. ...

CDC recommends that people who are breastfeeding get vaccinated and stay up to date with their COVID-19 vaccines, including getting a COVID-19 booster shot when it's time to get one.
The research paper by Hanna and others was very limited in its scope. It only included 11 lactating individuals. Hanna told Lead Stories that more studies will be needed:
We believe breastfeeding is safe because we detected trace amounts of the vaccine in milk samples. However, we did not test the possible cumulative vaccine mRNAs exposure following frequent breastfeeding in infants as they feed every 3-4 hours. ... So to be cautious, lactating women can decide if they want to stop breastfeeding for two days after the vaccination (there was no vaccine detected after 48 hours in the milk). This will guarantee no exposure to the baby till more safety studies are done for infants less than 6 months of age.
Additional Lead Stories fact checks related to COVID vaccines can be found here.