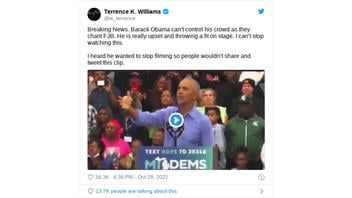 Was former President Barack Obama interrupted by uncontrollable chanting of "Fuck Joe Biden" during a campaign rally in Detroit, Michigan, on Saturday, October 29, 2022? No, that's not true: A video included on social media posts making the claim was altered to add the loud chanting to Obama's reaction to a single heckler during the speech.
The claim appeared in a tweet (archived here) posted by comedian-commentator Terrence K. Williams on October 29, 2022. The text introducing the altered video read:
Breaking News. Barack Obama can't control his crowd as they chant FJB. He is really upset and throwing a fit on stage. I can't stop watching this.

I heard he wanted to stop filming so people wouldn't share and tweet this clip.
This is what the post looked like on Twitter at the time of writing:
(Source: Twitter screenshot taken on Sun Oct 30 03:28:21 2022 UTC)
Another tweet used the same video to claim that "Obamy can't control crowd as they chant FJB FJB."
I can't quit watching this. Obamy can't control crowd as they chant FJB FJB. 🤣😂🤣😂🤣😂 pic.twitter.com/vMeZIRBsRT

-- Larry Andress #justheretolaughpatriot (@LarryAndress2) October 29, 2022
Here is a longer unaltered segment of the speech shared on YouTube:
The New York Times provided the context for what happened in the real video, in an article titled Barack Obama Lamented the Attack on Paul Pelosi. Then He Got Heckled.
In the first incident, less than 10 minutes after Mr. Obama took the stage, a man in the crowd shouted at him while he was lamenting Friday's attack on Speaker Nancy Pelosi's husband, Paul Pelosi, and the rise of violent political rhetoric.

"We've got politicians who work to stir up division to try to make us angry and afraid of one another for their own advantage," Mr. Obama said. "Sometimes it can turn dangerous."

Moments later, the man, who was not identified, shouted "Mr. President" at Mr. Obama, creating an off-script exchange that the former president tried to use to drive home his point. The rest of what the man said was not picked up by microphones or cameras.

"This is what I mean," Mr. Obama said. "Right now, I'm talking. You'll have a chance to talk sometime."
At no point in the video of the event did Obama appear to be "really upset" nor did the crowd appear to be out of control.