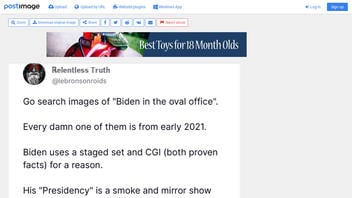 Are there no pictures of President Joe Biden in the Oval Office in 2022, and does this prove he is not really president? No, that's not true: Numerous pictures and videos of Biden in the Oval Office during 2022, shot by professional photographers, exist online. For instance, on October 26, 2022, the date of this fact check, the news agency UPI released a White House press pool photo of Biden meeting with Israeli President Isaac Herzog in the Oval Office. C-SPAN, the public-service broadcaster, posted a live video of the meeting.
The claim about the 2022 Biden photos appeared in an Instagram post on October 24, 2022. The post opened:
Go search images of 'Biden in the oval office'. Every damn one of them is from early 2021
Here is how the post appeared at the time of this writing: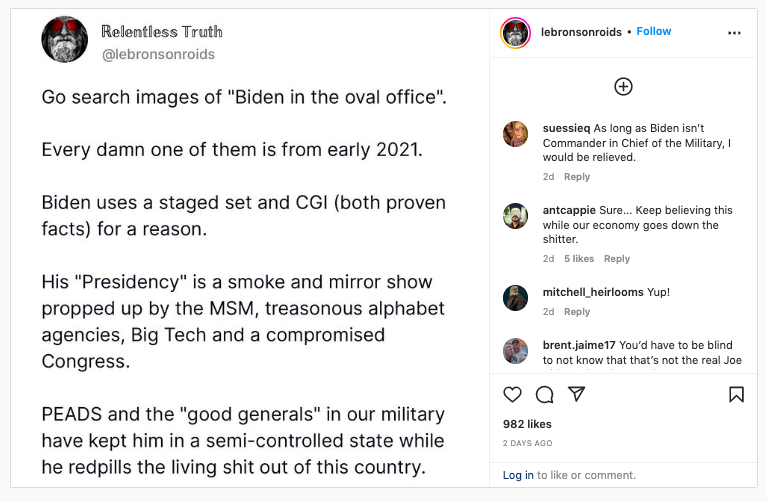 (Source: Instagram screenshot taken on Tues Oct 26 2022 18:45:37 2022 UTC)
Although the president also works in other rooms in the White House, the Oval Office is the standard setting for meetings with heads of state, cabinet members or even members of the press.

Biden met with Qatari Emir Sheikh Tamim bin Hamad Al-Thani on January 31, 2022, in the Oval Office. A Reuters photographer took the photo.
On March 17, 2022, Biden met virtually with Irish Prime Minister Micheal Martin in the Oval Office. A Reuters photographer took that photo too.
On September 16, 2022, the Associated Press, one of the largest photo sources in U.S. media, released a photo of Biden shaking hands with South African President Cyril Ramaphosa in the Oval Office.
Readouts (summaries) of Biden's meetings and conversations, whether in or out of the Oval Office, can be found on the White House's official website, which also includes pooled reports from those journalists who travel with the president.
On Facebook, Twitter and Instagram, official White House social media accounts usually provide daily updates about Biden's activities, whether in or out of the Oval Office.
Additional Lead Stories fact checks of claims about photos of President Biden can be found here and here.