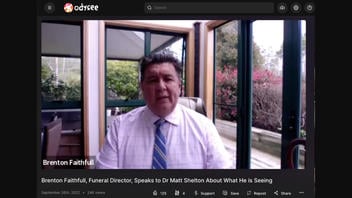 Does a New Zealand funeral director's statement that 95 percent of the corpses he sees had been vaccinated against COVID-19 prove that vaccines are causing mass death? No, that's not true. This claim was drawn from anecdotal observations that did not account for consequential variables, nor were these observations independently confirmed or corroborated by published or official data. With more than 80 percent of New Zealand's population vaccinated against COVID, deaths of vaccinated persons would be a common coincidence. Lead Stories further determined that at the time of publication, the man in the video is not affiliated with either of New Zealand's professional organizations that represent funeral homes and their directors.
The claim originated in a video published to the open-source video-sharing website Odysee on September 26, 2022, (archived here) by the account New Zealand Doctors Speaking Out With Science. (A shorter clip was published the following day, which we have archived here.) Brenton Faithfull, a self-described 41-year funeral director from New Zealand, was interviewed by a person identifying himself as Dr. Matt Shelton, but who opened the video with a caveat that he was not speaking with any medical authority or providing medical advice. New Zealand's registry of doctors lists only one Matt Shelton, whose certificate to practice was suspended by the Medical Council of New Zealand in 2021 for spreading anti-vaccine messages.
Below is a screenshot of the video as it appeared at the time of writing: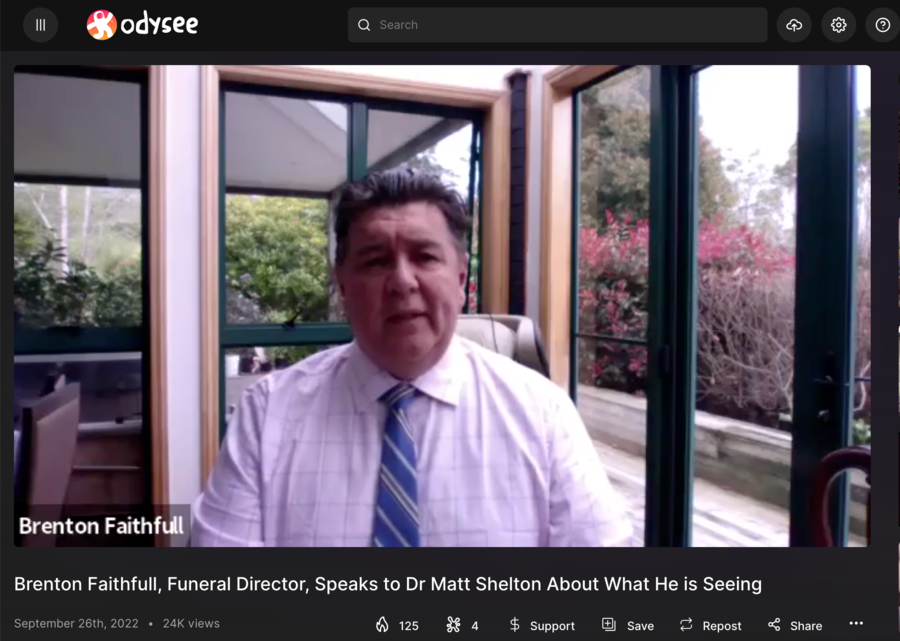 (Source: Odysee screenshot taken on Weds Oct 26 22:49:22 2022 UTC)
On October 20, 2022, The Epoch Times published claims made in the Odysee video in an article (archived here) titled, "95 Percent of Corpses Had Received COVID Vaccination Within 2 Weeks of Death: Funeral Director." The article read, in part:
A funeral director from New Zealand says that 95 percent of the corpses he has been seeing had received a COVID-19 vaccine within two weeks of their passing away.
At the time of this publication, it appeared that The Epoch Times had removed its original story. Below is a screenshot of how it appeared on October 24, 2022: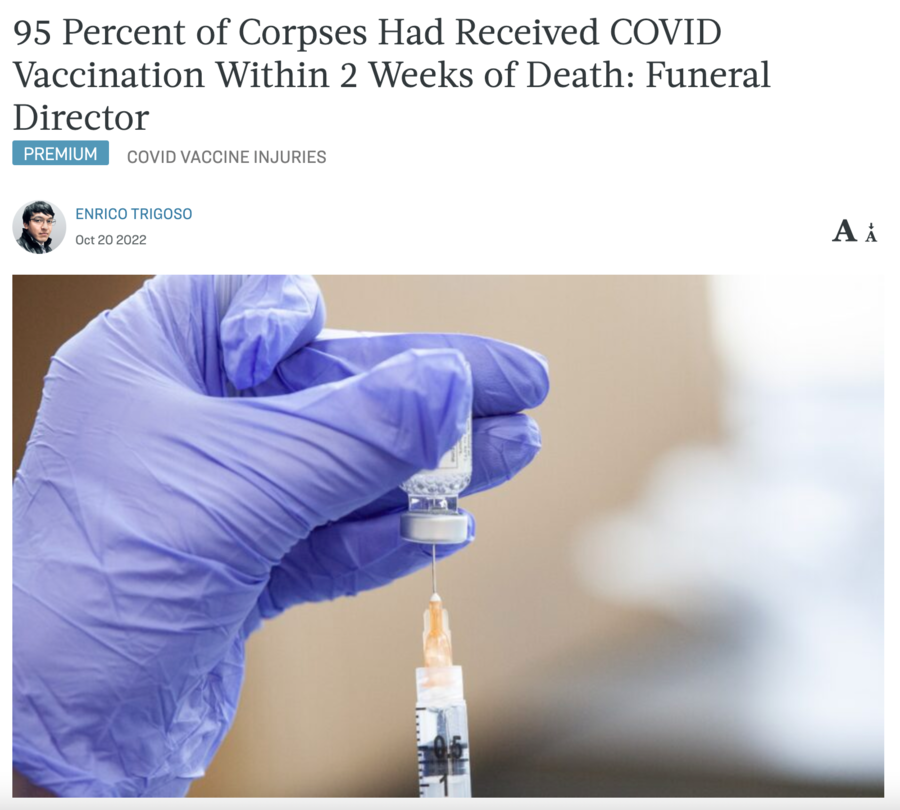 (Source: Epoch Times screenshot taken on Mon Oct 24 12:03:45 2022 UTC)
Lead Stories transcribed a portion of the 43-minute interview with funeral director Faithfull below, which was also included in The Epoch Times reporting:
Ninety-five percent of the people who have passed away through the work that I've done have been vaccinated within two weeks.

...

It's very obvious, they die within two weeks of receiving the vaccination, a lot of them... almost appear to have died from anaphylaxis, almost a reaction straight away to the booster. They die the same day, the following day after receiving the COVID-19 vaccination. This isn't a one-off case, this is the majority of cases that have come through our facility as well. It's not a question we would normally ask the families.
Faithfull added that vaccine records are "private information" and "often that information has been freely given to us," which Epoch Times omitted from its reporting.
Our World in Numbers, an Oxford University online library of statistical data, published a chart of official reports that showed nearly 85 percent of New Zealanders have had at least one COVID vaccination. The average age at death in New Zealand is 82, and almost 98 percent of New Zealanders in that age demographic are vaccinated against Covid, reported New Zealand's Ministry of Health. As such, there is a high likelihood that a majority of those who have been recently deceased in New Zealand are elderly and vaccinated, a coincidence that does not prove causation.
In its article, Epoch Times used the interview with Faithfull to suggest that funeral directors, including those in the United States and the United Kingdom, have found that Covid vaccinations are causing higher death rates.
In an email sent to Lead Stories on October 26, 2022, Dr. Joe Bourne, chief medical officer of the New Zealand Ministry of Health, said the following:
Without knowing exactly what other information or analysis has been used by the presenter to reach his conclusions, the Ministry of Health is unable to confirm the veracity of the video.

However, the video appears consistent with many others of this type that we have seen emerge from unofficial sources throughout the vaccination programme, which offer alternate interpretations or theories about the effects of vaccination on illness and mortality.

The Ministry uses a rigorous process to compile and verify information regarding the Covid-19 outbreak and to support the vaccination roll-out. This involves drawing a complex range of information from a variety of sources to determine infection and transmission rates, as well as gauge vaccine effectiveness. This includes reviewing internationally published scientific evidence and other information.

What is not clear from the video is whether the conclusions being drawn have considered all relevant factors that have an influence infection rates and virus transmission. For example, we know that high vaccination rates greatly reduce the severity of symptoms and the risk of transmission, and also that as a very high percentage of the population becomes vaccinated, there will be a correspondingly higher number of vaccinated people who have the virus, simply based on sheer numbers.
A detailed investigation conducted by the Ministry of Health concluded that as of October 26, 2022, three deaths in New Zealand were considered to be linked to the Pfizer (Comirnaty) Covid vaccine. By comparison, as of October 24, 2022, 2,095 people in New Zealand had died with Covid as the underlying or contributing factor. Furthermore, a recent analysis of deaths in New Zealand from Covid showed a 62 percent reduction in the risk of death from COVID among people who had two or more doses compared to those who had received one or no doses.
It is a coroner, not a funeral director, that determines the cause of death and issues a death certificate, according to the New Zealand Ministry of Justice. The video made reference to the Coroners Amendment Bill, legislation introduced in the New Zealand Parliament on September 1, 2022, that sought to amend the Coroners Act 2006 and establish new coroner responsibilities. It is not law but rather is a proposal that as of October 27, 2022, still rested in committee.
The host of the video used this proposed legislation as a segue to introducing Faithfull without distinctly noting the important differences in responsibilities between a coroner (who investigates unexpected, violent or suspicious deaths) and a funeral director, a non-medical, non-legal profession that typically helps to organize funeral services, register a person's death, and deal with paperwork, according to the New Zealand government End of Life Services. According to that government site, in New Zealand, "anyone can act as a funeral director." Two organizations -- the Funeral Directors Association of NZ (FDANZ) and NZ Independent Funeral Homes (NZIFH) -- ensure that certain codes and standards are followed.
Lead Stories searched through the FDANZ list of qualified funeral directors and did not find anyone by the name of "Brenton Faithfull" registered at the time of this publication. In an email sent to Lead Stories on October 25, 2022, FDANZ CEO Gillian Boyes confirmed that Faithfull was not a member of the association.
"We are saddened at the potential fear and concern Brenton Faithfull's comments provide. While our members do not certify causes of death, we would observe deaths in NZ were significantly down in number while lockdown restrictions were in place (and during [the] rollout of vaccinations). It is only now that death numbers have risen again as normal winter illnesses have once again circulated," Boyes told Lead Stories.
Boyes also noted that there is no formal regulation of funeral directors and registration is a "simple matter" that typically requires only a place of operation and a contact number. Boyes added:
A funeral director does not establish cause of death. They will have access to the Medical Certificate of Causes of Death which they must supply to the Medical Referee in the case of cremations (the referee checks this). This is the only official communication to the funeral director of whether there is an infectious disease involved. Note, since this Certificate can be received late, embalmers should always take standard precautions to avoid infection. Funeral Directors also typically help a family apply to Births Deaths and Marriages for the Death Certificate. However families may apply for this directly.
The cause of death listed on the death certificate can also include what's known as an "antecedent cause," or underlying conditions that may have contributed to the cause of death, added Boyes. If a person had received a COVID vaccine prior to their death then it is possible that the vaccine could be listed on the death certificate as an antecedent cause
"Funeral directors have told us they are seeing Covid mentioned from time to time as an antecedent cause - less common is that it is the primary cause," said Boyes, adding that funeral directors neither see nor capture records of death causes and as such, do not have access to statistics on Covid-related causes of deaths.
An additional search through the NZIFH list of registered members did not include Faithfull Funeral Home. Lead Stories also contacted the agency for comment and will update the article accordingly. Lead Stories attempted to Brenton Faithfull by the email listed on the funeral home's website but have not received a response to our interview request.
Other Lead Stories COVID vaccine-related articles can be found here.