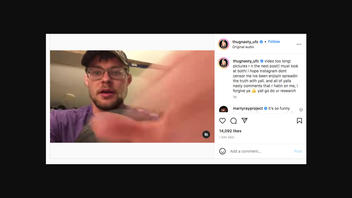 Is the sun smaller than the Earth, and does it rotate around the Earth? No, that's not true: For centuries, scientists have shown that everything in our solar system, including the Earth, revolves around the sun, which is more than 100 times larger than the Earth.
The claim that the Earth dominates the sun appeared in an Instagram post on October 20, 2022. It includes a video of Bryce Mitchell, a mixed martial artist who posts as "thugnasty_ufc," talking about the sun and Earth. He said:
The sun is smaller than the Earth, much smaller, and it rotates around us, not the other way around.
This is what the post looked like at the time of writing: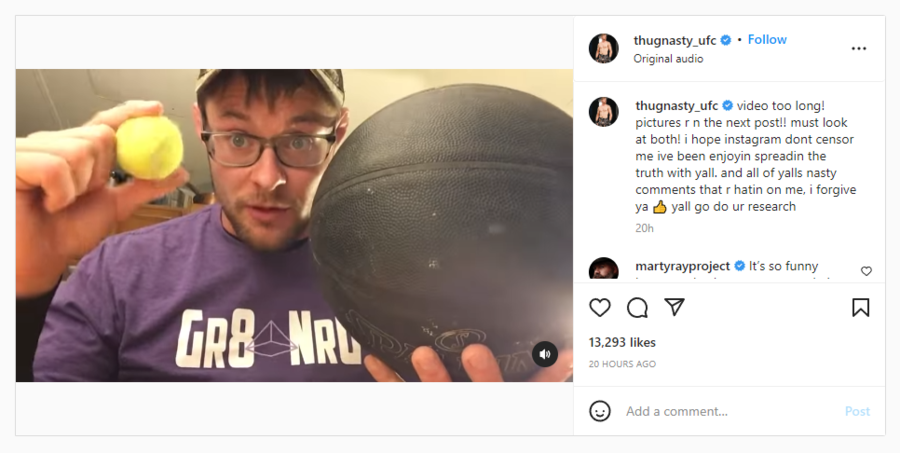 (Source: Instagram screenshot taken on Fri Oct 21 2:47:37 2022 UTC)
As supposed support for his claims, Mitchell pointed to the angle of the sun's light beams and, in a companion post, posted his drawings of these beams. He claimed:
If NASA was right, you would look left and you would look right and all you would see would be straight beams coming down. They would hardly vary in angle ... However, when you walk outside and you look and you see light beams spanned out that's because instead of the sun being like this [Mitchell holds up a basketball] and the Earth being like this [he holds up a tennis ball], it's more like the Earth is this [holding up the basketball] and this is the sun [holding up the tennis ball].
There is absolutely no evidence that's true and plenty of evidence it's not.
The sun is significantly larger than Earth. According to NASA, it's more than 100 times larger than the Earth. As a point of comparison, NASA says that if the sun were as tall as an average front door, the Earth would be about the size of a nickel. The noted American astrophysicist Neil deGrasse Tyson, estimates that about a million Earths would fit inside the sun. Tyson talks about how big the sun is below:
Additionally, the Earth revolves around the sun, not the other way around. In fact, everything in our solar system orbits the sun. The fact that the Earth moves around the sun was proven as far back as the 17th century by Galileo Galilei, the Italian astronomer and physicist. Once condemned as heretical, his work has come to be accepted by even his harshest critic, the Roman Catholic Church.
Despite Mitchell's claims, there is no serious debate in the scientific community that the sun is larger than the Earth and that the Earth revolves around the sun. Nothing about how he sees light beams changes those facts.
Additional Lead Stories fact checks related to the solar system can be found here.