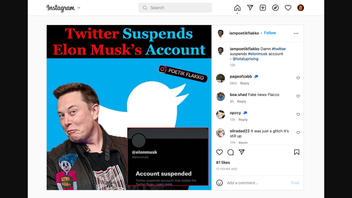 Did Twitter suspend the account belonging to Elon Musk, the billionaire who launched a buyout bid for the social media giant? No, that's not true: The account that Twitter suspended uses a deceptive spelling of Musk's name. Twitter did not suspend the profile belonging to the real Elon Musk.
The claim appeared in an Instagram post on October 26, 2022. It opened:
Twitter Suspends Elon Musk's Account
Here is how the post looked at the time of publication: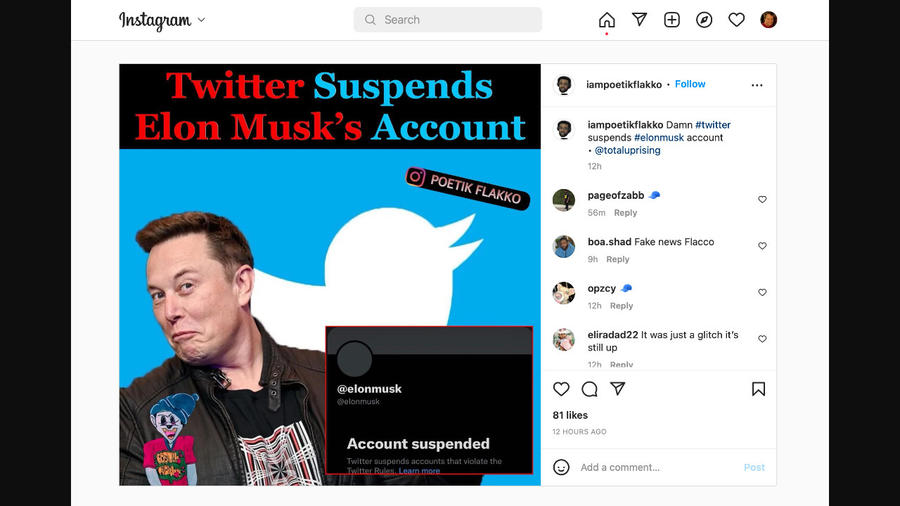 (Source: Instagram screenshot taken on Weds Oct 26 13:50:43 2022 UTC)
The handle of the account that Twitter suspended uses a capitalized "i" to look like the second letter in "Elon," so the name Elon is in effect "eion," Twitter spokeswoman Katie Rosborough explained in an email to Lead Stories on October 26, 2022. "The account you're linking to is '@eionmusk' not '@elonmusk,'" she said.
Rosborough did not comment on why Twitter decided to take @eionmusk's profile offline. The suspension notice simply says "Twitter suspends accounts that violate the Twitter Rules."
Musk's real profile, verified by Twitter's blue check mark, was active at the time of publication.
At the time the post appeared on Instagram, Musk was putting the finishing touches on his $44 billion acquisition of Twitter, which must be closed by October 28, 2022, per the order of a U.S. judge.
Lead Stories asked for comment from the press department at Tesla, the automotive company where Musk is CEO, and will update this story if they reply.