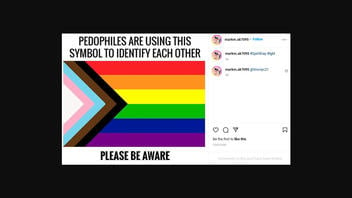 Is the Progress Pride flag being used to represent pedophilia and pedophiles? No, that's not true: According to its designer, the flag was created to be more inclusive of those who identify as LGBTQ. There is no indication that the flag has been widely used other that in this context.
The claim was made in an Instagram post published on October 20, 2022. The post included a picture of the progress pride flag with text that read:
Pedophiles are using this symbol to identify each other
Please be aware
This is how the post looked on Instagram at the time of writing: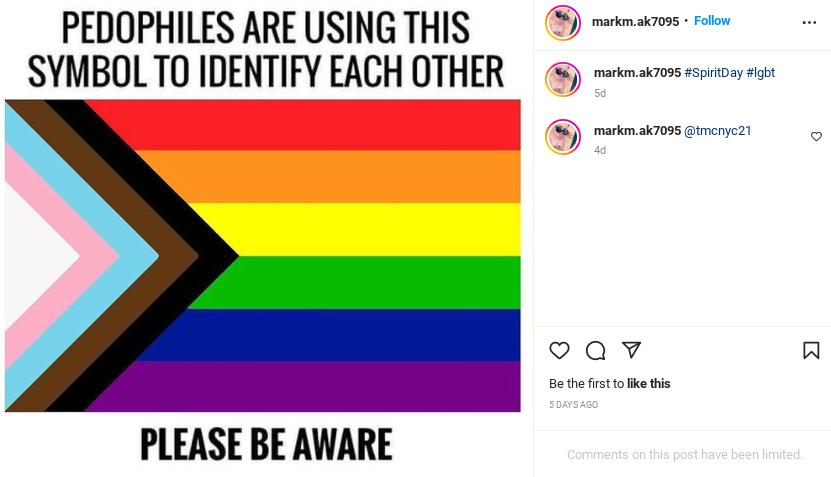 (Source: Instagram screenshot taken on Wed Oct 26 14:51:30 2022 UTC)
The post does not include any evidence to support its claim that the progress pride flag is connected to pedophilia. While it is impossible to track every use or interpretation of the flag, Lead Stories did not find any evidence (example of search here) that validates the pedophilia claim.
In a detailed description of the flag written by Daniel Quasar, the flag's designer, he states that the flag is meant to force viewers "to confront on their own feelings towards the original Pride flag and its meaning as well as the differing opinions on who that flag really represents, while also bringing into clear focus the current needs within our community." He says the flag's design incorporates that of the traditional pride flag, the trans pride flag, the More Color, More Pride flag and the Victory Over AIDS flag.
There is a recent history of public figures equating grooming and pedophilia to LGBTQ advocacy. Such an implication is not based in fact.
Lead Stories previously debunked a similar claim about the design of the "More Color, More Pride" flag here. We also discussed the grooming and LGBTQ advocacy myth here.