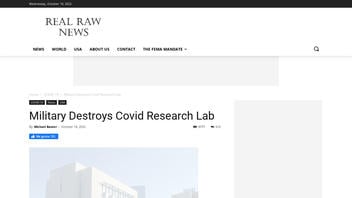 Did U.S. Special Forces destroy a "Boston University Covid-19 research lab"? No, that's not true: This claim was made on a website known for publishing fabricated content.
The claim appeared in an article published by Real Raw News on October 18, 2022, titled "Military Destroys Covid Research Lab" (archived here). It opened:
US Special Forces and Army Chemical, Biological, Radiological, and Nuclear Specialists on Tuesday raided and destroyed a Boston University Covid-19 research lab where scientists and graduate students had created a hybrid super-strain that killed 80% of infected mice. The BU team, which had been involved in 'gain-of-function' research, had combined Omicron and the original Wuhan Virus--individually no more severe than a common case of influenza--into a pathogen that could wipe out humankind, theoretically.
Users on social media only saw this title, description and thumbnail:
A Google News search using the keywords "U.S. Military Destroys Covid Research Lab" produced no results that substantiated this claim.
An October 17, 2022, article by The Brink, a Boston University research news publication, titled "NEIDL Researchers Refute UK Article about COVID Strain" debunked a different claim that Boston University's National Emerging Infectious Diseases Laboratories (NEIDL) -- not a "Covid-19 research lab" -- produced a deadly COVID strain. The article said the study was excessively misrepresented:
Boston University is refuting a series of misleading claims about research at the University's National Emerging Infectious Diseases Laboratories (NEIDL). The reports, which first appeared on Monday in the United Kingdom's Daily Mail, claimed researchers at the lab had 'created a new deadly COVID strain.' In a statement Monday afternoon, BU called the reporting, which was picked up by other outlets, including Fox News, 'false and inaccurate,' and said this research made the virus less dangerous.
Lead Stories reached out to the Pentagon and Boston University regarding the Real Raw News claim and will update this story if a response is received.
Real Raw News has a long history of publishing false claims in mock news stories, many of them about convictions and executions of various public figures at Naval Station Guantanamo Bay in Cuba. For example, the site reported former Secretary of State Hillary Clinton was hanged (she wasn't); former White House Chief of Staff John Podesta was executed (he wasn't); and that "the military" convicted former Attorney General William Barr on charges of treason (it didn't).
The website for Real Raw News includes a disclaimer that warns readers not to take its content too seriously. Specifically, it says:
Information on this website is for informational and educational and entertainment purposes. This website contains humor, parody, and satire. We have included this disclaimer for our protection, on the advice on legal counsel.

(Source: RealRawNews.com screenshot taken Tue Aug 3 16:39:48 UTC 2021)
Lead Stories has covered claims published by Real Raw News in the past. Previous Lead Stories debunks of Real Raw News items is collected here.