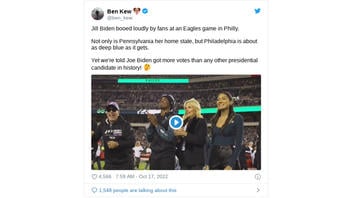 Does a video of first lady Jill Biden singing at a Philadelphia Eagles football game include genuine audio of crowds loudly booing her? No, that's not true: While Lead Stories could not verify whether Biden was booed during the game on October 16, 2022, we can verify that the audio used in this video is not authentic. The original video of Biden singing, released by the NFL, does not include the same booing audio.
The claim that Eagles fans had booed Biden appeared in a tweet (archived here) posted on October 17, 2022. The post included a video of Biden singing with six other individuals on the field at the Eagles and Dallas Cowboys game. The text of the tweet read:
Jill Biden booed loudly by fans at an Eagles game in Philly.

Not only is Pennsylvania her home state, but Philadelphia is about as deep blue as it gets.

Yet we're told Joe Biden got more votes than any other presidential candidate in history! 🤔
This is what the post looked like on Twitter at the time of this fact check's writing: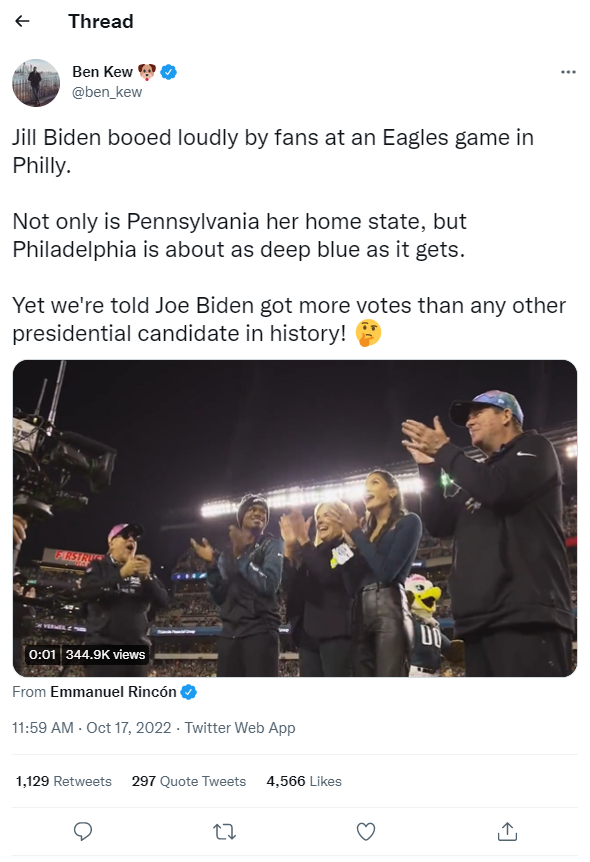 (Source: Twitter screenshot taken on Wed Oct 19 19:48:36 2022 UTC)
Although it is unclear what the voices in the audio are chanting, some Twitter users in the comments claim that it is "Let's Go Brandon," an anti-Biden rallying call, or, more explicitly, "Fuck Joe Biden," abbreviated by users as "FJB."

A NFL video of Biden singing uses the same footage as this tweeted video, but does not include the same booing audio. The NFL posted the tweet (archived here) during the game, at 9:49 pm ET on October 16, 2022. NFL Vice President of Communications Brian McCarthy told Reuters that NFL staff had shot the video and had posted it without editing it.
Lead Stories contacted the NFL for comment and will update this story with any relevant response.
The NFL tweet explained that Biden was leading the Eagles' fight song -- commonly referred to as "Fly, Eagles, Fly" -- with cancer survivors before the start of the game. Her involvement was part of a cancer-awareness program called Crucial Catch, organized by the NFL and American Cancer Society.

Biden also tweeted about her appearance at the game on October 16, 2022 (archived here).
Other outlets, including Snopes and Newsweek, have attempted to investigate whether Biden was booed significantly at the game. That claim is out of the scope of this Lead Stories fact check.
More Lead Stories fact checks related to Jill Biden can be found here.