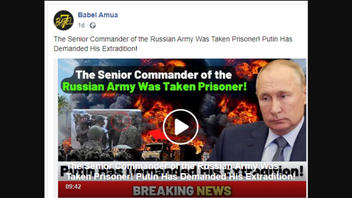 Does a video prove its headline claim that the senior commander of the Russian army was taken prisoner? No, that's not true: A video posted on Facebook made this false claim in its clickbait headline, but the video itself did not state or prove that a senior commander of the Russian Army has been captured.
The claim appeared in a video (archived here) published on Facebook on October 18, 2022 under the title "The Senior Commander of the Russian Army Was Taken Prisoner! Putin Has Demanded His Extradition!" It opened:
Welcome to the US Latest News channel. Watch the video to the end to find out the current and breaking news about the Russian war in Ukraine.
This is what the post looked like on Facebook at the time of this fact check's writing: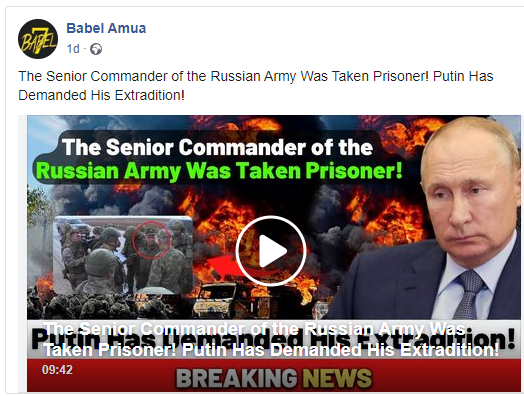 (Source: Facebook screenshot taken on Wed Oct 19 21:13:40 2022 UTC)
The video does not specify whether the headline refers to the senior commander of the Russian army in Ukraine or of Russian ground forces overall.

Though nearly nine-and-a-half minutes long, the clip never makes further mention of any captured commander or of Russian President Vladimir Putin's alleged demand for his "extradition."

The headline appears to be clickbait to lure people into watching the video. The absence of any national or international news reports regarding what would be a major news story leaves the headline unsubstantiated.
As of October 19, 2022, General Sergei Surovikin, appointed 11 days earlier, was still the Russian military commander for Moscow's "special military operation" in Ukraine. On October 18, the state-run Russian news agency TASS released an interview with him about the campaign there.
No Russian or English-language news reports on October 19 showed that General Oleg Salyukov, the top commander of Russia's overall ground forces, has been taken prisoner, either.
The video's claim lacks visual substantiation as well. Although it features various still images and other footage from what appears to be the war in Ukraine, there is no identifying information for these shots.

At 11 seconds into the video, footage of soldiers holding a Ukrainian flag is played. This is taken from a September 13, 2022 NBC News report titled "Ukraine taking back Russian-held territory." The NBC News report makes no mention of a senior commander of the Russian army being taken prisoner.

Here is a screenshot from the video posted on Facebook: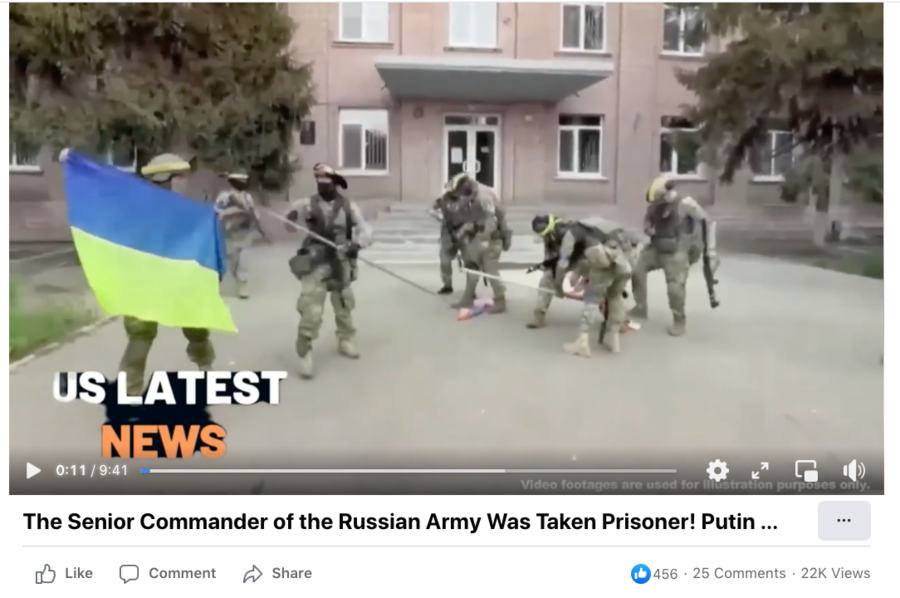 (Source: Facebook screenshot taken on Wed Oct 19:21:33 2022 UTC)
Here is the NBC News report with the same footage at :49:
Additional Lead Stories fact checks about the war between Russia and Ukraine can be found here.