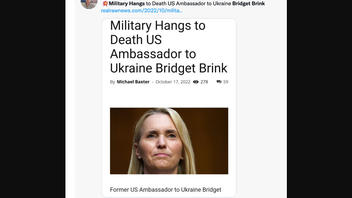 Did the U.S. military hang U.S. Ambassador to Ukraine Bridget Brink for committing treason? No, that's not true: The story is entirely fabricated and Brink remains an ambassador in good standing.
The claim originated on the website Real Raw News on October 17, 2022 under the title "Military Hangs to Death
US Ambassador to Ukraine Bridget Brink" (archived here).
It opened:
Former US Ambassador to Ukraine Bridget Brink was hanged to death Friday afternoon only hours after a military tribunal at Guantanamo Bay found her guilty of treason.

The brief, unannounced tribunal began at 9:00 am, with Vice Admiral Darse E. Crandall of the US Navy Judge Advocate General's Corps presenting photographs and video that showed Brink surrendering $2.2bn in American currency to Ukrainian Ministry of Defense official Lieutenant General Serhiy Shaptala.

Users on social media only saw this title, description and thumbnail: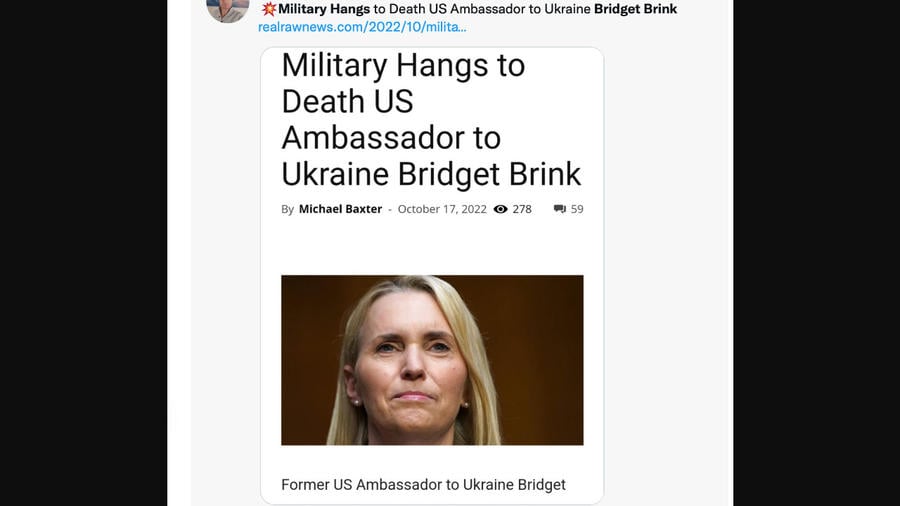 This story follows up on an October 10, 2022 article that falsely claimed that U.S. Special Forces had arrested Brink for the same offense. Lead Stories debunked that story on October 11, 2022. Real Raw News has a history of posting false stories of arrests and executions of government officials, celebrities and well-known public figures.
A Google search of the phrase "Military Hangs Ambassador Bridget Brink" yields no legitimate news reports of any such incident, which would have been a major international news story. The stories of Brink's execution link to sites such as BitChute and Rumble, which are known for publishing false claims.
The claim has migrated to social media, where users are presenting it as fact. On October 18, 2022, one Twitter user said:
US MILITARY HANGS UKRAINE AMBASSADOR BRIDGET BRINK AT GITMO.

MANY MORE WILL FOLLOW HER. NO MERCY. NO DEALS. ADIOS.
Brink herself was alive and tweeting as of October 17, 2022, the day Real Raw News claimed she was swinging from the gallows.
Moreover, it would have been legally impossible for the military to execute Brink or any other civilian. The Posse Comitatus Act of 1878 forbids the military to enforce civilian law, unless expressly authorized by the Constitution or Congress. The last person the military executed was U.S. Army Pvt. John Bennett for rape and attempted murder on April 13, 1961, according to deathpenaltyinfo.org, a website that tracks capital punishment issues.
Lead Stories contacted the State Department for comment on the post and will update this story if a response is received.
Real Raw News regularly publishes false claims in mock news stories, many of them about convictions and executions of various public figures at Naval Station Guantanamo Bay in Cuba. For example, the site reported former Secretary of State Hillary Clinton was hanged (she wasn't); former White House Chief of Staff John Podesta was executed (he wasn't); and that "the military" convicted former Attorney General William Barr on charges of treason (it didn't).
The website for Real Raw News includes a disclaimer that warns readers not to take its content too seriously. Specifically, it says:
Information on this website is for informational and educational and entertainment purposes. This website contains humor, parody, and satire. We have included this disclaimer for our protection, on the advice on legal counsel.

(Source: RealRawNews.com screenshot taken Tue Aug 3 16:39:48 UTC 2021)
Previous Lead Stories debunks of Real Raw News items can be found here.