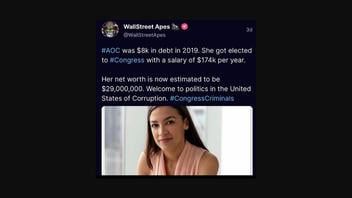 Does Rep. Alexandria Ocasio-Cortez currently have a "$29,000,000" net worth? No, that's not true: Her most recent and publicly available financial disclosure report revealed that her assets are much less than a million dollars.
The claim appeared in an Instagram post on November 6, 2022. The text in the meme post, above an image of Ocasio-Cortez, reads:
#AOC was $8k in debt in 2019. She got elected to #Congress with a salary of $174k per year.

Her net worth is now estimated to be $29,000,000. Welcome to politics in the United States of Corruption. #CongressCriminals
This is what the post looked like on Facebook at the time of writing: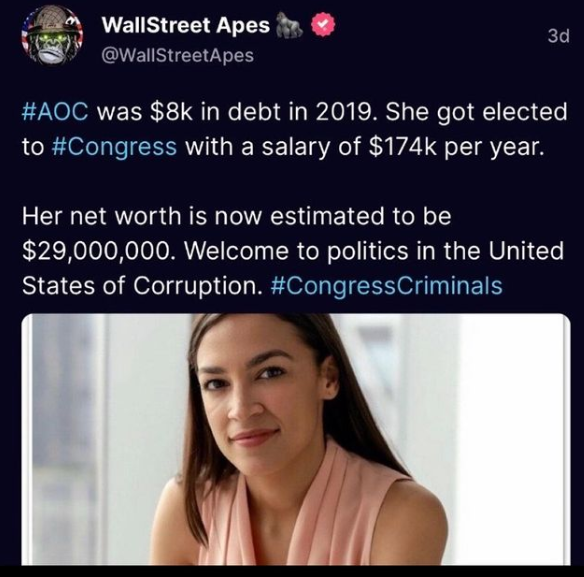 (Source: Screenshot taken on Tue Nov 8 16:16:57 2022 UTC)
The post cites no sources for the numbers it used.
A financial disclosure search on the Clerk of the House of Representatives website produced Ocasio-Cortez's most recent financial disclosure report, which was filed in September 2022 for the 2021 reporting year. It showed her assets are as much as $60,000 total, that she has up to $50,000 worth of outstanding student loan debt, and that she has her salary as a member of Congress.
An updated August 8, 2022, "Salaries of Members of Congress: Recent Actions and Historical Tables," document stated that the current salary for members of Congress is $174,000. The Center for Responsive Politics OpenSecret.org similarly reported that Ocasio-Cortez is one of the less wealthy new freshman members in the 116th Congress.
A Google News search using the keywords, "Alexandria Ocasio-Cortez's net worth is $29 million," produced no results outside of previous debunks by various fact checking agencies that have similarly rated this claim to be false.
Lead Stories has reached out to the communications director for Ocasio-Cortez and will update this story if a response is received.
Other Lead Stories fact checks about Ocasio-Cortez can be found here.