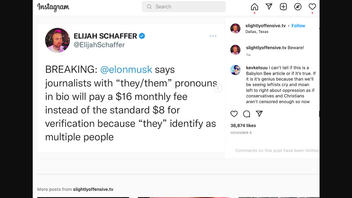 Is Twitter owner Elon Musk charging journalists who use the non-gendered pronouns "they/them" $16 per month to secure a blue check verification -- twice the price as other users? No, that's not true: The claim is satire and neither Twitter nor Musk have announced a plan to double charges for nonbinary reporters.
The claim appeared in a November 8, 2022, Instagram post from conservative content creator and podcaster Elijah Shaffer. It opened:
BREAKING: @elonmusk says journalists with 'they/them' pronouns in bio will pay a $16 monthly fee instead of the standard $8 for verification because 'they' identify as multiple people
Here's how the post appeared on the day of writing: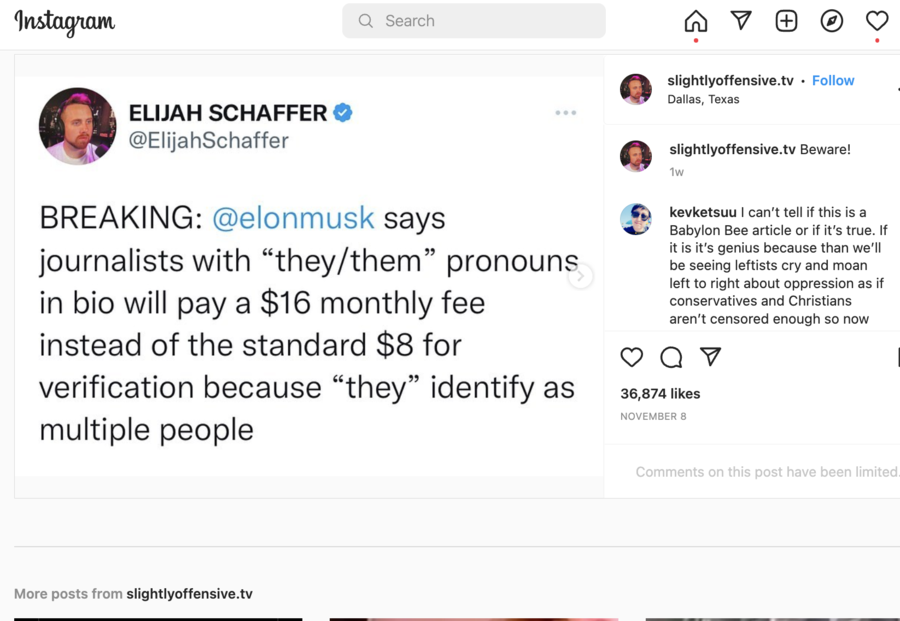 (Source: Instagram screenshot taken Mon Nov 21 at 17:51:23 2022 UTC)
Lead Stories could find no evidence that Twitter plans to double the cost of verification checks for nonbinary reporters to $16 per month because they "identify as multiple people."
Neither the company nor Musk have made any statements about such charges on their respective Twitter accounts, although Musk has responded to complaints about the $8 fee, including here and here. He has said he believes the subscription-based checks will democratize journalism.
Schaffer is known for putting a satirical spin on the news in posts on his social media channels and on his YouTube-based podcast, SlightlyOffensive.tv.
He describes himself as a reporter, podcaster, film producer and fact checker. He was most recently a reporter for the conservative news and entertainment site The Blaze, which also hosted his podcast. On September, 19, 2022, the news site's parent company, the Glenn Beck-owned Blaze Media, announced on Twitter that it had terminated its contract with Shaffer for violations of company policies. Schaffer has also been linked to the January 6, 2021, insurrection at the Capitol, and has said he was with those who allegedly entered House Speaker Nancy Pelosi's office.
Twitter, which was purchased by Musk on October 27, 2022, has instituted a policy of charging users $8 per month to obtain a blue verification check. The checks, which have been used since 2009, were adopted to authenticate the identities of account holders so that users could identify trustworthy information. Originally users had to earn the checks by operating under a set of standards Twitter had established.
Previously, Lead Stories fact checked the claim that Musk had fired Twitter employees over the pronouns they use.