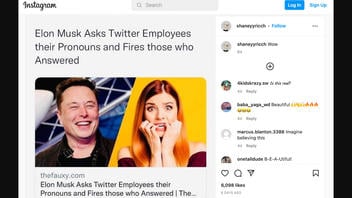 Did Elon Musk fire Twitter employees on November 4, 2022 for telling him their pronouns ? No, that's not true: These online rumors were based on a satirical article published before the tech billionaire completed the acquisition of Twitter. However, a massive wave of layoffs did occur at the social-media company on November 4, 2022.
The claim about Musk appeared in a post on Instagram on October 29, 2022. Published without an explanation, text on the image reads:
Elon Musk Asks Twitter Employees their Pronouns and Fires those who Answered
Here is what the post looked like at the time of writing:
(Source: Instagram screenshot taken on Fri Nov 4 14:23:51 2022 UTC)
The picture in the post was a screenshot of an article published by TheFauxy.com in April 2022. By then, Musk had already made his first offer to buy Twitter. However, he was not in charge of the company until October 27, 2022, when Musk tweeted, upon the deal's closure, that "the bird is freed." Thus, he could not have laid off Twitter employees before that for pronouns or any other reason.
The article was initially marked as satire:
Disclaimer: The Fauxy is an entertainment portal. The content of this website is purely for entertainment purpose and readers are advised not to confuse the articles of The Fauxy as genuine and true
The Fauxy's corporate Twitter account shared the piece on October 31, 2022. The tweet did not contain an overt disclaimer, but the thumbnail picture (see image on right) implied that the information from this website might not accurately reflect reality: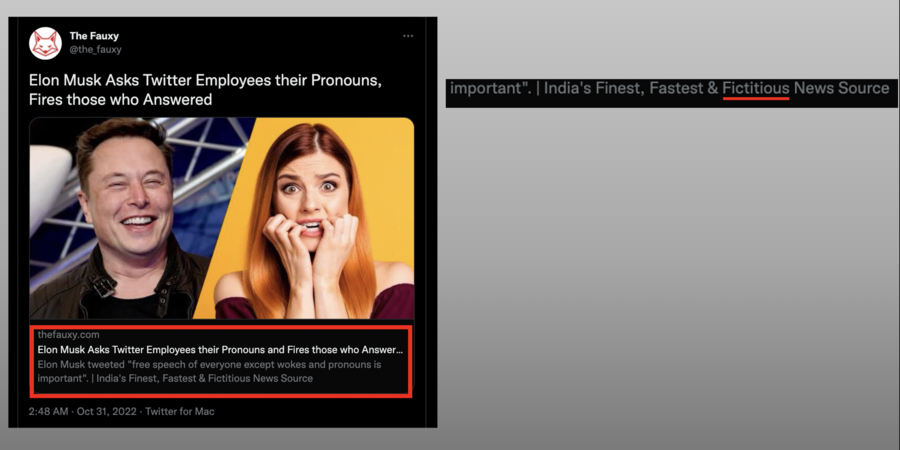 (Sources: Twitter screenshot taken on Fri Nov 4 15:04:42 2022 UTC; composite image by Lead Stories)
The Fauxy describes itself as an entertainment enterprise affiliated with the government of India:
The Fauxy is an entertainment website owned by PRANA ONLINE MEDIA NETWORKS LLP (Government Of India, Ministry Of Corporate Affairs, incorporated pursuant to section 12(1) of the Limited Liability Partnership Act 2008)

'Fauxy' trademark is registered under Government Of India, Ministry Of Commerce and Industry, Department of Industrial Policy and Promotion, Controller General Of Patent Design & Trade Marks.

Content of The Fauxy is created by a group of individuals who are well known for producing humorous and entertaining content which keeps going viral online on a daily basis, particularly on social media websites. Content of the Fauxy is original and purely for entertainment purpose.
The tweet appeared just days before Elon Musk, in control of Twitter for a week, began massive layoffs at the company on November 4, 2022. On November 3, 2022, Twitter had warned employees that they would receive an email clarifying their employment status, and were instructed not to come to their offices.
However, there is no indication from media reports to date that the company's email included a survey about pronouns. As of this writing, individuals from Twitter's sales, trust and safety, marketing, product, engineering and legal teams numbered among the layoffs. According to Bloomberg, Musk plans to eliminate about 3,700 jobs, roughly half of the pre-acquisition Twitter workforce.

Additional Lead Stories fact checks related to Elon Musk can be found here.