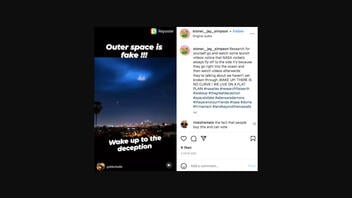 Is the Earth flat and surrounded by a transparent barrier that prevents rockets from leaving the Earth's atmosphere? Beyond this barrier, is there a firmament composed of water or a liquid-like substance? Does this explain why the U.S. government in 1962 launched Operation Fish Bowl -- to use nuclear weapons to try and break through that barrier? No, that's not true: The Earth is not flat. Outer space is real and not composed of water. Many rockets have launched and traveled beyond Earth's atmosphere, and Operation Fish Bowl was a series of high-altitude tests of the effects of nuclear weapons.
This multi-part claim appears as a short video in a post on Instagram that was published on November 14, 2022. The video was captioned:
stoner__jay__simpson
Research for yourself go and watch some launch videos notice that NASA rockets always fly off to the side it's because they go right into the ocean and then watch videos afterwards they're talking about we haven't yet broken through..WAKE UP! THERE IS NO CURVE ! WE LIVE ON A FLAT PLAIN #nasalies #researchflatearth #wakeup #thegreatdeception #spaceisfake #aliensaredemons #theyarenotourfriends #nasa #dome #firmament #landbeyondtheicewalls
Text overlays on the video itself said:
Outer space is fake !!!
Wake up to the deception

Elon musks rocket hitting the firmament.
Waters separated from the waters...
Research FLAT EARTH

This is how the post appeared on Instagram at the time of this fact check's writing: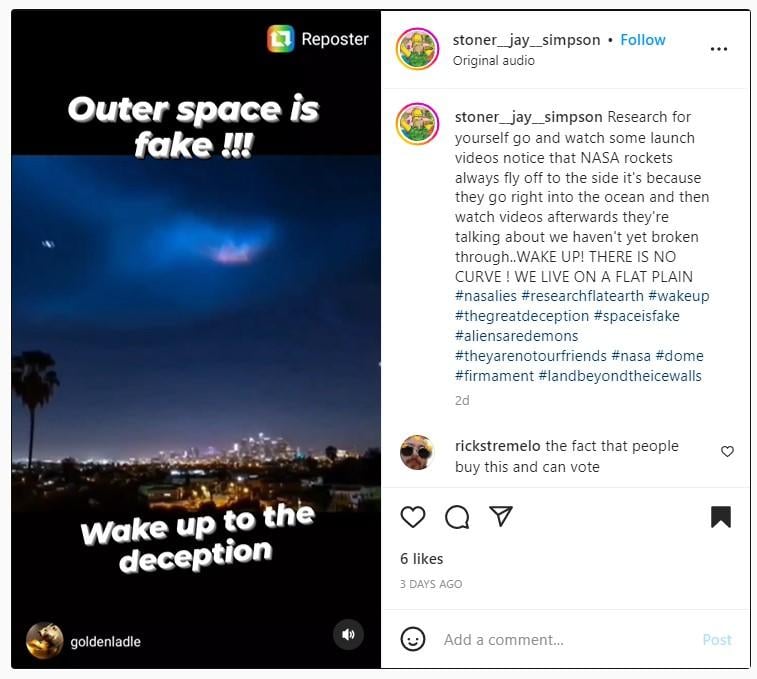 (Source: Instagram screenshot taken on Thu Nov 17 20:03:02 2022 UTC)
The video narration states:
There is a theory that we haven't ever been to outer space because of a transparent barrier that surrounds our entire world. And that past this barrier isn't open space or a vacuum, but water. Now, it all might sound crazy, but, back in 1962, the U.S. government launched a couple of nukes into the sky to allegedly test out the atmosphere's reaction to them ... or that's what they want us to believe.

But some say they were actually trying to see if they could crack that invisible barrier. Ironically enough, this program was called Operation Fishbowl. This theory is further speculated, as many have said, that if you look at the stars with your own eyes or zoom in on them with a camera, it seems to be twinkling or shining through a liquid-like substance. As rocket enthusiasts have observed that rockets we have launched do seem to hit an invisible ceiling that causes a ripple-like effect that you would see in water, leading to a pretty strange theory ...
Operation Fish Bowl was a Department of Defense Weapons Effects Program that was conducted at Johnston Island in the North Pacific Ocean in 1962.

The Defense Atomic Support Agency (DASA), a former agency run by U.S. military services, produced an Operation Fish Bowl overview that can now be accessed as a downloadable 71-page PDF from the website of the Defense Technical Information Center, a military archive that is part of the Department of Defense.
As this document shows, Operation Fish Bowl was not an effort to "crack that invisible barrier" that the video narrator claims "surrounds our entire world." The purpose of these nuclear weapons tests is summarized in the
DTIC citation
and on
page 13
in the DASA PDF file:
The Operation consists of three shots a System proof test - 1 May 1962 - non-nuclear. b BLUE GILL - 1 June 1962 - c STAR FISH - 15 June 1962 - 1.45 MT at 400 Km. The warheads and instrumentation pods will be carried to altitude by suitably modified Thor boosters. The tests will be conducted under the operational control of JTF-8. The purpose of the Operation is to satisfy urgent JCS [Joint Chiefs of Staff] stated requirements for weapons effects data. The data sought concerns ICBM [Intercontinental Ballistic Missile] kill mechanisms and vulnerability, penetration aids, retaliatory force capabilities, AICBM [Advanced Intercontinental Ballistic Missile] effectiveness, early warning systems, intelligence satellites, and communications and control. The physics information to be obtained in seeking answers to the above lies in the areas of debris location, debris charge, production and loss of electrons in the fireball production and loss of electrons in the ionosphere, electromagnetic noise, and absorption and refraction of electromagnetic waves, nuclear, thermal and X-radiations output and damage mechanisms, electromagnetic pulse output and damage mechanisms, and ultra-violet through infra-red radiations output, damage and attenuation.
The video montage on Instagram begins with time-lapse footage from the October 7, 2018, launch of the SpaceX Falcon 9 rocket, with the skyline of Los Angeles, California in the background.
In a 2021 video on YouTube (embedded below), Emeric Le Bars, the creator of the original time-lapse video, answered some common questions about this footage. Le Bars explained that one second of the finished time-lapse video represents 30 seconds of time. At 2:43 minutes into the video, Le Bars addressed the twilight phenomenon:
What is the giant blue light in the sky?

This is called a twilight phenomenon and usually occurs when a rocket is launched 30 to 60 minutes before the sunrise or after the sunset. A twilight phenomenon is produced when exhaust particles from the rocket propellant left in the vapor trail of a launch vehicle condense, freeze, and then expand, in a less dense upper atmosphere.

The exhaust plume which is suspended against the dark sky is then illuminated by reflective high altitude sunlight through dispersion which produces a spectacular colorful effect when seen at ground level.
After falsely suggesting that Operation Fish Bowl was an effort to use nuclear weapons to break through an invisible barrier, the narrator in the video on Instagram claims that rocket enthusiasts have observed rockets hitting an invisible ceiling. The narrator alleges that this collision causes a ripple-like effect as can be seen in water.

But the "ripples" shown in the video are not waves in water. This effect is caused by cold gas thrusters used by the first stage, or primary engine, of SpaceX's two-stage Falcon 9 rocket. (Diagrams and specifications can be found here ). After the first stage separates from the second stage, or second engine, the rocket maneuvers back to Earth (daytime example at 0:40 seconds in this video), landing upright on a landing pad.

The footage of the "ripples" illuminated by the twilight phenomenon (pictured below) and the separation of the two stages of the Falcon 9 rocket can be seen at the 2:13 minute mark in a video from Primal Space about rocket launches.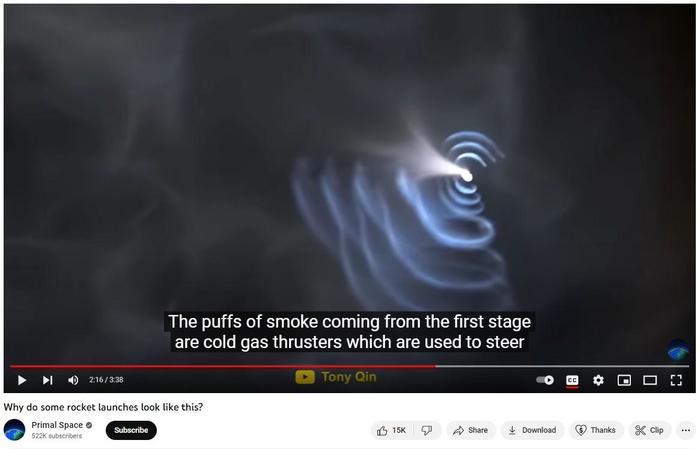 (Source: YouTube screenshot taken on Fri Nov 18 19:41:05 2022 UTC)
The above claims do not indicate that the Earth is flat. The shape of planet Earth is well understood to be a slightly irregular ellipsoid, thicker at the equator. A diagram of the Earth's atmospheric layers (pictured below) can be found in a NASA article about Earth's atmospheric layers. The outermost layer of that atmosphere, the exosphere, does not end abruptly with an impenetrable shell. Rather, it gradually fades into outer space over thousands of miles.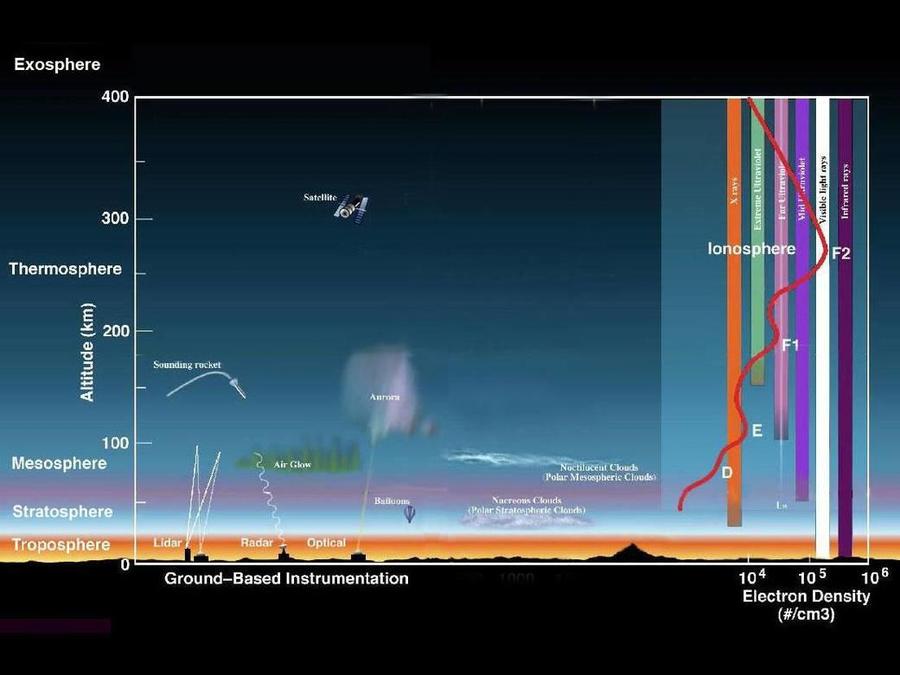 (Source: NASA/Goddard screenshot taken on Fri Nov 18 19:41:05 2022 UTC)
Lead Stories has previously debunked many false claims that espouse that the Earth is flat. One claim asserts satellites must be a myth because they do not burn up in the high temperatures of outer space. Another claims the Apollo moon missions were fake, while still another claims there are no real photos of Earth from outer space.