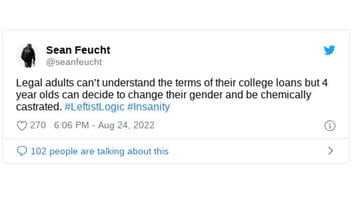 Are 4-year-old children prescribed puberty blockers as part of gender-affirming care? No, that's not true: The American Academy of Pediatrics told Lead Stories this claim is "not accurate." Puberty blockers are only prescribed once an individual has started or is beginning to start puberty. Four-year-olds do not normally go through puberty.
The claim appeared in a tweet (archived here) on August 24, 2022. The tweet read:
Legal adults can't understand the terms of their college loans but 4 year olds can decide to change their gender and be chemically castrated. #LeftistLogic #Insanity
This is what the post looked like on Twitter at the time of writing:
(Source: Twitter screenshot taken on Mon Nov 21 18:27:11 2022 UTC)
The tweet did not cite a source.
The National Institutes of Health defines puberty as when sexual maturity takes place. The physical changes that mark puberty typically begin in girls between the ages of 8 and 13 and boys between 9 and 14.
The American Academy of Pediatrics told us in a November 22, 2022, email:
The tweet says that [4-year-olds] would be prescribed puberty blockers for gender affirming care. That is not accurate.
A representative for Assistant Secretary of Health Rachel Levine sent Lead Stories a November 22, 2022, email with a link to an article quoting Levine explaining what gender-affirming care. The article says:
For a child who hasn't started puberty yet, 'there's no medical treatment,' Levine said. At that point, care would focus on counseling and taking in the considerations of the young person, their family and their school.
The Endocrine Society does not recommend puberty blocking and gender-affirming hormone treatment in prepubertal children with gender dysphoria or gender incongruence, in the first section of its Summary of Recommendations. They also suggest in the second section that clinicians start puberty blockers after their patients "first exhibit physical changes of puberty."
The World Professional Association for Transgender Health's recommendation for prepubescent children who want to transition is "social transition" (page 16). Planned Parenthood describes social transitioning as "asking people to use pronouns that feel right for you ... dressing/grooming in ways that feel right for you when other people can see you ... using your voice differently when talking to other people."
More Lead Stories fact checks about transgender health care can be found here and here.