STORY UPDATED: check for updates below.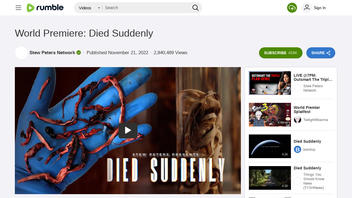 Does the movie "Died Suddenly" demonstrate that COVID-19 vaccinations cause widespread sudden death or severe medical outcomes? No, that's not true: The film recycles previously debunked claims that the vaccine is lethal or dangerous for the average person receiving it.
More than 5.45 billion people have been vaccinated worldwide and public health experts recommend immunization against the virus, saying it is safe and effective. Relying on clinical safety trials and follow-up research, they maintain that it is incredibly rare for COVID vaccines to cause death or hospitalization.
The claims appeared in the movie (archived here) published to Rumble by the Stew Peters Network on November 21, 2022, titled "World Premiere: Died Suddenly." The video's description says:
Why do we never believe them? For centuries, the global elite have broadcast their intentions to depopulate the world - even to the point of carving them into stone. And yet... we never seem to believe them.
This is what the post looked like on Rumble at the time of writing:
(Source: Rumble screenshot taken Tue Nov 22 at 21:42:50 2022 UTC)
In an opening backed by Pink Floyd's "Sheep," the movie sets up the premise that people across the country are dying for "overwhelming and unexplainable" reasons. The film then hits viewers with a rapid-fire barrage of images, from Big Foot to Jeffrey Epstein to UFOs to the shooting death of JFK assassin Lee Harvey Oswald at the hands of Jack Ruby while still in police custody. The movie also contrasts Elvis Presley getting his polio vaccine in 1956 with Joe Biden and Dr. Anthony Fauci getting their COVID shots in December 2020. All, whether real or fictional, are surrounded by controversy or conspiracy theories.
False claim: "Sudden Death" Google links prove vaccine lethality
As in the debunked trailer for the film, the full-length movie uses a montage of screenshots of October 2022 Google News searches about people who died suddenly. Despite the fact that Lead Stories on October 31, 2022 detailed the false linkage of those deaths to COVID vaccine, the film released three weeks later still includes the montage. At the 7:16 mark, the debunked montage appears. In its debunk of the montage, Lead Stories pointed out:
The montage flashes an article from October 16, 2022, headlined 'Dad of two, 46, dies suddenly in his sleep.'

But the article makes no mention of a COVID vaccine. 'Edward died in his sleep in the early hours of September 27, having spent some time in hospital while struggling with his mental health,' the article states.

Another article in the montage is headlined: 'Actor's sudden death aged 33,' but the piece itself explains that the actor died as a result of a 'tragic fall' and does not mention vaccination.

Another article, the first-person essay of a mother who lost a son, is about his death in a car crash.
Deceptive out-of-context Bill Gates soundbite
The film's opening theme is the oft-debunked claim that global elites are trying to depopulate the planet by using vaccines. The film's editors use, as evidence, a clip from a TED Talk given by Microsoft founder Bill Gates in 2010. At 5:45 in the film, a clip is inserted in which Gates says:
Now, the world today has 6.8 billion people. That's headed up to about nine billion. Now, if we do a really great job on new vaccines, health care, reproductive health services, we could lower that by, perhaps, 10 or 15 percent.
The quote from Gates, which has been stripped of meaningful context, is paired with one from a funeral director named Chad Whisnat at six minutes into the movie. He says:
Well, common sense would tell you, if you have a man standing in front of you say ... he's going to reduce the world's population by 10 or 15% using vaccines. What does that mean to you? It means somebody's gonna die because you put a vaccine in them. It doesn't mean you're going to save people. That's pretty much common sense in my brain.
In its full context, Gates' quote is not a suggestion that people can be killed off with vaccines.
It is a small segment of his long argument that cheap clean energy and public health vaccination campaigns increase the wealth of countries plagued by high birthrates that are a reaction to high death rates of children. In essence, Gates is arguing the opposite of what Whisnat says. It's a complicated argument not represented by the quote used in "Died Suddenly."
That out-of-context quote is favored by publishers of conspiracy theories about Gates.
In May 2020 Lead Stories debunked the false claim that is recycled in "Died Suddenly." Listening to Gates' whole talk, a viewer hears him describe how population growth drives energy demand and population growth can be slowed by reducing the number of children dying of preventable disease through life-saving vaccinations. The United Nations and other development organizations have observed that families grow larger when child survival is in question and that birth rates fall once child survival improves. As Lead Stories reported when the misinterpretation of Gates' talk first went viral:
He argues it might be possible to reduce that growth a bit, knocking 10 or 15 percent of the increase. But that would still mean you would end up with 8.78 billion people instead of 9 billion, an increase of roughly 1.3 (instead of a decrease to zero).

So, what about the remarks about 'new vaccines, health care, reproductive health services'? That is just what specialists studying population growth are saying. As people get richer they get more access to better health care so they stop having lots of babies because the risk of their children dying at an early age takes a steep dive. This means the total population stabilizes and stops growing after a while.
False claim: Embalmers find blood clots caused by vaccine
About eight minutes in, the movie switches to another widely debunked claim that COVID vaccines are the cause of long blood clots being found by embalmers as they prepare bodies post-mortem. Richard Hirschman, who is identified as a trade embalmer in the film and is licensed in Alabama, methodically explains how he has documented the long fibrous clots he's pulled from veins and arteries. Beginning at 8:15 in the video, he says:
Back around November of last year, of 2021, people were asking me, 'Well, how many people are having these strange clots?' And I didn't have a very good answer for it. ... So starting in November, I started making notations of whether or not the person was clotted or not or vaccinated. My green is people that I've been verified are vaccinated. Yellow typically is somebody that has smaller clots, and the orange is somebody that had more significant clots, the clots that are really kind of concerning to me.
The film also features others in the funeral industry who say they've witnessed the same things, including funeral directors John Whisnat and John O'Looney, as well as embalmers Anna Foster, Brenton Faithfull, Wallace Hooker and Nicky Rupright King. Three additional people in death care shared their findings, too, but their identities were hidden.
While the movie lines up plenty of experts to back its case, the National Funeral Directors Association (NFDA) told Lead Stories in a November 28, 2022, email that mere numbers don't add up to expertise. NFDA Director of Public Relations Jessica Koth said:
Funeral service professionals are in no way qualified to draw any conclusions about COVID vaccines and blood clots. We're not medical examiners or physicians or scientists - these kinds of individuals would be far more qualified to offer comment.
Funeral director Ben Schmidt concurs. In another November 28, 2022, email to Lead Stories, he said:
No. We are not trained to do this.
After reviewing the "Sudden Death" video, Schmidt told Lead Stories he saw nothing new that didn't exist before the pandemic and COVID vaccines. "I personally have seen clots like this over the course of my entire career," he said. Schmidt also said these are the type of clots and changes in the blood that show up after a person has died:
Postmortem clots possibly coagulated further by the action of formaldehyde. Hirschman also describes 'dirty blood' that he compares to having a sand-like texture. This looks like typical postmortem coagula.
Postmortem coagula is congealed blood that has stuck together.
Because funeral directors and embalmers aren't medical professionals or scientists, Schmidt said a detailed examination of the clots and their potential causes should be done by experts to determine if there's an actual link between the clots and the vaccines:
There needs to be an analysis of the embalming process and the chemicals being used because that can affect the blood and its drainage. This can be done by reviewing any case reports, if any, the claimants have completed.
In addition to his response to Lead Stories, Schmidt wrote a blog on the same topic.
The Centers for Disease Control and Prevention recommends COVID vaccines for everyone 6 months and above. In a November 28, 2022, email to Lead Stories, the CDC provided this statement regarding blood clots as presented in the film:
CDC and FDA [Food and Drug Administration] are conducting the most comprehensive vaccine safety surveillance for COVID-19 vaccines in recent history. Safety monitoring to date in CDC's multiple complementary surveillance systems (VAERS, VSD, CISA, v-safe and v-safe Pregnancy Registry) has not established a causal relationship between COVID-19 vaccination and fibrous blood clots.
The FDA also provided a response to a Lead Stories request for comment on the blood claims in the movie. The agency said this in a November 29, 2022, email:
The FDA cannot comment specifically on this film, however, generally the FDA has not identified any safety signals for fibrous blood clots with COVID-19 vaccines.

Patient safety is our top priority. Communicating the known and potential risks and benefits of medical products is a responsibility that FDA takes very seriously. FDA continues to maintain a strong focus on monitoring the safety of the COVID-19 vaccines.
Only one of the vaccines approved for use in the United States has shown a proven link to blood clots. This is what the CDC website says about the Johnson & Johnson shot:
Thrombosis with thrombocytopenia syndrome (TTS) after J&J/Janssen COVID-19 vaccination is rare and has occurred in approximately 4 cases per one million doses administered. TTS is a rare but serious adverse event that causes blood clots in large blood vessels and low platelets (blood cells that help form clots).
A review of reports indicates a causal relationship between the J&J/Janssen COVID-19 vaccine and TTS. CDC scientists have conducted detailed reviews of TTS cases and made the information available to healthcare providers and the public:
Nine deaths have been causally associated with J&J/Janssen COVID-19 vaccination, according to the CDC. On April 25, 2021, the agency said the benefits of the vaccine outweigh the known and potential risks, but added this warning for health professionals and the public:
[W]omen younger than 50 years old should be aware of the rare but increased risk of this adverse event and that there are other COVID-19 vaccine options available for which this risk has not been seen.
Lead Stories has debunked dozens of stories related to COVID vaccines and blood clots. Additional fact checks related to COVID-19 vaccines can be found here.
Lead Stories will add to this story as the rest of the "Died Suddenly" film is analyzed.
2022-11-29T21:14:40Z

2022-11-29T21:14:40Z

Adds FDA response to blood clot claims.

2022-11-28T23:08:35Z

2022-11-28T23:08:35Z

Adds analysis of the blood clots section of the "Died Suddenly" film.