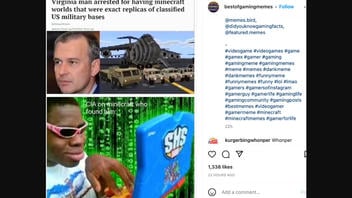 Does an image widely circulated on social media accurately depict an Anchorage Daily News article about a Virginia man who was arrested for having created "exact replicas of classified US military bases" in the Minecraft video game? No, that's not true: This is a digitally altered meme that was initially posted as a joke in an online social forum. The Anchorage Daily News journalist whose name appears in the image and the newspaper's editors have publicly debunked this post as false misinformation since October 2021.
An example of the claim appeared in an Instagram post on November 21, 2022. The accompanying text said:
Dude really said 'I'm gonna declassify military bases (in Minecraft)'

|Follow @bestofgamingmemes (me) for daily gaming memes!|

⚫️My Other Accounts: @memes.bird, @didyouknowgamingfacts, @featured.memes

-

#videogame #videogames #game #games #gamer #gaming #gamingmeme #gamingmemes #meme #memes #dankmeme #dankmemes #funnymeme #funnymemes #funny #lol #lmao #gamers #gamersofinstagram #gamerguy #gamerlife #gaminglife #gamingcommunity #gamingposts #bestmemes #videogamer #gamermeme #minecraft #minecraftmemes #gamerforlife
Minecraft is a computer program and game that allows users to build models of imaginary worlds.

The image's text overlay read:
Virginia man arrested for having Minecraft worlds that were exact replicas of classified US military bases

CIA on Minecraft who found him:
This is what the post looked like on Instagram at the time of the writing: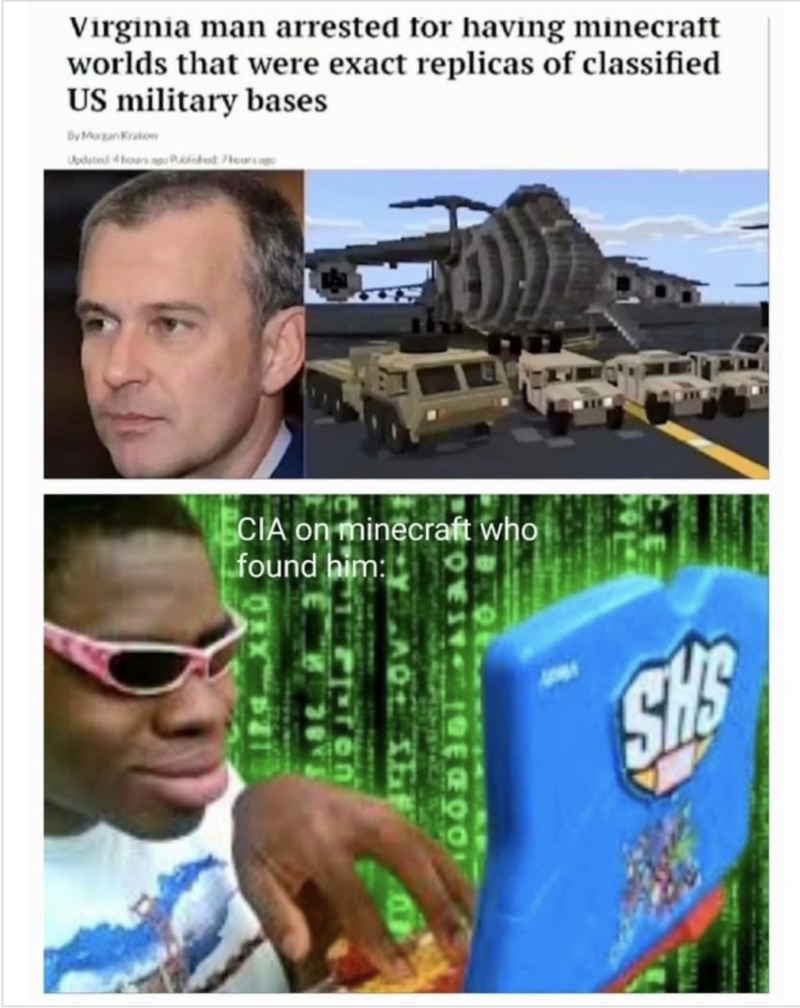 (Source: Instagram screenshot taken on Tue Nov 22 18:15:49 2022 UTC)
The image in this post lacks a top portion, seen in this October 28, 2021, Facebook post, that displays the Anchorage Daily News' website banner. A Google news search using the keywords "Virginia Man Arrested For Having Exact Replicas of Classified U.S. Military Bases in Minecraft" produced no results to substantiate this claim.
A TinEye reverse image search revealed that this meme has circulated since at least 2021, appearing primarily in social forums like Reddit, not on official news websites.
The top portion of the meme posted on Instagram appears to originate from an archived iFunny meme page from October 28, 2021. The bio of the meme poster, "dtomfedboi," stated that the account's published memes are "all jokes, not actually serious mr.fed or journalist."
Morgan Krakow, the real journalist at the Anchorage Daily News whose byline is seen at the top of the image, debunked this post in an October 28, 2021, tweet and thread in which she called the claim misinformation. Anchorage Daily News Managing Editor Vicky Ho tweeted on October 29, 2021, that the posted image is "fake information."
Lead Stories contacted Anchorage Daily News for an updated statement regarding the image's claim, and will update this fact check if a response is received.