STORY UPDATED: check for updates below.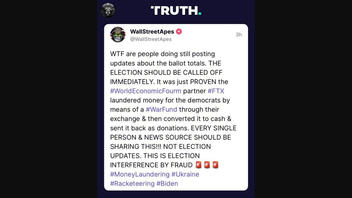 Was U.S. government aid to Ukraine misused by funding Democratic candidates during midterm campaigns through the crypto exchange FTX? No, that's not true: Social media posts did not differentiate between private donations and U.S. government funds allocated to support Ukraine, and no reliable sources reported that either of those was invested in FTX.
The claim appeared in re-posts identical to the original (archived here) on the alternative social media platform Truth on November 13, 2022. It said:
THE ELECTION SHOULD BE CALLED OFF IMMEDIATELY. It was just PROVEN the #WorldEconomicFourm partner #FTX laundered money for the democrats by means of a #WarFund through their exchange & then converted it to cash & sent it back as donations.
Here is what the original looked like before it was taken down:

(Source: Truthsocial.com screenshot taken on Mon 18:13:08 2022 UTC)
The entry was published two days after a more expanded version of the claim had appeared on the Hal Turner Radio Show website, a resource known for promoting conspiracy content previously debunked by Lead Stories.
The article said:
It __seems__ Ukraine was receiving money from the US, Ukraine sent it to FTX, and FTX sent it to Democrats, who originally voted to send it to Ukraine. At this hour, it __appears__ to some observers, to be pure, criminal, money-laundering, and a criminal conspiracy to violate campaign finance laws.
The main "evidence" of the piece was that the FTX Founder Sam Bankman-Fried donated as an individual significant amounts of money to support Democratic candidates. He did, and since he is an American, it's not a crime. Moreover, FTX co-founder Ryan Salame donated to Republicans, including Lisa Murkowski, Marco Rubio and New York GOP candidates. But the article omits this fact as well as the fact that while some Republicans opposed spending on Ukraine, in both chambers of the U.S. Congress, the majority of conservative lawmakers supported the measure.
The article also claimed that the allegedly laundered U.S. aid was "cash that Ukraine DID NOT use to fight Russia, but instead invested into FTX."
However, this assumption was based on a fundamental misunderstanding of the role of cryptocurrency in assistance to Ukraine that conflated the U.S. government funds and separate fund raising efforts.
During the first weeks of the war, in March 2022, Kyiv partnered with FTX. This collaboration was limited to the cryptocurrency exchange converting donations from crypto to the Ukrainian national currency and depositing it at the National Bank of Ukraine. Those were private contributions, not U.S. taxpayer money. As of this writing, there have been no credible reports about Ukraine investing that money in FTX.
Ukraine's Deputy Minister of Digital Transformation Alex Bornyakov took to Twitter (archived here) to deny Ukraine invested money in FTX:
A fundraising crypto foundation @_AidForUkraine used @FTX_Official to convert crypto donations into fiat in March. Ukraine's gov never invested any funds into FTX. The whole narrative that Ukraine allegedly invested in FTX, who donated money to Democrats is nonsense, frankly 🤦‍♂️

-- Alex Bornyakov (@abornyakov) November 14, 2022
Since the February 2022 Russian invasion of Ukraine, the U.S. has spent more than $18.9 billion assisting Ukraine, according to the U.S. Department of Defense. However, there is no publicly available evidence that FTX was involved in transactions related to transferring U.S. government funds -- including U.S. military aid -- to Ukraine.
On November 11, 2022, FTX filed for bankruptcy.
Other Lead Stories fact checks about the ongoing conflict in Ukraine can be found here.
2022-11-15T10:55:02Z

2022-11-15T10:55:02Z

Added quote from Ukraine's Deputy Minister of Digital Transformation