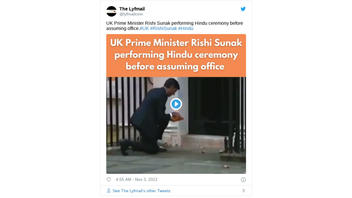 Does a social-media video of Rishi Sunak lighting candles on a doorstep show the United Kingdom's new prime minister performing a Hindu ceremony before assuming office? No, that's not true: This video dates from November 12, 2020, and can be viewed here on Getty Images. The video shows Sunak, then chancellor of the exchequer, lighting candles ahead of the Hindu religious holiday of Diwali outside of his then-official residence at 11 Downing Street in London. The prime minister's official residence is at 10 Downing Street.
The claim about Sunak appeared in a tweet (archived here) published on Twitter on November 3, 2022, under the title "UK Prime Minister Rishi Sunak performing Hindu ceremony before assuming office. #UK #RishiSunak #Hindu." A banner above the tweet says :
UK Prime Minister Rishi Sunak performing Hindu ceremony before assuming office
This is what the post looked like on Twitter at the time of this fact check's writing:
(Source: Twitter screenshot taken on Mon Nov 7 18:46:24 2022 UTC)
Forty-two-year-old Sunak is the United Kingdom's first prime minister of Indian heritage and Hindu faith, and the first person of color to serve in the role.
A practicing Hindu, Sunak took his oath of office as chancellor of the exchequer in February 2020 while holding a copy of the Bhagavad Gita, a scripture central to Hinduism. In November 2020, he lit candles for Diwali, a "festival of lights," outside his official residence at 11 Downing Street.

The lighting of lamps for this five-day holiday, observed by Hindus, Jains and Sikhs, marks "the triumph of light over darkness, goodness over evil, knowledge over ignorance, and hope over despair," according to The Hindustan Times.

This year, the most important day of Diwali was celebrated on October 24, 2022. On the same day, the Conservative Party, which holds the majority of seats in the British parliament, chose Sunak to replace outgoing Prime Minister Liz Truss.
Sunak became prime minister on October 25, 2022. The following day, he attended a Diwali reception inside 10 Downing Street, the prime minister's residence, but official photos of him lighting Diwali candles outside this residence have not emerged.
Additional Lead Stories fact checks related to British prime ministers can be seen here.