STORY UPDATED: check for updates below.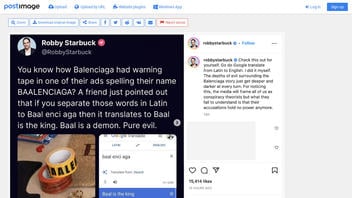 Does the misspelled, separated name of fashion house Balenciaga as "Baal enci aga" translate to "Baal is the king" in Latin? No, that's not true: The claim arises from bugs in Google Translate. In Latin, "Baal is the king" would be "Baal est rex". In Latin, "enci" is not a word and "aga" is the root of several words but not found as a word itself. But users of Google Translate were shown that when misspelled and broken into three pieces, the brand name translates from Latin as "Baal the King."
The claim appeared on Instagram on November 30, 2022. It opened:
You know how Balenciaga had warning tape in one of their ads spelling their name BAALENCIAGA? A friend just pointed out that if you separate those words in Latin to Baal enci aga then it translates to Baal is the king. Baal is a demon. Pure evil.
This is how the post appeared on Instagram at the time of writing: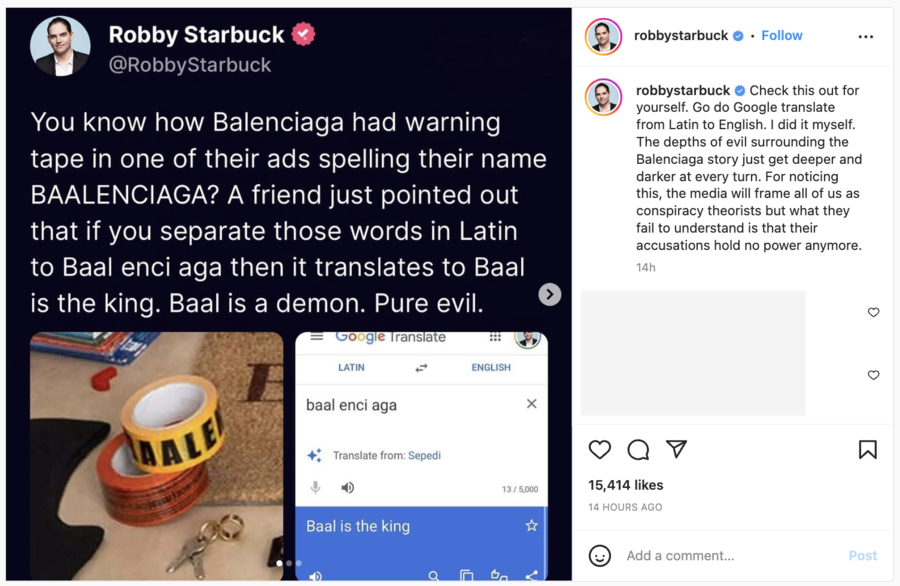 (Source: Twitter screenshot taken on Thurs Dec 1 19:50:21 2022 UTC)
The screenshot used in the message shows that while the search was performed from Latin to English, it suggested to try translating the phrase in "Sepedi," a Bantu dialect spoken in provinces in South Africa and in Lesotho.

A Lead Stories search of "Baal enci aga" from Latin to English yields a similar result: this time the language suggested is Northern Sotho. Here is a screenshot of the Google Translate results: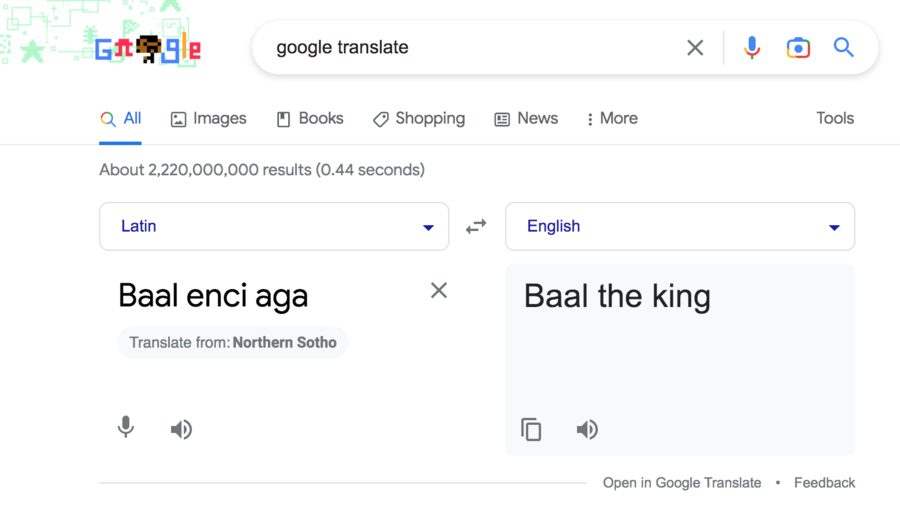 (Source: Google screenshot taken on Thurs Dec 1 19:56:21 2022 UTC)
A reverse search from Northern Sotho to English of "baal enci aga" yields the phrase "wings enci aga," and makes no reference to king.

(Source: Google screenshot taken on Thurs Dec 1 19:56:21 2022 UTC)
The post claim of "Baal is a demon" is a reference to the yellow tape in part of the Balenciaga ad campaign that spells the name "Baalenciaga." The fashion house is being accused by some on social media of condoning and promoting child pornography and satanic and demonic images in a series of ad campaigns.
"Baal," a purported reference to a demonic imagery, and posted on Villains Wiki as "Ba'al (Biblical Hebrew בעל, pronounced [ˈbaʕal], usually spelled Baal in English), also sometimes called 'Bael', is one of the seven princes of Hell in Christian demonology."
Encyclopedia Britannica notes that Balaam is a "Biblical prophet" or a lord.
Lead Stories previously debunked other claims about Balenciaga here.
2022-12-02T18:56:24Z

2022-12-02T18:56:24Z

Updated to add links to online Latin dictionary and to clarify that Google Translate suggests alternate origin languages for phrases.

2022-12-02T17:58:06Z

2022-12-02T17:58:06Z

Updated to clarify steps needed to make Google Translate mis-translate "Baal encia aga."