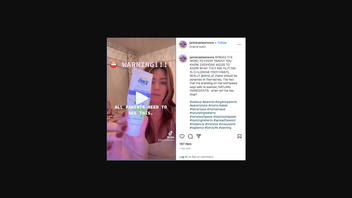 Does carrageenan, a food stabilizer made from red seaweed, cause cancer? No, that's not true: A registered dietitian told Lead Stories that there is no substantial evidence that carrageenan causes cancer. Neither the Food and Drug Administration, nor the European Food Safety Authority have found safety concerns with using carrageenan as an additive.
The claim that carrageenan causes cancer appeared in a TikTok video (archived here) reposted on Instagram on November 29, 2022. A text comment posted with the video reads:

SPREAD THE WORD TO EVERY PARENT YOU KNOW. EVERYONE NEEDS TO KNOW WHAT THEY ARE PUTTING IN CHILDRENS TOOTHPASTE. REALLY @toms_of_maine should be ashamed of themselves. The fact that the branding on the toothpaste says safe to swallow, NATURAL INGREDIENTS.. when will the lies stop? #wakeup #parents #organicparents #parentstobe #moms #dads #fatherhood #motherhood #naturalingredients #tomstoothpaste #toxictoothpaste #toxicingredients #spreadtheword #thisisnuts #imshook #crazyworld #bigfamily #familylife #warning #foryou #viralvideos #facts #educational #research #organic #toddlerlife #toddlermom #3yearolds


The video shows a woman and a toddler in a bathroom. The woman says:
OK, all the moms need to know about this toxic toothpaste that you think is so great because it says right on it, 'Fluoride-free, natural toothpaste.' You go to the ingredients. The main ingredient on this toothpaste is carrageenan. Cancer!

She does not provide any proof or research to substantiate her claim.

This is what the post looked like on Instagram at the time of the writing of this fact check: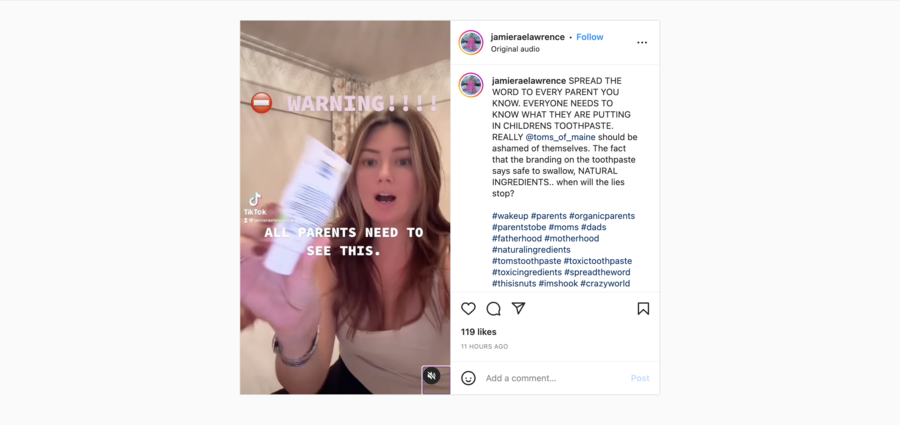 (Source: Instagram screenshot taken on Wed Nov 30 15:03:14 2022 UTC)
The product seen in this video is Tom's of Maine's Fluoride-Free Toddler Training Toothpaste. The ingredient list can be found when clicking on "Explore Our Ingredients" in the product page's banner. Carrageenan is listed as an ingredient in this toothpaste.

Tom's of Maine also has a page on its website dedicated to carrageenan as an ingredient. The company defines carrageenan as a "soluble fiber derived from red seaweed," which has been used as a thickener and stabilizer, mainly in foods like reduced-fat ice cream or frozen yogurt. In this toothpaste, the company states that the ingredient is used as a "Binder/Gum."

The Food and Drug Administration (FDA), which oversees food-safety regulations in the United States, has listed carrageenan as a Generally Recognized As Safe food additive. Lead Stories contacted the FDA for comment and will update this article accordingly when a response is received.

Registered dietitian Toby Amidor, a nutrition expert who addressed concerns about carrageenan in a 2018 interview with Today's Dietitian, echoed the FDA's assessment. In a December 1, 2022, email response to a Lead Stories inquiry about whether she had found evidence that cancer and carrageenan are linked, Amidor wrote:
Based on my research there is no substantial evidence that carrageenan causes cancer.
In 2018, the European Food Safety Authority, an independent agency that monitors food safety in the European Union, published a re-evaluation of carrageenan and its species group, Eucheuma, as food additives. In that paper, the agency reported that "there was no concern with respect to the carcinogenicity of carrageenan."
Lead Stories previously debunked a claim that carrageenan in Dairy Queen's Soft Serve ice cream could cause cancer and heart disease.

Experts also have found no grounds for alarm about carrageenan in other food products. In 2014, the World Health Organization and the United Nations' Food and Agriculture Organization reviewed scientific studies on carrageenan and found that its use in infant formula is "not of concern" at up to 1,000 milligrams per liter.

Additional Lead Stories fact checks of claims that mention carrageenan can be found here.