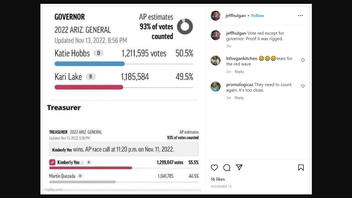 If Arizonans voted primarily for Republican candidates in the November 8, 2022, election, but a Democrat still won the race for governor, was the election rigged? No, that's not true: Election data from past years show ticket-splitting is common in Arizona. An Arizona pollster with two decades experience tracking election data told Lead Stories it is not unusual for the state's voters to cast ballots for candidates in both parties. Voters split their ballots in several states.
The claim appeared in a November 16, 2022, Instagram post under the title "Vote red except for governor. Proof it was rigged."
Here's how the post appeared on the day of writing: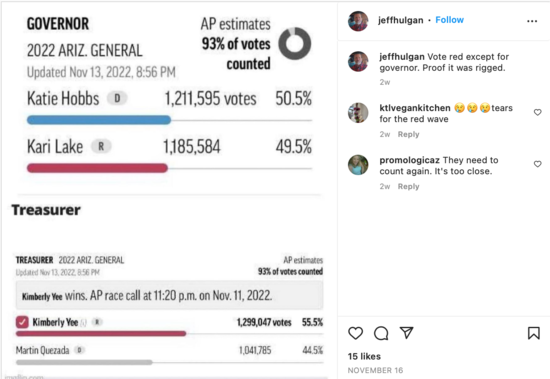 (Source: Instagram screenshot taken Sat Dec 3 at 20:21:24 2002 UTC)
The argument for a "rigged" election lies in the post's graphic, which compares the vote totals for the Arizona governor's race to the outcome of the state treasurer's contest, and contends that Republican candidate Kari Lake could not have lost her bid for governor when GOP incumbent Kimberly Yee easily won re-election.
The claim is false and misrepresents how voting works, Paul Bentz, a pollster and the senior vice president/research and strategy at the political consulting firm HighGround, told Lead Stories in a telephone interview on December 5, 2022.
"Their overall logic, just pointing to the fact that, oh, Yee had more votes than Lake, so something bad happened is just false on its face," said Bentz, whose firm works for candidates from both parties. "It's preposterous to believe that voters don't have the ability to make decisions or pick different candidates from different parties."
In fact, Arizona has a decadeslong tradition of splitting the vote, in part because about one-third of the state's electorate are registered independents, who like balanced government and want to pick and choose their candidates, he said.
"So if they've gone down their ticket and the first four decisions they've made are all Democrats, that makes them even more like to want to balance things out by voting for a Republican in the treasurer's race," he said.
Records from the Secretary of State's office shows Arizona has 4.1 million registered voters. Just under 2.6 million -- about 62 percent -- of Arizonans cast ballots in 2022.
Neither party can win without a share of support from independent voters, and Arizona's history shows multiple examples of crossover voting, including instances when one candidate outperforms another from the same party, Bentz added.
Even within the same party, different candidates can get widely different vote tallies. In 2018, for example, then-candidate Kyrsten Sinema, a Democrat, won her U.S. Senate race, but Democrat David Garcia lost his bid for the governor's office. The same was true in 2020, when Biden won Arizona to clinch the U.S. presidency, but was outpaced by former astronaut Mark Kelly, flipping the seat long held by the late war hero John McCain from red to blue.
The 2002 election offers a different example: Democrat Janet Napolitano, who had served as secretary of Homeland Security in the Obama administration, was elected governor, but Republicans won the majority of other statewide and federal congressional races in that cycle.
"It happens more often than not," Bentz said. "It's just typically these Republicans are not used to losing, so when they see losses, they, they chalk it up to something besides the quality of their candidates."
Arizona completed its canvass of the 2022 election on December 5, 2022. It is true that final vote tallies show that Arizonans voted red most of the time and Republicans maintained control of both chambers of the statehouse and some federal offices, according to election data from the Secretary of State's office.
The results seem to support that assumption of the post that "Arizona went all red," Bentz said, but that's not entirely true. Democrats still won the top-of-ticket, statewide executive office races.
"Yee was the first [Republican] down-ticket ballot that won," the pollster said.
Typically the percentage of party-line voters who cross the aisle to vote for candidates from the opposite party balances out, Bentz said. But in 2022, polling by HighGround found about 10 percent of Republicans were disaffected by their party's candidates at the top of the ticket and only about 2 percent of Democrats were.
When voters get to down-ballot races, also called lower information races, like Yee's, it's a natural spot for voters to default back to their party of choice candidates, he added.
When it comes to a Yee-Lake comparison, however, "the notion that somehow because Kimberly Yee got more votes means that something is afoot, just really doesn't reflect how voting behavior works," Bentz said.
Lake's campaign and those of other top-of-ticket Republicans were closely aligned with former President Donald Trump, touted 2020 election denial theories, and favored criminalizing abortions and eliminating early voting, according to Bentz.
Unlike Lake, however, Yee didn't appear at any Trump-supported Make America Great Again (MAGA) rallies, make negative remarks about McCain and didn't invite moderates to "get out" of the Republican Party.
"It you compare Kari Lake to Kimberly Yee, Yee got 118,000 more votes," Bentz said. "She just ran as a sort of more typical Republican and was able to win."
That likely appealed to moderate Republicans and to the conservative-leaning independents who often vote red, but over the last two election cycles have crossed over to Democrats -- a move Bentz said is tied to the GOP positions "on the wrong side" of issues related to personal independence, including reproductive rights and giving the legislature the power to overturn election results.
"There's a portion of [Arizona's] electorate that is a swing demographic that is paying close attention and wants to support certain kinds of candidates but not others," Bentz said. "That doesn't speak to fraud, it just speaks to the failings of their candidates."
Claims that Yee's victory and Lake's loss is a sign of fraud continue to circulate on social media sites, including here and here.
Media outlets declared Democrat Katie Hobbs, the current Arizona secretary of state, the governor-elect on November 14, 2022. Lake has not conceded defeat and is suing Arizona over problems with on-site printers at 70 of 223 voting center in Maricopa County that produced ballots too light to read. She called the printer problem a sign of voting irregularities and possible fraud that may have cost her the election.
According to the census, Maricopa County is the Arizona's largest county, with 4.5 million residents and roughly 2.4 million active registered voters. Currently, the majority of registered voters in the county are independents or unaffiliated.
Split-ticket voting is not unique to Arizona. Of the 36 states that elected governors in 2022, 26 of which also had Senate races, voters in at least five states chose to send candidates from one party to Washington and candidates from the other to lead at home. A Ballotpedia analysis from three days after the November election (November 11, 2022), for example, shows Kansas and Wisconsin voters elected Democratic governors and Republican senators. New Hampshire, Nevada and Vermont seated Republican governors and Democratic senators.
Other Lead Stories articles about the election in Arizona can be found here.