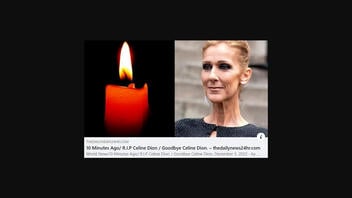 Has the Canadian singer Celine Dion passed away as of December 6, 2022? No, that's not true: While she is currently suffering from a health issue, it has been reported to be non-life-threatening. No credible news organizations have reported her death as of December 6, 2022.
The claim appeared on a website page (archived here) on December 5, 2022. The headline read:
10 Minutes Ago/ R.I.P Celine Dion / Goodbye Celine Dion.
Here is how the post looked at the time of the writing of this fact check: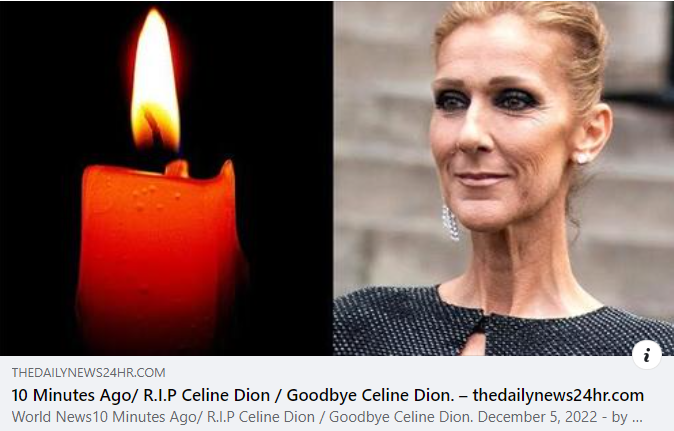 (Source: Thedailynews24hr.com screenshot taken on Tue Dec 06 18:00:12 2022 UTC)
Underneath the "thedailynews24hr.com" logo at the top left of the webpage, a black banner reads "SAMPLE PAGE." The post's headline and a split image of Dion and a red candle are repeated multiple times on the page without accompanying text.
A November 22, 2022, article from Le Journal de Montréal, titled, "Nouvelle biographie sur Céline Dion. On ne savait tout ..." ("New biography on Celine Dion. We didn't know everything ...") cited Dion's physician, Jean Abitbol, who said that she suffers from Globus syndrome. He termed this sensation of a lump in the throat psychosomatic, rather than lethal.

Her most recent press release, dated April 29, 2022, and titled, "Courage World Tour - Celine Dion Reschedules 2022 European Tour Dates to 2023," stated that the singer was undergoing treatment for "severe and persistent muscle spasms which are preventing her from performing ..." No mention was made of a life-threatening health problem.

In an October 2021 fact check, Lead Stories debunked a claim that Dion was suffering muscle spasms from a COVID-19 vaccine.

Lead Stories contacted the public relations agency representing Dion for a statement related to the claim about her death. If a response is received, this fact check will be updated accordingly.
A Google News search using the keywords "Celine Dion Has Passed Away As Of December 6, 2022," however, produced no results from credible news organizations to confirm that Dion has died.