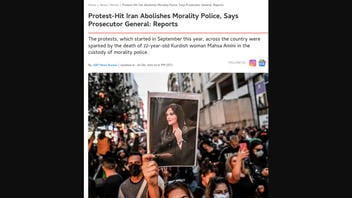 Did the government of Iran "abolish" its morality police in response to country-wide protests that erupted after the death of Mahsa Amini during detention by the morality police for wearing a loose headscarf in September 2022?
No, that's not true: Iran's Attorney General Mohammad Javad Montazeri made a comment in early December that led to many news organizations using the word "abolished" in their headlines. But sources tell Lead Stories that this is misleading and Montazeri's statement will not change Iranian laws that suppress Iranian women's and girls' human rights. These sources include Amnesty International, whose press department replied on December 14, 2022, to an email request for information with a link to this report, which says Iranian government officials made "vague and conflicting statements."
The claim that Iran had ended the morality police appeared in this article published by ABP News on December 4, 2022, and titled "Protest-Hit Iran Abolishes Morality Police, Says Prosecutor General: Reports" (archived here):
Protest-Hit Iran has abolished its morality police, the Prosecutor General said on Sunday, as reported by news agency AFP.

Iran has scrapped its morality police units after more than two months of protests triggered by the arrest of Mahsa Amini for allegedly violating the country's strict female dress code, AFP reported citing local media.

This is what the top of the article looked like at the time of the writing of this fact check: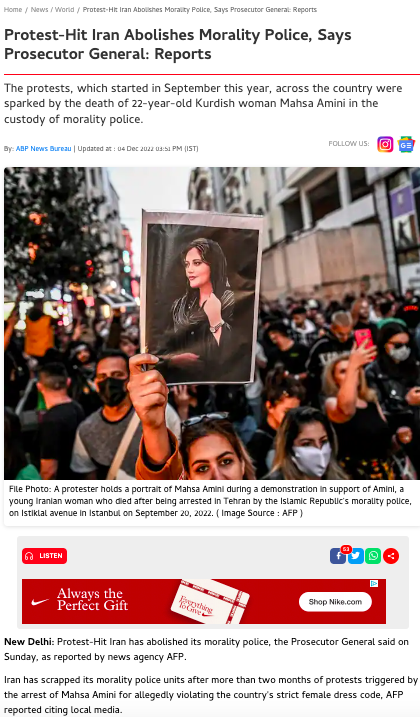 (Source: ABP screenshot taken Wed Dec 15 at 01:43:55 2022 UTC)
According to Jason Brodsky, the policy director of United Against Nuclear Iran, an activist group, Attorney General Montazeri did not say that the morality police was "abolished." In a December 13, 2022, email in response to a query by Lead Stories, Brodsky explained:
The attorney general does not oversee the morality police. He reports to the judiciary. The morality police reports to the Law Enforcement Forces (Iran's Police), a component of the Interior Ministry, and receives guidance from the Supreme Council of the Cultural Revolution. It would be one of those bodies which would have announced an abolition of the morality police. I think it was taken out of context without an understanding of the Iranian system.
Brodsky also said that, while Montazeri did indicate the hijab law is under review, it will most likely remain on the books:
It is an integral part of the Iranian system. At most there may be changes in enforcement and this could involve other non-morality police security institutions enforcing the law. Thus, the Islamic Republic has options but the hijab legal framework is not going anywhere. Nothing formal has been announced to date, and thus these comments are likely an attempt to dilute revolutionary sentiment among Iran's people to divide and conquer them and telegraph to the international community that reform in the Islamic Republic is possible, when in reality it is not.
"Gasht-e-Ershad," which translates as "guidance patrols" but is known as the "morality police," are like vice squads that patrol the streets in Iran and can arrest people deemed to be violating Iran's extremely strict interpretations of Sharia, or Islamic law. The morality police fall under the jurisdiction of Iran's police department and the country's Ministry of Interior.

Established by former President Mahmoud Ahmadinejad in 2006, the Gasht-e-Ershad enforce what is informally referred to as the hijab law. Compulsory wearing of the hijab, a head covering, and loose, non-figure-hugging clothing became mandatory for women and girls as young as 7 years old in 1983, after the tumultuous years following the 1979 Iranian Revolution.
According to France24, Iran's reformist newspapers put the news about the alleged abolition of the morality police on the front pages of dailies like Sazandegi, which called it the "end of the morality police" but the Sharq newspaper asked "is this the end of morality patrols?"
Most of Iran's conservative media ignored Montazer's comment.
In the Amnesty International report, Heba Morayef, Amnesty International's regional director for the Middle East and North Africa, said:
It is important to remember that protesters in Iran are not calling just for the dismantling of the 'morality police' but for the transition of Iran to a new political and legal system that would respect their basic human rights and freedoms. The popular uprising taking place across Iran reflects nationwide rage over decades of oppression against the people of Iran, many of whom continue to be unlawfully killed on a daily basis simply for wanting freedom, democracy and human rights.
Supreme Leader Ayatollah Ali Khamenei has not made any public statements about the morality police or protests and neither has President Ebrahim Raisi. Khamenei's sister, Badri Hosseini Khamenei, has written an open letter that condemned the nationwide crackdowns on protesters and called for Iran's Islamic Revolutionary Guards Corps to lay down their arms.

Two protesters have been executed to date. Human Rights Watch reported on December 13, 2022, that courts have issued "at least 11 other protest-related death sentences" and likely will continue hearing such cases, including with children.

Lead Stories will update accordingly if Iranian officials make any public comments about the morality police or the hijab law.