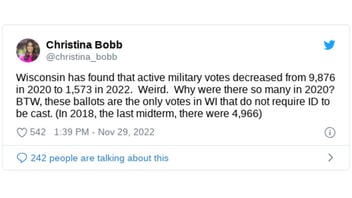 Does a large drop in Wisconsin's active military votes between 2020 and 2022 suggest fraud? No, that's not true: There's no evidence of widespread voter fraud in the 2020 presidential election. Turnout can vary greatly from election to election, especially whether they're presidential, primary or midterm ballots. Also, the 2020 election set a modern record for the highest overall voter turnout rate. The 2022 midterm elections did not.
The claim about Wisconsin's active military votes appeared in a tweet (archived here) on November 29, 2022, by Christina Bobb, a lawyer for former President Donald Trump. She is also a former One America News Network anchor. Her tweet said:
Wisconsin has found that active military votes decreased from 9,876 in 2020 to 1,573 in 2022. Weird. Why were there so many in 2020? BTW, these ballots are the only votes in WI that do not require ID to be cast. (In 2018, the last midterm, there were 4,966)
This is what the post looked like on Twitter at the time of the writing: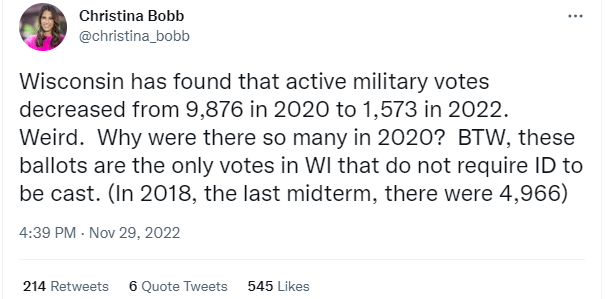 (Source: Twitter screenshot taken on Wed Nov 30 23:07:45 2022 UTC)
Bobb is a passionate believer that the 2020 presidential election was stolen from Trump. She is also in potential legal trouble after signing a letter for the FBI and Justice Department in June 2022 that said all documents in his possession at his Mar-a-Lago residence in Florida had been returned to the U.S. government. Two months later, an FBI raid turned up 20 more boxes of new material there.
The numbers in Bobb's tweet don't match official figures provided to Lead Stories by the Wisconsin Elections Commission (WEC). Those figures can be seen in the graph below: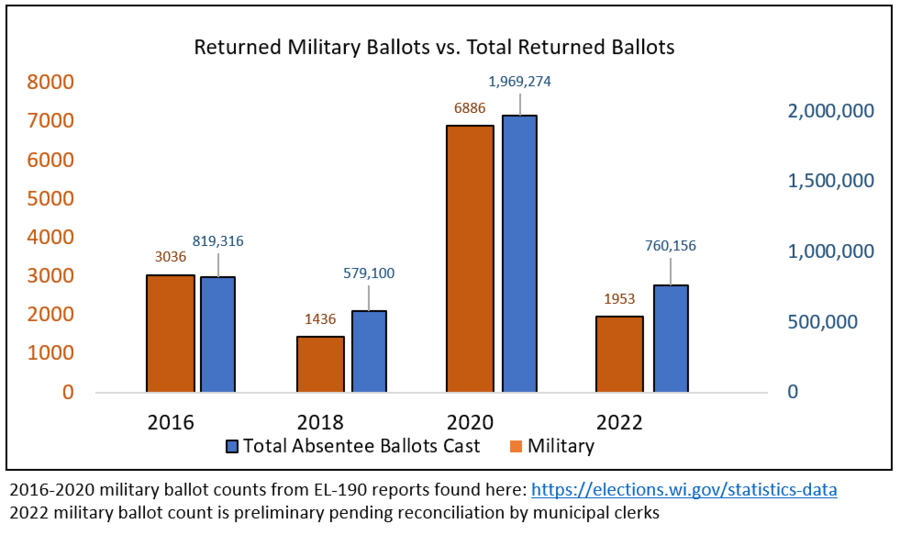 (Source: Wisconsin Elections Commission)
The discrepancies between the WEC- and Bobb-provided figures are wide:
WEC: 6,886 returned military ballots in 2020, compared to 1,953 for 2022 and 1,436 for 2018
Bobb: 9,876 "active military votes" in 2020, compared to 1,573 for 2022 and 4,966 for 2018
WEC Public Information Officer Riley Vetterkind told Lead Stories in a December 1, 2022, email that the Commission's figures only include the number of absentee ballots that military voters returned:
Some sources are misconstruing data that shows the election participation of military members in previous elections, but includes both in-person and absentee voting. These sources appear to conflate voters, absentee ballots, and participation in the election.

The data that we provided you ... shows the number of absentee ballots returned by military members (importantly, this figure is different than absentee ballots counted). It does not include ballots cast in-person at the polls by military members. The 2022 numbers will continue to be updated as clerks are still inputting and updating their data for the General Election.

Many voters designated as 'military' in the statewide voter registration list may have voted at the polls using the normal procedures any other regular Wisconsin voter would have used, which includes providing a photo ID. In other words, just because a person is designated as a military voter in the statewide database does not mean that person requested an absentee ballot for any given election.
University of Wisconsin-Madison political science professor Barry Burden told Lead Stories that voter turnout for elections, including absentee ballots from members of the armed forces, can vary widely. But one thing is historically true: More voters cast ballots in presidential elections than in midterms. In a December 1, 2022, email, Burden said:
Presidential campaigns are more compelling to military voters because they are often less engaged with state and local politics in their home states while they are deployed. Being away from home reduces their exposure to state and local contests that dominate midterm elections, but interest in the presidential election is easier to maintain while deployed because it is the one contest that takes place nationwide. This dynamic causes the numbers of votes cast by military members to ebb and flow between midterm and presidential election more than for most other groups of voters.
Bobb's Twitter post appears to suggest voter fraud is at play when she says, "Weird. Why were there so many in 2020?" and follows it with, "BTW, these ballots are the only votes in WI that do not require ID to be cast."
The WEC website has a section dedicated to voter fraud on its FAQ page. In response to the question "Was there widespread fraud in the 2020 election?", the WEC states:
There is no evidence of widespread voter fraud in this or any other Wisconsin election. Wisconsin has many systems in place to deter and detect illegal voting, but there will always be small amounts of voter fraud in any election. The Wisconsin Elections Commission is dedicated to working with local election officials and law enforcement to identify and prosecute election crimes.
In a separate December 1, 2022, email, the WEC's Vetterkind told Lead Stories that "countless reasons" could explain the differences in voter turnout; reasons that don't involve fraud. He said:
Of course, an important consideration is that overall turnout is typically higher in presidential elections than midterm elections. And yes, during the COVID-19 pandemic, we saw a significant increase in the number of absentee ballots. In the November 2020 General Election, about 60% of the total ballots were cast absentee (in-person absentee and by-mail absentee).
Vetterkind also addressed Bobb's claim that military ballots "are the only votes in WI that do not require ID to be cast." That's true, but the process doesn't come without safeguards. In his email response to Lead Stories, he explained how it works:
While there are no special 'military ballots,' and members of the Armed Forces receive the same ballots as everyone else, military personnel may request an absentee ballot through special processes outlined in law. These special procedures outlined in state law provide an exemption to military voters from having to provide a photo ID upon requesting an absentee ballot, among other things.

A military voter (a voter who has indicated military status) may also request an absentee ballot using the process that all other regular Wisconsin voters use (which would require providing photo ID, etc.)
The My Vote Wisconsin website, run by the WEC, spells out the "special rules and additional options" for military and overseas voters.
Additional Lead Stories fact checks related to election fraud can be found here.