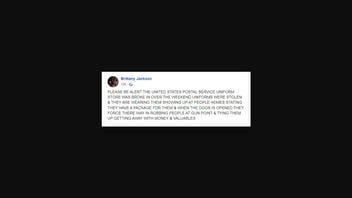 Did thieves steal U.S. Postal Service uniforms and use them to rob homeowners at gunpoint? No, there's no evidence that's true: A local Postal Service spokesman told Lead Stories the claim "could not be substantiated." Additionally, there have been no widespread reports of fake postal workers robbing people at gunpoint.
The claim appeared on Facebook on December 19, 2022. It read:
PLEASE BE ALERT THE UNITED STATES POSTAL SERVICE UNIFORM STORE WAS BROKE IN OVER THE WEEKEND UNIFORMS WERE STOLEN & THEY ARE WEARING THEM SHOWING UP AT PEOPLE HOMES STATING THEY HAVE A PACKAGE FOR THEM & WHEN THE DOOR IS OPENED THEY FORCE THERE WAY IN ROBBING PEOPLE AT GUN POINT & TYING THEM UP GETTING AWAY WITH MONEY & VALUABLES
This is what the post looked like shortly after it was published:

(Source: Facebook screenshot taken on Tue Dec 20 13:31:41 2022 UTC)
The poster lists her hometown as Chicago. Accordingly, Lead Stories contacted the spokesman for the Chicago district of the U.S. Postal Service (USPS), Tim Norman, to ask about the claim. In an email to Lead Stories, dated December 20, 2022, Norman wrote:
Postal Inspectors have looked into this claim and the post does not appear to be credible. The claim could not be substantiated. The uniform store indicated they did not have any robberies or burglaries and none for uniforms.
It's important to note his comment was referring to a local investigation.
Lead Stories also contacted the national U.S. Postal Inspection Service, the law enforcement arm of USPS, as well as the woman who made the post. We will update this story, as appropriate, if we receive responses.
At the time of writing, there had been no widespread news reports of people posing as postal workers and robbing homeowners at gunpoint. In fact, a Google news search for "postal workers robberies" turned up stories of thieves targeting postal workers themselves.
Other Lead Stories fact checks about the USPS can be found here and here.