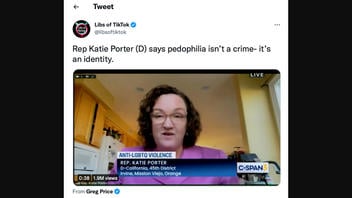 Does a video of a congressional hearing show a Democratic congresswoman from California saying she believes pedophilia is an identity and not a crime? No, that's not true: Katie Porter's remarks were about the use of false narratives on social media that label LGBTQ individuals as pedophiles because of their gender identity or sexual orientation.
The claim appeared in a December 15, 2022, tweet (archived here) under the title "Rep Katie Porter (D) says pedophilia isn't a crime- it's an identity." The video in the post opened with Porter saying:
This allegation of groomer and pedophile, it is alleging that a person is criminal somehow, and engaged in criminal acts merely because of, of their identity, um, their sexual orientation, their gender identity.
Here's how the post appeared at the time of writing: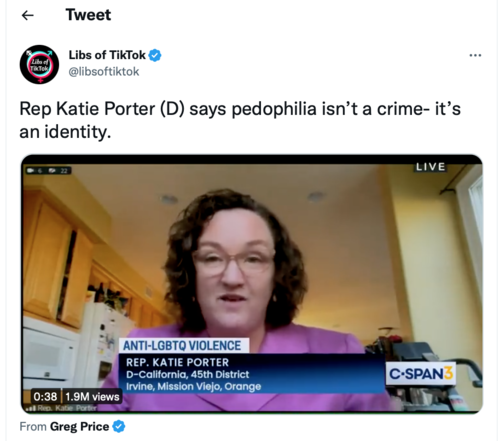 (Source: Twitter screenshot taken Tues Dec 20 at 15:00:00 2022 UTC)
The post video is a short clip from a three-hour-plus House Oversight and Reform Committee hearing from December 14, 2022, about violence against the LGBTQ community, which included testimony from survivors of the fatal Club Q nightclub shootings in Colorado Springs, Colorado, and activists for LGBTQ rights.
As used in the post, the clip is misleading and takes Porter's words out of context to falsely claim she sees an equivalence between people who perpetrate sex crimes against children, and sexual orientation and/or gender identity.
But that's not what she said, as a review of Porter's full remarks from the hearing, which were broadcast on C-SPAN, clearly shows.
Porter, who represents Orange County, California, begins speaking at the 2:49 mark of the full video. She opens with an explanation of the myth that LGBTQ individuals are falsely labeled as "so-called groomers" -- individuals who cultivate close and manipulative relationships with children in order to exploit and abuse them. Porter says:
The groomer narrative is an age-old lie to position LGBTQ+ people as a threat to kids, and what it does is deny them access to public spaces, it stokes fear and can stoke violence.
The statement sets up Porter's question to Kelley Robinson, president of the Human Rights Campaign, about an analysis of online harassment and violence, including what Porter said were "500 influential tweets ... that identified LGBTQ people as so-called groomers."
When viewed in the full context of the hearing, it's clear that Porter did not say that pedophilia is an identity. She was talking about baseless claims of criminality that are leveled based on assumptions about gender identity and sexual orientation.
Pedophilia is a psychosexual disorder primarily in adults that is characterized by a sexual interest in young children. A fact sheet from the Association of LGBTQ+ Psychiatrists says "sexual behavior with children is a crime and not a sexual orientation."
According to the Williams Institute at UCLA, there is a long history of efforts to criminalize LGBTQ persons based on gender identity and sexual orientation. That includes a particular focus on labeling gay men as pedophiles. A new report on LGBTQ persons on sex offender registries, however, notes that multiple research studies (here, here and here) have disproven such claims.