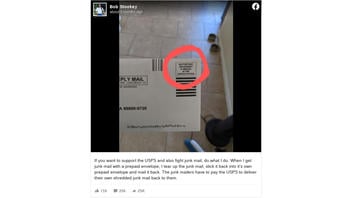 Are you supporting the U.S. Postal Service (USPS) and reducing junk mail if you return unsolicited business-reply mail to the sender using the enclosed prepaid envelope? That's mostly true: The USPS is paid per piece by marketers for returned mail but you can reduce your junk mail without involving the post office.
These claims appeared in a Facebook post published on April 5, 2021 (archived here), alongside an image of a prepaid envelope with the area where the postage stamp would be circled. The caption reads:
If you want to support the USPS and also fight junk mail, do what I do. When I get junk mail with a prepaid envelope, I tear up the junk mail, stick it back into it's own prepaid envelope and mail it back. The junk mailers have to pay the USPS to deliver their own shredded junk mail back to them.
This is what the post looked like on Facebook at the time of writing:
(Source: Facebook screenshot taken on Thu Jun 24 20:30:21 2021 UTC)
Lead Stories emailed the USPS about this claim. Sara Martin, a senior public relations representative with the USPS, responded on June 24, 2021:
The sender pays for each piece of returned Business Reply Mail (BRM). ...

The sender of business mail holds a permit with the USPS for this type of mail. USPS is paid by the permit holder for the account in addition to a per-piece fee for the pieces returned.

The sender guarantees payment of the applicable First-Class Mail or Priority Mail postage, plus a per-piece fee, on all returned BRM. This includes any incomplete, blank, or empty BRM cards and envelopes and any mailable matter with a BRM label affixed.

By the way, it's not 'junk mail' if it's useful to you, and it is for many of our customers. If you're the primary shopper for your family, you want to receive offers and coupons and catalogs. It's a highly effective way for businesses to communicate with potential customers. America's businesses depend on marketing mail to reach their customers. But there are ways to manage the mail you get. ...

Anyone who wants to reduce the amount of marketing mail they receive may write to the Direct Marketing Association Preference Service, which is independent of the United States Postal Service, and let them know they do not want to receive marketing mail. In addition, the three major credit-reporting services (Equifax, Experian & TransUnion) also offer a name removal option.
The Direct Marketing Association Preference Service website is dmachoice.org.