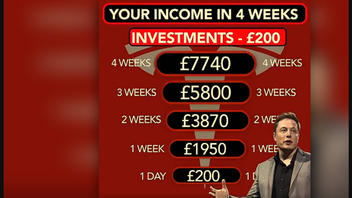 Did Tesla launch a new cryptocurrency that will rapidly turn a £200 ($240) investment into thousands in just days? No, that's not true: This deceptive ad is not associated with Tesla. Although Tesla has invested in cryptocurrency, and Dogecoin can be used to buy some Tesla products, the automotive-energy company owned by Twitter CEO Elon Musk has not created a "new official Tesla e-money," as claimed in a promotional video on social media.
This ad is not from a legitimate investment company or Tesla, and the linked website is concealed with a redirecting method called "cloaking." The digital security company Avast has determined that such a promotion for another fake Tesla currency, TeslaCoin, tricks victims into paying to create an account, costing them "at least $250."
The 10-second-long video was posted on Facebook on December 20, 2022. The video was captioned:
𝐓𝐞𝐬𝐥𝐚 has invented a new electronic currency. Investing in 𝐓𝐞𝐬𝐥𝐚 is booming.

Starting today, you can buy the new official Tesla e-money.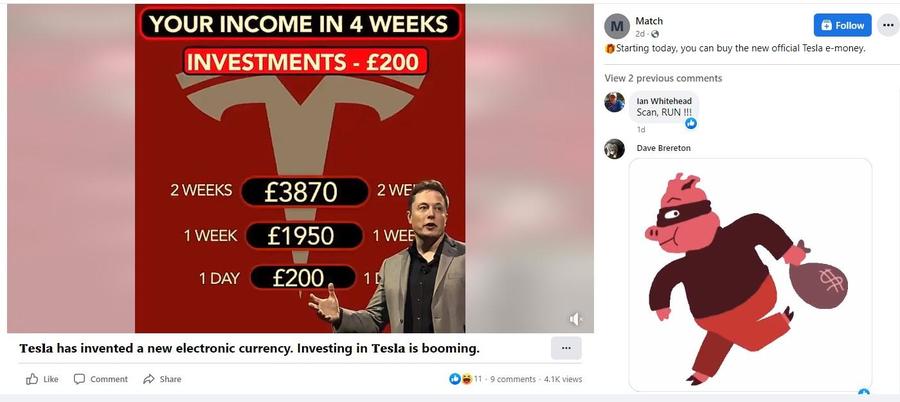 (Source: Facebook screenshot taken on Thu Dec 22 17:36:33 2022 UTC)
Match does not have any posts visible on its page timeline as of December 22, 2022. Account information from the Page transparency report shows that it was created on September 19, 2022, and that its six page managers are located in Indonesia, the United States and Vietnam.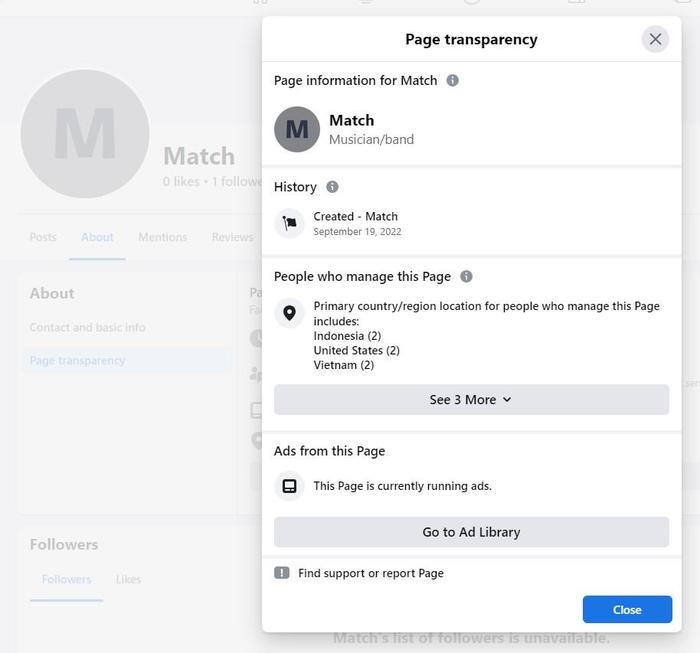 (Source: Facebook screenshot taken on Thu Dec 22 17:36:33 2022 UTC)
When viewed on a desktop, this post does not have any additional links for the user, but, when viewed on a mobile phone, there is a link to tangowealthpassword.com. Clicking "Learn More" does not take the user to a page on Tangowealthpassword.com to learn about the advertised cryptocurrency investment opportunity. Instead, the user is redirected to a Goodreads book review website.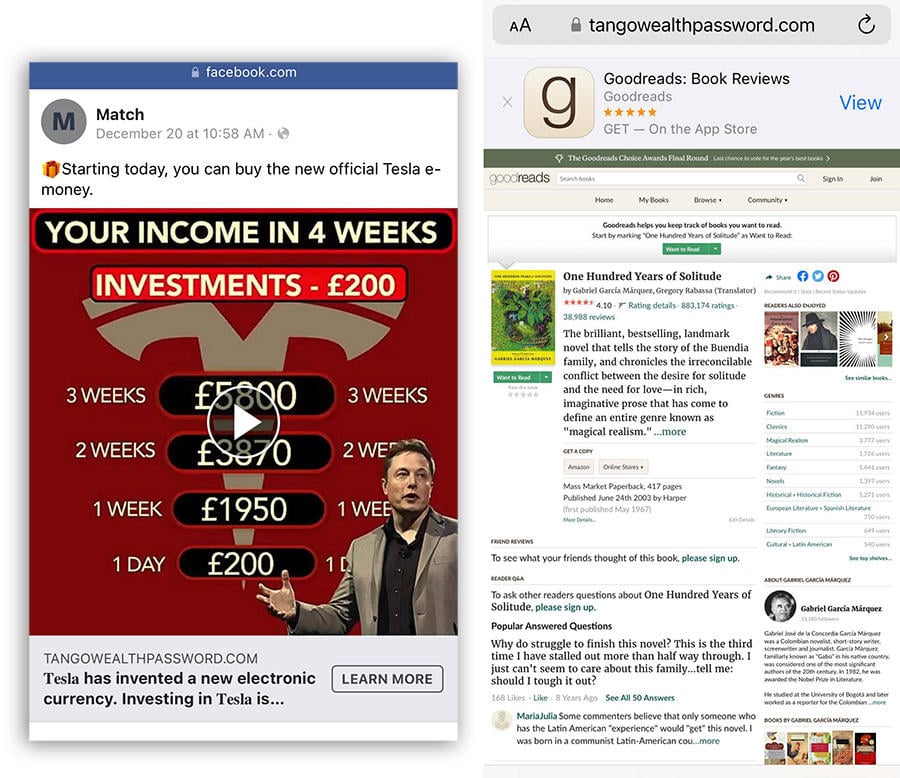 (Source: Facebook mobile screenshots taken on Thu Dec 22 17:36:33 2022 UTC)
This redirecting trick is known as cloaking. An August 12, 2022, blog post by the digital security company Avast, titled "Fake Elon Musk TeslaCoin cryptocurrency investment scam costs victims at least $250," describes how potential investors are promised earnings that are too good to be true. Some potential investors are taken to a payment gateway where they are pressured to enroll. Others, especially systems that may detect the fraudulent activity, are redirected. Avast describes cloaking this way:
Playing hide-and-seek
The sites used in this campaign can detect if a VPN is being used to access the site, and if so, they display content from an eshop. The eshop doesn't work, site visitors can browse products, but they can't add them to their cart or make purchases. This is done to hide the scam page from unwanted access and as an attempt to evade phishing hunters and security software.

Tesla does not have its own cryptocurrency called Tesla e-money or Tesla Coin. A FAQ page on its corporate website for Dogecoin identifies it as the only cryptocurrency the company takes for payments. The text states:
What cryptocurrency does Tesla accept?
Tesla only accepts Dogecoin. Tesla cannot receive or detect any other digital assets. Ensure you are making your purchase with Dogecoin. Sending any other digital assets may result in the assets being lost or destroyed. Non-Dogecoin digital assets sent to Tesla will not be returned to the purchaser.

Under the question "What else do I need to know about the Dogecoin network," the FAQ says Tesla does not own or control the Dogecoin network or the software for a Dogecoin wallet.

Lead Stories has debunked other false investment ads in the past, including a phishing scam that used a fake cryptocurrency token.
(Editors' Note: Facebook is a client of Lead Stories, which is a third-party fact checker for the social media platform. On our About page, you will find the following information:
Since February 2019 we are actively part of Facebook's partnership with third party fact checkers. Under the terms of this partnership we get access to listings of content that has been flagged as potentially false by Facebook's systems or its users and we can decide independently if we want to fact check it or not. In addition to this we can enter our fact checks into a tool provided by Facebook and Facebook then uses our data to help slow down the spread of false information on its platform. Facebook pays us to perform this service for them but they have no say or influence over what we fact check or what our conclusions are, nor do they want to.)