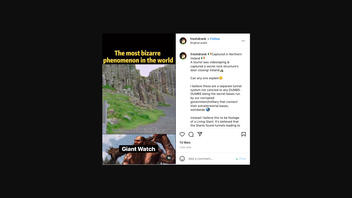 Did a tourist in Northern Ireland record a giant's "door" opening in the mountainside at Giant's Causeway? No, that's not true: This was part of a promotional video made by An Taisce - The National Trust for Ireland, a nongovernmental charity that works to conserve Ireland's national environment and maintain Irish landmarks. An Taisce, translated from Irish (Gaeilge) to English means the store or the Treasury. Giant's Causeway is Northern Ireland's only UNESCO World Heritage Site and is overseen by the National Trust.

The claim appeared on Instagram on November 30, 2022. The text on the post says:
🇮🇪Captured in Northern Ireland 🇮🇪
A tourist was videotaping & captured a secret rock structure's door closing! Ireland⛰

Can any one explain🤔

I believe these are a separate tunnel system not concted to any DUMBS . DUMBS being the secret bases run by our corrupted government/military that connect their extraterrestrial bases, worldwide 🌎

Instead I believe this to be footage of a Living Giant. It's believed that the Giants found tunnels leading to Hollow Earth🌎. Alternatively could be a passage way past the Ice Wall.

Let me know you thoughts🤔

👇 below👇

===============================
👁 Turn Post Notification On 📣
👁 Follow, Like, Share and Comment 📝
👥 DoubleTap & Tag Light Warriors Below⤵
===============================

#populationcontrol #conspiracytheories #newworldorder #freeyourmind #cognitivedissonance #explorepage #5d #flatearth #nocurve #pinealgland #truthseeker #conscious #secretsocieties #consciousawareness #politics #5g #nogravity #Freemasonry #illuminati #predictiveprogramming #conspiracy #wakeup #projectbluebeam #photooftheday #giant
This is what the post looked like at the time of writing: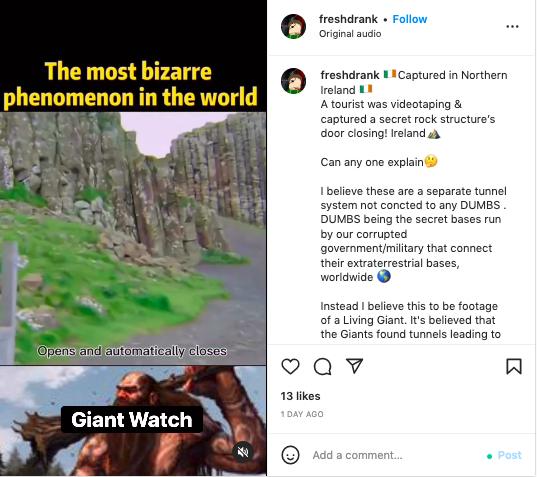 (Source: Instagram screenshot taken on Fri Dec 2 15:17:48 2022 UTC)
In a December 2, 2022, email, Susan Smith, the booking and sales co-ordinator with the Giant's Causeway and Carrick-a-Rede Property Group at the National Trust, wrote:
This image is from a promotional video we done 7 years ago.
Smith provided a link to the promotional video. A screenshot of the video also shows that subtitles say:
This is a marketing feature from the National Trust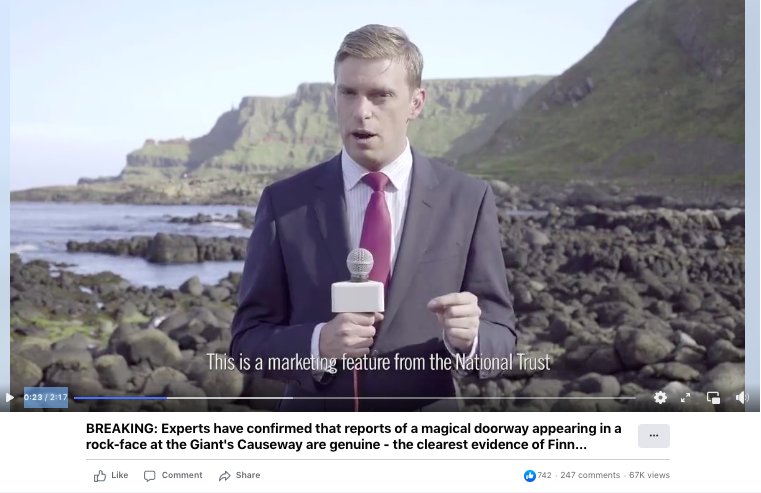 (Source: Facebook screenshot taken on Fri Dec 2 15:44:17 2022 UTC)
The video talks about reports of seeing legendary Irish giant Finn McCool entering a magical doorway in the causeway, which can be seen closing at 0:48 in the marketing video.
Lead Stories wrote about another Ireland-related claim here.