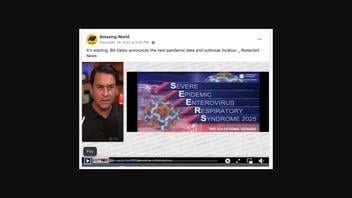 Did Bill Gates, co-founder of Microsoft and philanthropist, "announce" when and where the next pandemic will take place? No, that's not true: A video circulating on social media reused audiovisual material labeled as fictitious. The clip summarized a hypothetical scenario that was a part of an October 2022 international exercise aimed at improving preparedness for future pandemics.
The story originated from a Redacted News video shared on Facebook on December 26, 2022, by an Indonesia-based account. The caption said:
It's starting, Bill Gates announces the next pandemic date and outbreak location _ Redacted News
This is what the post looked like on Facebook at the time of writing: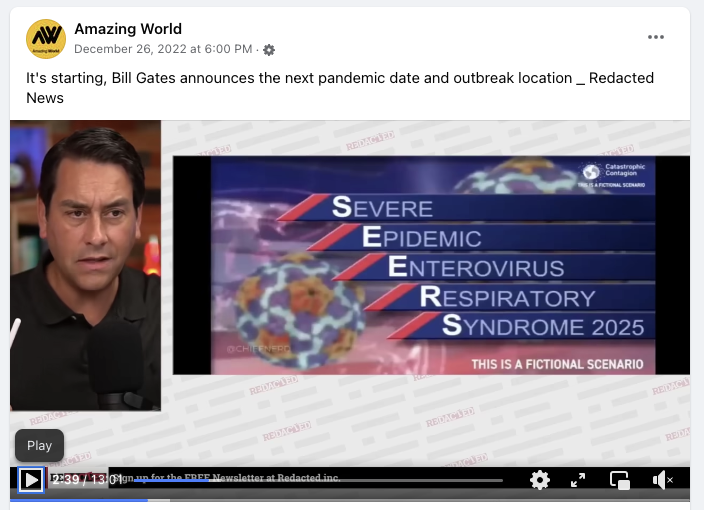 (Source: Facebook screenshot taken on Wed Jan 4 17:17:48 2023 UTC)
A tabletop simulation of a hypothetical global health crisis was held on October 23, 2022, in Brussels. The Johns Hopkins Center for Health Security held the conference, partnering with the World Health Organization and the Bill & Melinda Gates Foundation. It was a public event, not a secret meeting. Its description clearly said the participants discussed a simulation, not a plot:
The exercise simulated a series of WHO emergency health advisory board meetings addressing a fictional pandemic set in the near future. Participants grappled with how to respond to an epidemic located in one part of the world that then spread rapidly, becoming a pandemic with a higher fatality rate than COVID-19 and disproportionately affecting children and young people.
The details were summarized in a video described as an "overview of the exercise." The clip contained a graphic disclaimer at the lower right warning the viewers that it did not show real-life events: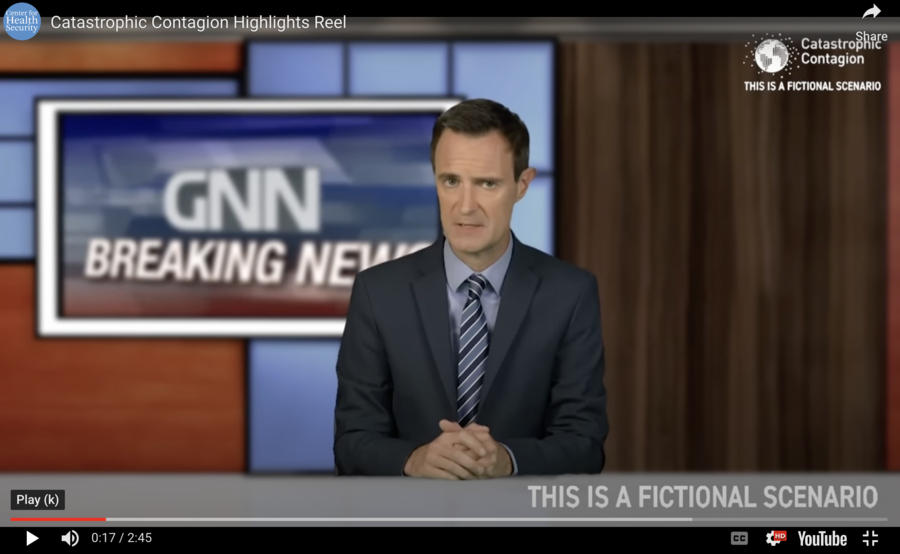 (Source: Centerforhealthsecurity.org screenshot taken on Wed Jan 4 18:01:15 2022 UTC)
As the name of the nonexistent virus appears on the screen at the 0:25 mark, the disclaimer remains in place: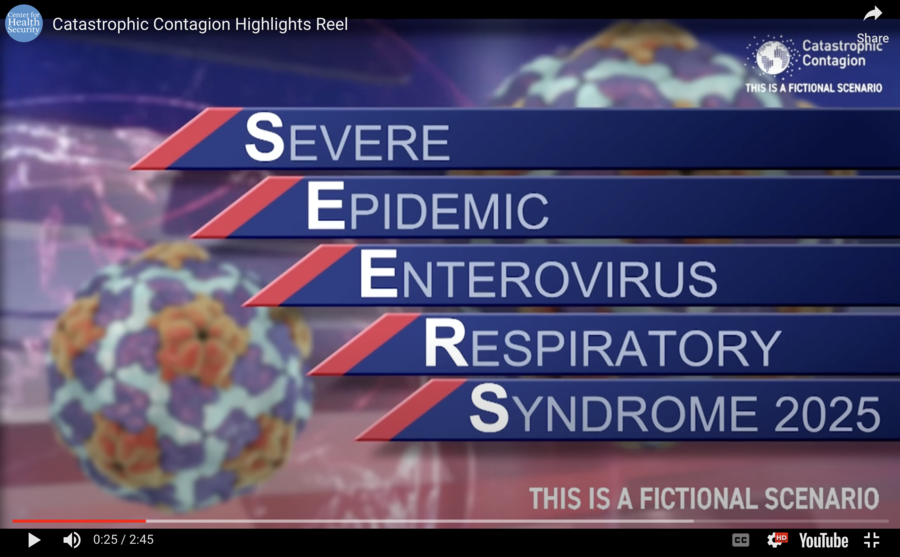 (Source: Centerforhealthsecurity.org screenshot taken on Wed Jan 4 18:10:13 2022 UTC)
Redacted News reused the shot at the 2:20 mark without cropping out the warning.
The Facebook account that shared the clip describes itself as "Musician/band," and all its three managers are based in Indonesia, according to the Transparency tab. During the past month, the account only shared Redacted News clips with a few videos in between showing leaves of tropical trees.
Redacted News is hosted by former Fox News anchor Clayton Morris and his wife, Natali. The channel's description on Rumble promotes the video blog by emphasizing its creator's professional expertise in media. Yet, it comes with a disclaimer that says in part:
The content in our Youtube videos SHALL NOT be construed as tax, legal, insurance, construction, engineering, health & safety, electrical, financial advice, or other & may be outdated or inaccurate; it is your responsibility to verify all information. We are not financial advisers. We only express our opinions based on our experiences. Your experience may be different. Investing of any kind involves risk. While it is possible to minimize risk, your investments are solely your responsibility. You must conduct your own research. ...

These videos are for entertainment purposes ONLY.