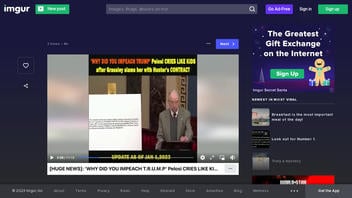 Did former U.S. House of Representatives Speaker Nancy Pelosi cry after Iowa's Republican Sen. Chuck Grassley presented information about business ties between Hunter Biden, son of President Joe Biden, and the Chinese government? No, that's not true: Video footage posted on social media with this claim shows no confrontation between the two lawmakers. It shows Grassley speaking on the Senate floor in March 2022 about supposed business connections between Hunter Biden, the president's brother, James Biden, and China's Communist Party government. Grassley makes no mention of Pelosi, and the Democratic congresswoman from California does not appear anywhere in the video.
The claim appeared in a Facebook post (archived here) published on January 1, 2023. Alongside the video of Grassley, the post read:
'WHY DID YOU IMPEACH T.R.U.M.P' Pelosi CRIES LIKE KIDS after Grassley slams her with Hunter's CONTRACT
This is what the post looked like on Facebook at the time of the writing of this fact check: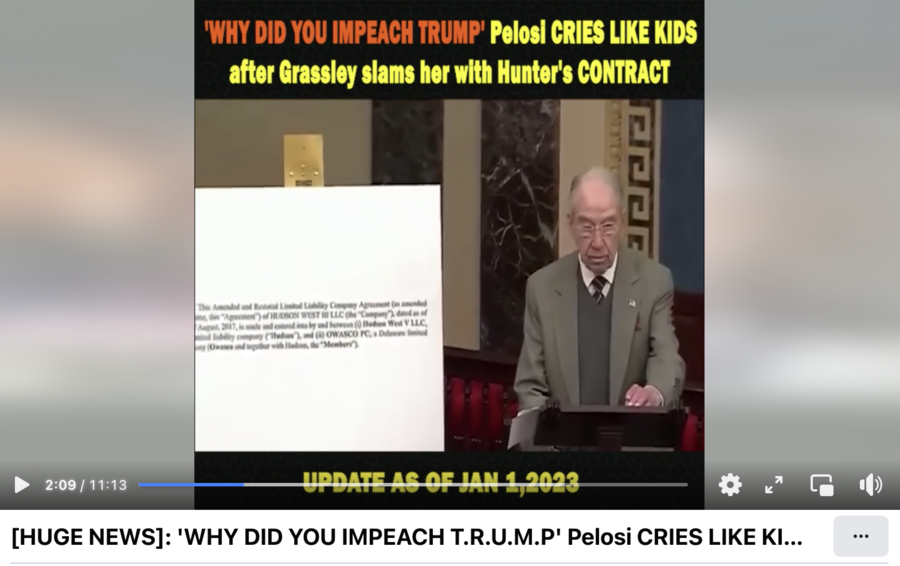 (Source: Facebook screenshot taken on Wed Jan 4 16:06:31 2023 UTC)
The video's caption does not match the footage.
The footage of Grassley's speech to the Senate is from March 29, 2022. In it, he outlines allegations tying the family of President Joe Biden to the Chinese government. Grassley's full comments can be read here.
He makes no mention of Pelosi and she does not appear anywhere in the video. Grassley also makes no reference to former President Donald Trump, nor does he ask "Why did you impeach Trump?"
The video's caption, divorced from the video's content, appears to be clickbait meant to draw attention to a Facebook page.
Lead Stories has published debunks of similar clickbait posts about Republican Sen. Ted Cruz of Texas here, here, and here. These posts make misleading claims in the titles and captions that are not in the content of the videos posted on Facebook. Lead Stories also has reported on an international spam network that creates such videos and provided tips for how to identify these posts.