STORY UPDATED: check for updates below.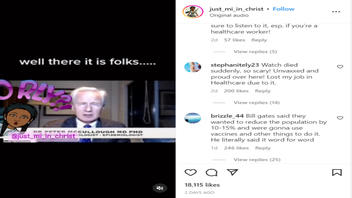 Has the Centers for Disease Control and Prevention (CDC) recorded more than 16,000 people who have died within a few days of taking the COVID-19 vaccine where the deaths were proven to have been caused by the vaccine? No, that's not true: Only nine deaths of some 18,500 preliminary reports of death have been causally associated with vaccination for coronavirus. The larger number had been reported through January 4, 2023, via the Vaccine Adverse Event Reporting System (VAERS) among people who received a COVID-19 vaccine but this does not automatically mean there is a causal relationship.
The claim appeared in a post and video on Instagram published on January 7, 2023, under the title "well there it is folks....." The 32-second video clip used in the post is from The Dennis Michael Lynch Podcast. In an audio-only version of the show, the quote from Dr. Peter McCullough begins with about 17 minutes 11 seconds left in the program. He says::
I'm going to be very clear about this -- and I recently just testified in the U.S. Senate December 7th, 2022, the vaccine is killing people and it's killing large numbers of people. ...

Our CDC, as of December 23rd, 2022, has over 16,000 Americans that have died within a few days of taking the vaccine. Now, that's probably a gross under-report.
This is what the post looked like on Instagram at the time of writing: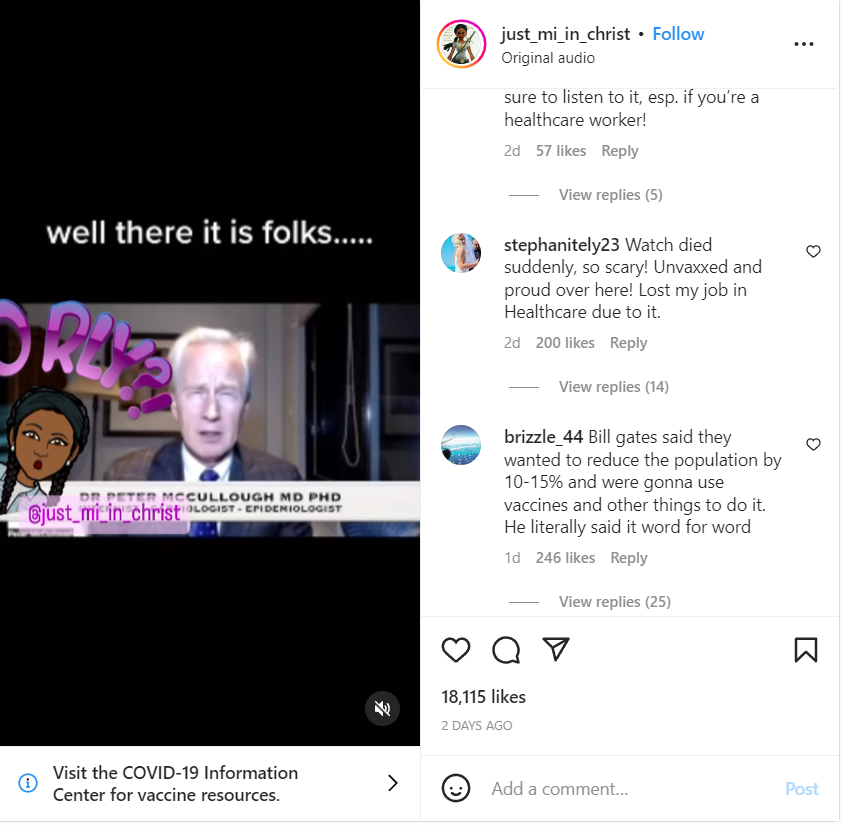 (Source: Instagram screenshot taken on Mon Jan 9 21:36:15 2023 UTC)
The CDC website says reports of death after COVID-19 vaccination are a tiny fraction of the total shots given:
FDA requires healthcare providers to report any death after COVID-19 vaccination to VAERS, even if it's unclear whether the vaccine was the cause. Reports of adverse events to VAERS following vaccination, including deaths, do not necessarily mean that a vaccine caused a health problem. More than 665 million doses of COVID-19 vaccines were administered in the United States from December 14, 2020, through January 4, 2023. During this time, VAERS received 18,533 preliminary reports of death (0.0028%) among people who received a COVID-19 vaccine. CDC and FDA clinicians review reports of death to VAERS including death certificates, autopsy, and medical records. Continued monitoring has identified nine deaths causally associated with J&J/Janssen COVID-19 vaccination. CDC and FDA continue to review reports of death following COVID-19 vaccination and update information as it becomes available.
VAERS data
VAERS, which the CDC co-sponsors with the Food and Drug Administration (FDA), operates as a crude early warning system and not as a database for the quantification of specific outcomes following vaccination.
Anyone with internet access can add a report to the VAERS list of reports. The public access link to it expressly warns against unwarranted conclusions based on VAERS material because the list only provides a tally of unverified notes about any health event people experience after they are vaccinated.
The list itself cannot be used to prove or quantify, since all it shows is a chronological correlation, not the causal link that would be more difficult to establish. It's the equivalent of a police precinct's running "blotter" reports that may serve as a starting point for police work, not an endpoint.
Dr. Peter McCullough
McCullough, a Texas cardiologist and COVID vaccine skeptic, has been criticized for discouraging vaccination by referencing events recorded in VAERS and by promoting the drug ivermectin as a treatment, despite FDA and CDC warnings that it is an unproven treatment that should not be taken for COVID outside of a clinical trial.
McCullough's claim in the video clip of testifying in the U.S. Senate is an exaggeration. He did take part in a roundtable discussion on "COVID-19 Vaccine Efficacy and Safety" in the Russell Senate Office Building near the Capitol on December 7, 2022, but it was at an informal gathering organized by a U.S. Senator.
He was formerly associated with Baylor Scott & White Health, which filed for a restraining order in September 2021 to prevent him from continuing to bolster his claims by citing his association with Baylor.
Additional Lead Stories fact checks of claims about COVID-19 vaccination can be found here. Additional stories about McCullough can be found here.
2023-01-10T09:59:20Z

2023-01-10T09:59:20Z

Updated the headline to make it clearer no causal relationship has been reported, only a temporal one.