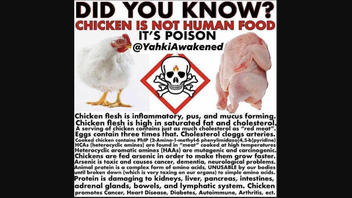 Is chicken "poison" and not fit for human consumption? No, that's not true: There is no evidence that chicken meat is poisonous. The Food and Drug Administration (FDA), the U.S. Department of Agriculture (USDA) and the National Institutes of Health (NIH) all write on their websites that chicken is fine to eat and in no way poisonous to the human body.
The claim appeared in a post on Instagram on January 16, 2023, with the on-screen text "DID YOU KNOW? CHICKEN IS NOT HUMAN FOOD IT'S POISON." The caption opened:
A Chicken 🐓 Is Not A Real Animal❗️I Repeat A 🐔 Was Created By Man & Not By The Our Creator‼️
This is what the post looked like at the time of writing: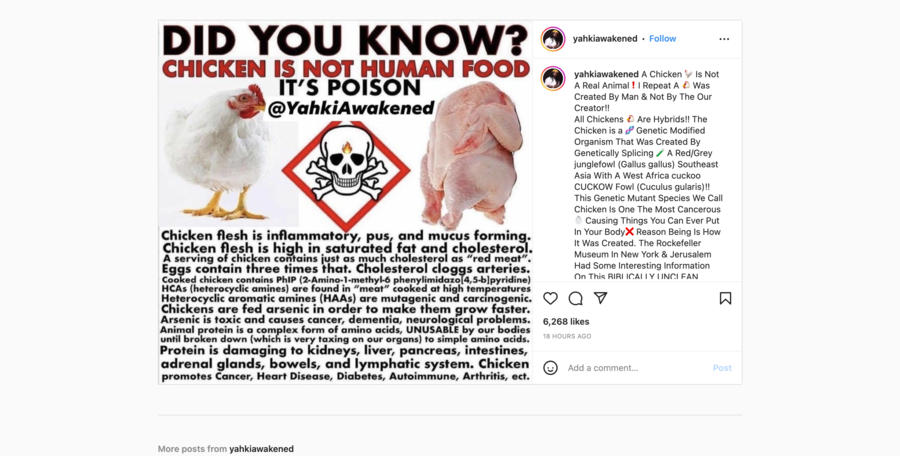 (Source: Instagram screenshot taken on Tue Jan 17 15:23:18 2023 UTC)
The Instagram post has no links that would support its claims about chickens and chicken meat.
Lead Stories reached out to Lynne McLandsborough, head of the department of food science at the University of Massachusetts Amherst in Amherst, Massachusetts, for comment on the claim. She responded in a January 18, 2023, email:
Chicken is not poisonous. It is a protein-rich food that is rich in B vitamins needed for the human diet.
The USDA's Food Safety and Inspection Service (FSIS) FAQ page details its placement of new pathogen control and testing requirements on all poultry facilities.
One claim is that arsenic is fed to chickens to make them grow faster. The FDA debunked that claim. The last arsenic-based animal drug ceased to be used before the 2016 growing season.
Another claim in the post is that one serving of chicken contains just as much cholesterol as red meat. In an American Heart Association article titled, "Picking Healthy Proteins," the Association said, "In general, red meats ... have more saturated fat than skinless chicken, fish and plant proteins. Saturated fats can raise your blood cholesterol and increase your risk of heart disease."
Two other claims go hand-in-hand. One is that cooked chicken contains PhIP. The other is that PhIP is a heterocyclic amine (HCA) found in meat cooked at high temperatures. The post doesn't say why it's worrisome that HCAs are found in meat cooked using high heat.
The National Institutes of Health (NIH) writes that HCAs have been found in lab experiments to cause changes to DNA that may increase the risk of cancer. However, studies with people have not established a definitive link between HCA in cooked meats and cancer in humans. Exposure to HCAs did cause cancer in animals, but those animals were exposed to extremely high doses, equal to thousands of times the dose that a normal person would consume in an average diet.
More Lead Stories fact checks debunking claims about food products are here and here.