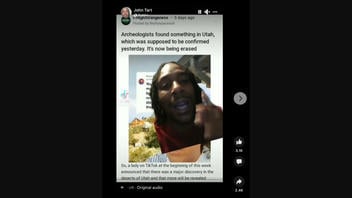 Was a Black Egyptian mummy found in Great Salt Lake, Utah? No, that's not true: Archaeologists found 88 human footprints that scientists estimate are 12,000 years old in the alkali flats on the Utah Test and Training Range, a Department of Defense facility used for testing weapons. At the time of writing, there is no evidence that a Black Egyptian mummy was discovered in Utah.
The claim appeared in a Facebook reel posted on December 26, 2022. It opened with a man in front of a screenshot of a Reddit post. The man opens the video with:
Now everybody, I found the video where they literally erased it yesterday.
This is what the post looked like on Facebook at the time of writing: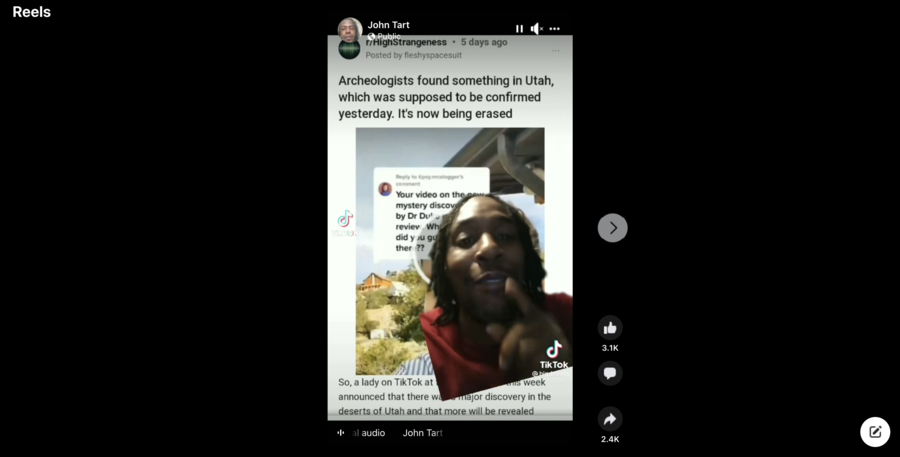 (Source: Facebook screenshot taken on Tue Jan 3 15:35:06 2023 UTC)
He continues the video by saying that an unspecified "they" would move the mummy from the United States to Egypt, and say they found the mummy there. The first man then disappears and the paused video that was behind him starts playing. A woman starts talking about how the 12,000-year-old mummy found in Utah is "100% true." The name Daron Duke is mentioned briefly before the video ends.
The Air Force Life Cycle Management Center's public affairs office published a press release on July 26, 2022, about a discovery made in Utah that included Daron Duke. Duke is the principal investigator for Far Western Anthropological Research Group, which is subcontracted through the U.S. Department of Energy's research center, Argonne National Laboratory. It is the only press release on their website that includes both Utah and Duke. The press release's first paragraph reads:
HILL AIR FORCE BASE, Utah -- Archaeologists working for the Air Force this month have discovered 88 human footprints preserved in the alkali flats on the Utah Test and Training Range that they believe date to more than 12,000 years ago.
These footprints are from the Pleistocene age and complement discoveries of stone tools and burnt bird bones made in 2016, the release says. The 2016 and 2022 sites are located half a mile from each other in a wetland scientists call "Old River Bed Delta." There is no mention of a mummy in this press release.
Lead Stories has contacted Duke and will update this article if a response is received.
More Lead Stories fact checks about ancient Egypt are here and here.