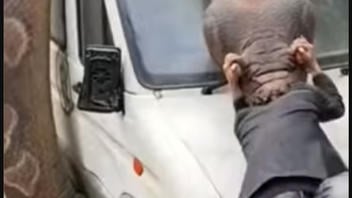 Is a video showing two people trying to help a man break free from the grasp of a giant python that has swallowed his entire head real? No, that's not true: This giant snake wrapped around a white Iveco van is not real, but a novelty prop installed at Zhongnan Baicao Garden, an amusement park and zoo in Huzhou, China.
The snake appears in an outdoor installation near another giant fabricated snake, large log and some fantastically large eggs. Several videos have appeared online showing people play-acting with the giant prop snake. Some have a dubbed audiotrack of the sounds of people yelling in distress. Other images and videos show that the snake is clearly fake and people passing by are not concerned about it.
The video was posted as a reel by the Facebook page "Laugh Factory worldwide" on January 16, 2023. It was captioned:
Unbelievable in 2023 #unseen #2023春婚 #united
Laugh Factory worldwide Original Audio
This is how the post appeared at the time of writing: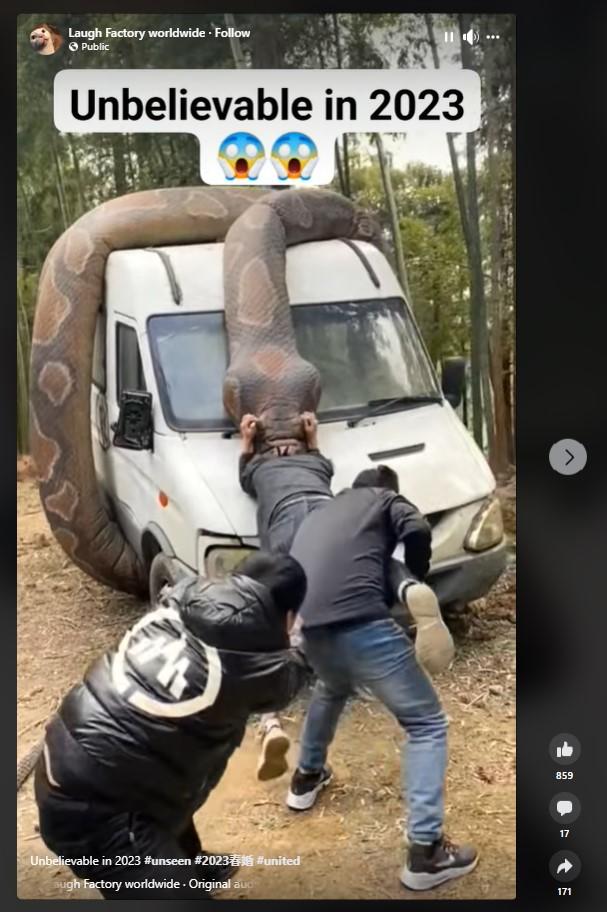 (Image source: Facebook screenshot taken on Mon Jan 30 20:18:55 2023 UTC)
This is not the first time a video of a skit incorporating this giant prop snake has appeared online. Snopes published a debunk of one video on February 17, 2022, and fact checkers at MyGoPen.com in Taiwan debunked another video filmed at this location on May 24, 2022. The MyGoPen fact check also included links to videos (here and here) posted on Instagram in November 2021 by naturelife_ok. The captions on the naturelife_ok posts indicate that the pictured snake is art, for example:
Not real art in zoo
Follow @mastmahi09
How well done art in zoo
Follow 👉@naturelife_ok
#reels #feelitreelit #feelkaroreelkaro #exploring #explore #foryou #forest #zoo #snake #animallife #animals #naturelifeok #dangerous #naturelovers #turism #zoo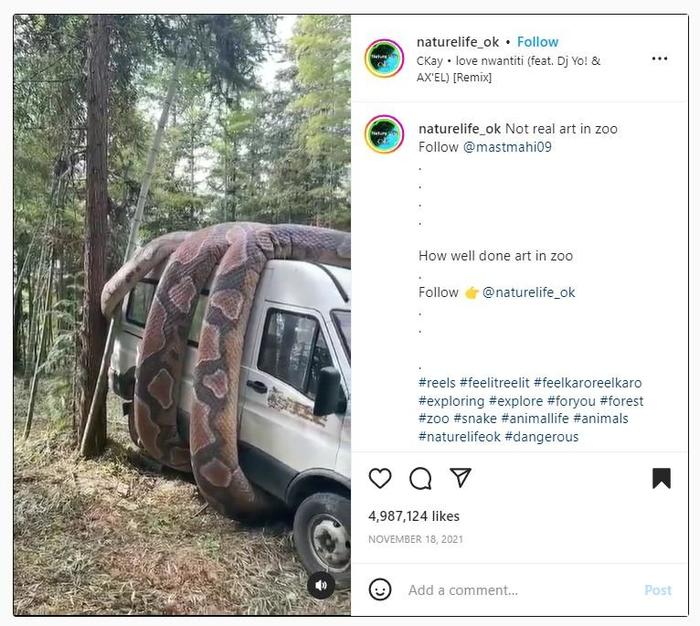 (Image source: Instagram screenshot taken on Mon Jan 30 21:12:20 2023 UTC)
A family travel tips video posted on January 17, 2023, to douyin.com (the Chinese version of TikTok) shows a woman pushing a baby stroller past the giant snake installation and pausing for a moment (at 10 seconds in) to playfully make a frightened pose (pictured below). The video shows many other scenes at the park including amusement park rides, zoo animal exhibits and performing shows. Part of the caption (translated using Google Translate) identifies the park as Baicao Garden.
Let me remind everyone: Baicao Garden is very, very large, and the road is more friendly to strollers. There will be some uphill and downhill. Personally, I think the route design is a bit convoluted, much like visiting IKEA [Tears Ben], it is recommended to prepare enough food, Prepare carrots and cabbage in advance. It is enough to take the baby family to visit the zoo and amusement park. We spent a total of four hours in these two places without taking a car. You can refer to the itinerary