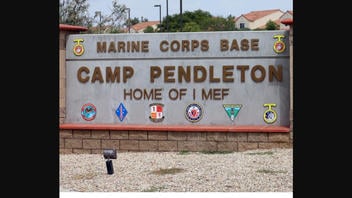 Did FBI agents "clash" with U.S. Marine Corps guards at Camp Pendleton in California? No, that's not true: There is no evidence that such a "clash" happened. Real Raw News, which originated the claim, has a history of writing false stories. A disclaimer on their site notes that the website contains "humor, parody, and satire."
The claim appeared in an article published by Real Raw News on January 27, 2023, titled "Marines and Corrupt FBI Clash at Camp Pendleton" (archived here), which opened:
U.S. Marines nearly got into a blazing firefight with corrupt federal agents Thursday afternoon when four FBI desperados arrived at Camp Pendleton's gates claiming to have arrest warrants for two Marines who had peacefully visited the Capitol on January 6.
Users on social media only saw this title, description and thumbnail:
The FBI did arrest three Marines for allegedly being involved in the Capitol riot on January 6, 2021, with those arrests receiving wide news coverage. According to The Associated Press, Micah Coomer, Joshua Abate and Dodge Dale Hellonen were arrested after their fellow Marines identified them in footage taken during the Capitol riot.
The Real Raw News article claimed that following those arrests, FBI agents went to Camp Pendleton to arrest two more Marines who had breached the Capitol on January 6. No names were given by Real Raw News for those supposed Marines.
A Google News search of "Camp Pendleton FBI" came back with zero results.
When Lead Stories contacted the FBI, the agency responded in a January 30, 2023, email only by referring us to the Department of Justice website. There was no mention on that site of a "clash" between FBI agents and Marines at Camp Pendleton.
We have contacted the U.S. Attorney's Office for the District of Columbia, where the Capitol riot occurred, and Camp Pendleton. We will update this article if we receive a relevant response.
Real Raw News
Real Raw News is a website that consistently publishes made-up stories about U.S. politics. The well-written English and news-style layout of the website make it look like a legitimate news source, so it often fools people into believing the stories are real. Screenshots and copies of the stories regularly turn up on other websites or on social media where they are presented as real.
It bills itself as "humor, parody and satire" on the "about" page (archived here):
Disclaimer:

Information on this website is for informational and educational and entertainment purposes. This website contains humor, parody, and satire. We have included this disclaimer for our protection, on the advice on legal counsel.
The same "about" page claims the main author is a man named Michael Baxter. In 2021 a PolitiFact article (archived here) identified the writer as a "Michael Tuffin" in Texas based on records found in a GoFundMe campaign set up to support the site.
NewsGuard, a tool that provides credibility ratings for websites, published a five-page PDF report (archived here) in 2021 describing realrawnews.com as, "An anonymously run website that has published baseless and debunked conspiracies about COVID-19 and U.S. politics." It cautioned that the website severely violates basic journalistic standards."
Lead Stories has covered claims published by Real Raw News in the past. Previous Lead Stories debunks of Real Raw News items are collected here.