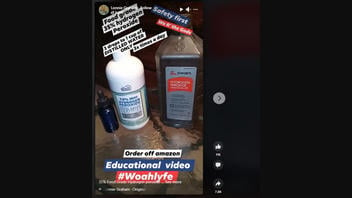 Will adding three drops of food-grade hydrogen peroxide to one cup of water help with AIDS and herpes? No, that's not true: There is no scientific evidence supporting the benefits of hydrogen peroxide for AIDS or herpes infection; one expert told Lead Stories such claims are "complete and dangerous nonsense." Despite its name, food-grade hydrogen peroxide should never be ingested -- it is used to disinfect and bleach food products. Hydrogen peroxide in any form is for external purposes only and can cause serious internal bruising, illness, and death if consumed.
The claim originated in a video shared on Facebook on December 31, 2022, that suggests "food grade certified" hydrogen peroxide can help treat AIDS and herpes infections. A text overlay reads, "food-grade 35% hydrogen peroxide 3 drops to 1 cup of DISTILLED WATER ONLY 3x times a day" while a voice narrator claimed that this combination could treat or alleviate the symptoms of AIDS and herpes:
What it [food-grade hydrogen peroxide] does is bring oxygen to things that have been dead; toenails, brain, cures -- it helps with herpes, AIDS -- I mean, it's curing stuff.
Here is how the post appeared at the time of this writing: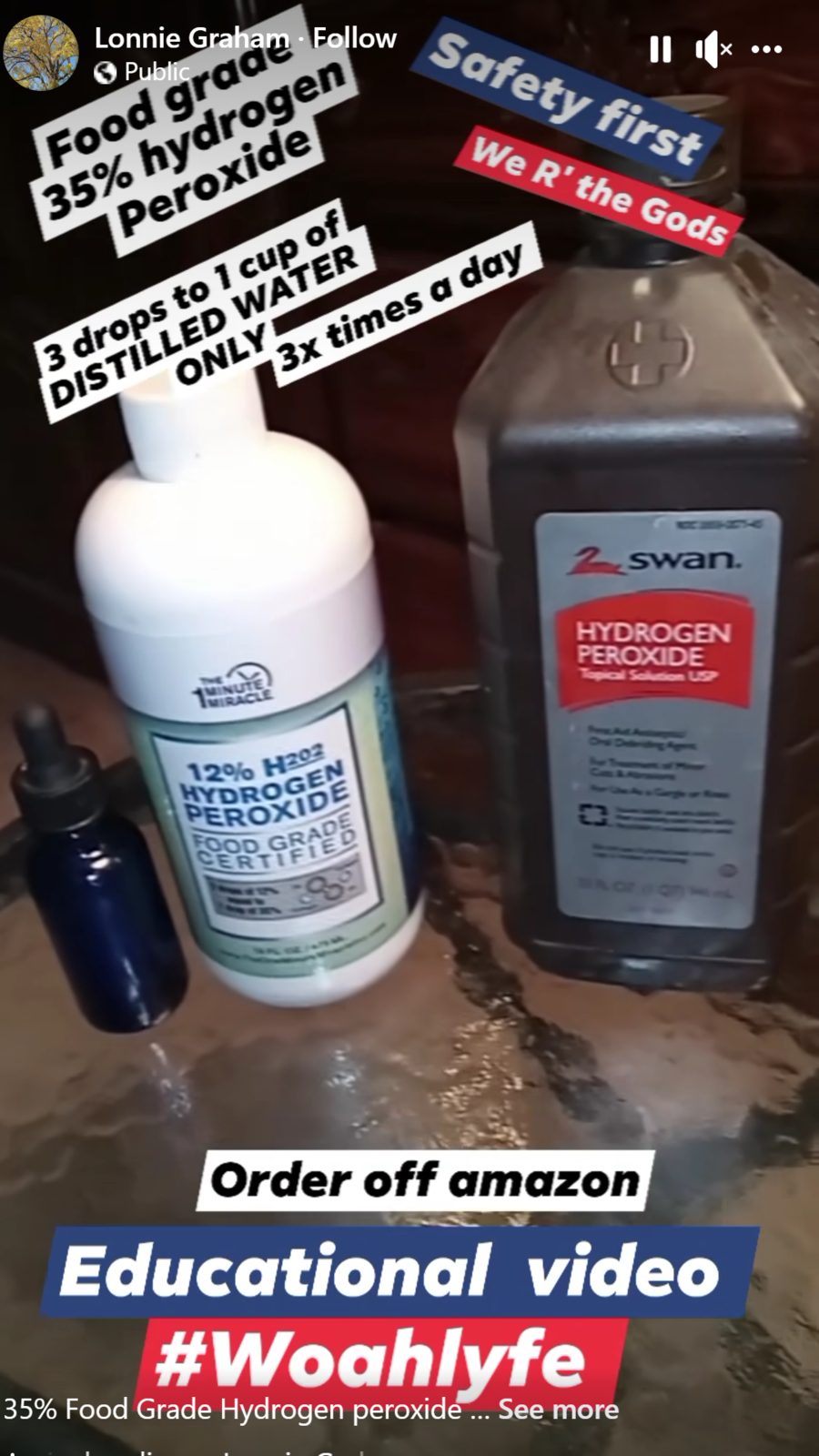 (Source: Facebook screenshot taken Wed Jan. 10, 17:13:00 2022 UTC)
Hydrogen peroxide is a first-aid antiseptic for external use only that should never be ingested under any circumstances, experts warn. Dr. Benhur Lee, a professor of microbiology at the Icahn School of Medicine at New York-based Mount Sinai Health System, said in an email to Lead Stories on January 11, 2023, that this claim is "complete and dangerous nonsense."
It belongs in the same category as drinking bleach to cure COVID-19. Hydrogen Peroxide is an external disinfectant for small surface wounds. 'Food grade Hydrogen Peroxide' simply means a lower concentration than what is used for wound cleaning; it is used to clean fruits and vegetables. It is NOT meant to be ingested. ...

Even 'food grade hydrogen peroxide' has warnings stating that it can be toxic if ingested or inhaled. The strong oxidant can cause significant damage to mucosal surfaces (throat, esophagus, etc) if ingested in high amounts. Hydrogen Peroxide is also NOT meant to be absorbed into the blood system and will kill a person before it kills anything in the bloodstream.
There is no evidence to suggest that hydrogen peroxide is beneficial in the treatment of AIDS or herpes. The Food and Drug Administration (FDA) warned consumers in 1989 against hydrogen peroxide products illegally promoted to treat AIDS and cancer, which resulted in the death of at least one person and injured several others.
Poison Control -- the National Capital Poison Center -- writes that "serious problems can occur when a large amount -- more than the sip or two you'd expect someone to drink by accident -- is swallowed, or if the percentage of hydrogen peroxide in the product is high.
This includes "food grade" hydrogen peroxide:
Food grade" hydrogen peroxide is 35%. Despite its name, 'food grade' hydrogen peroxide should never be taken internally - it can cause serious internal burns if swallowed.
The Facebook video did not include a link to the product, which is on the website The One Minute Miracle, Inc. While the site doesn't provide directions for how to use the hydrogen peroxide product, it does warn:
The FDA warns consumers against drinking high-strength hydrogen peroxide for medicinal use, as side effects include serious health risks and death if not consumed in proper doses. The statements and products on this website have not been reviewed or approved by the FDA and are not meant to diagnose or cure any disease or illness.
Lead Stories contacted the FDA to determine if the agency has issued warnings or otherwise flagged The One Minute Miracle, Inc. regarding its labeling of products. We will update this article accordingly.
Hydrogen peroxide is water (H2O) with an extra oxygen molecule (H2O2) that oxidizes to kill germs, writes the Cleveland Clinic. Oxidization does not "bring oxygen to things that have been dead" as the social media video suggests.
In low concentrations, hydrogen peroxide can be used as a mouth rinse or teeth whitener, but should not be ingested. Medical-grade peroxide is 3 percent strength, meaning it is 97 percent water and 3 percent peroxide. Food-grade peroxide, which is used in the food industry for processing and bleaching certain foods, is more highly concentrated, up to 35 percent. Food-grade peroxide can be toxic if it is inhaled, ingested or comes into contact with skin.
In 2006, the FDA warned consumers against buying or using high-strength hydrogen peroxide products, including products marketed as "35 Percent Food Grade Hydrogen Peroxide" like the product featured in the social media video. These products can cause "serious harm or death when ingested," the agency warned. The FDA added in a news release at the time:
FDA has never approved high-strength hydrogen peroxide to be taken internally and considers hydrogen peroxide at 35 percent strength dangerous, even if handled according to the manufacturer's directions. This high-strength hydrogen peroxide -- more than 10 times stronger than the solution used in over-the-counter drugs to disinfect minor cuts -- is highly corrosive. Ingesting hydrogen peroxide can cause gastrointestinal irritation or ulceration. Intravenous (IV) administration of hydrogen peroxide can cause inflammation of the blood vessel at the injection site, gas embolisms (bubbles in blood vessels), and potentially life-threatening allergic reactions.