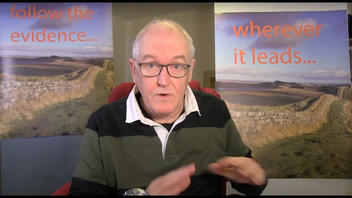 Did the incidence of the heart conditions myocarditis and pericarditis increase nearly eightfold in the English town of Swindon after the introduction of the COVID-19 vaccine? No, that's not true: The numbers, which were released through a Freedom of Information Act (FOIA) request, were initially misreported by the Great Western Hospitals NHS Foundation Trust due to an Excel spreadsheet "formula error." The corrected numbers were a small fraction of what was originally reported.
The claim appeared in a video on YouTube (archived here) by John Campbell that he recorded on January 6, 2023, under the title "Swindon data." The description for the video includes this information:
Totals for inflammatory heart disease [myocarditis and pericarditis]

2019 3,151 (baseline)

2020 12,267 (x 3.8)

(December 2020, UK covid vaccinations start)

2021 18,963 (x 6)

2022 24,642 (x 7.8)
This is what the video looked like on YouTube at the time of writing: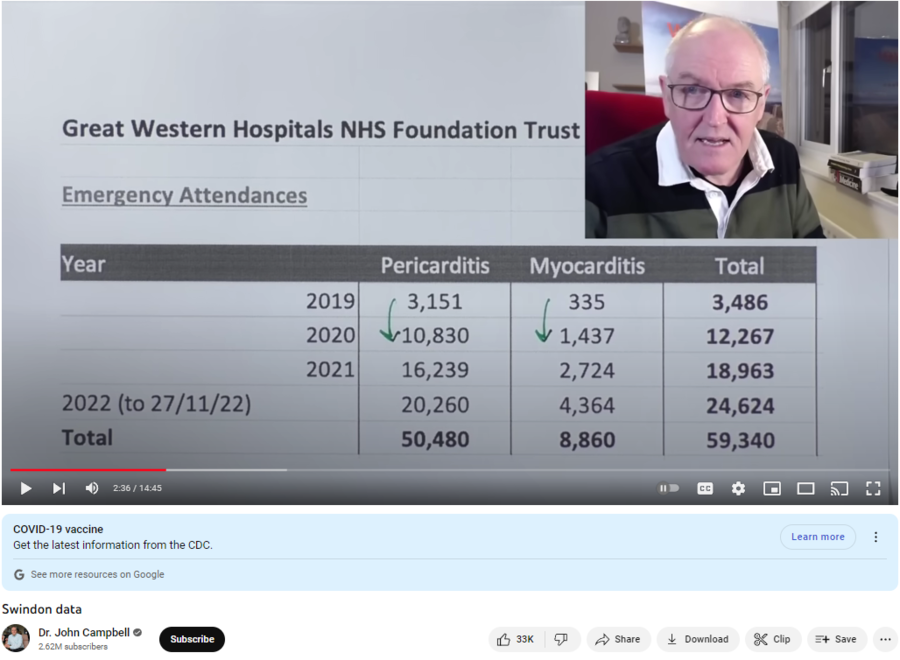 (Source: YouTube video screenshot taken on Mon Jan 9 17:26:00 2023 UTC)
The original numbers can be found in a spreadsheet released on November 30, 2022, by the Trust (which is part of the National Health Service, the publicly funded health care system in England) in its FOIA response to a request by Shaun King. The image below matches Campbell's figures from his YouTube video and its description: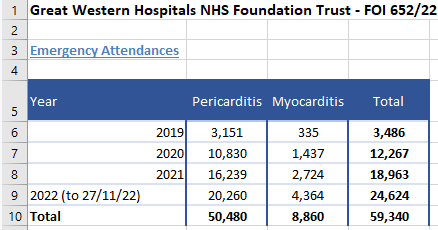 (Source: Spreadsheet screenshot taken on Mon Jan 9 17:45:10 2023 UTC)
A day after the initial video from Campbell, the Trust issued a revision with a new spreadsheet showing the corrected numbers. This is what the Trust's response said:
Good Afternoon Shaun

Further to our response to this request which was provided on 30th November 2022, an error has been found in the figures that were originally provided in relation to ED attendances for Myocarditis and Pericarditis. This was a formula error that occurred during the process of simplifying the data into a pivot table. The value that was displayed was the sum total of a numeric value within the raw data, specifically a row count, as the years progressed the row count increased meaning the sum was greater. The value displayed should have been a count and not a sum.

I have provided the correct information in attached spreadsheet. Please accept my sincere apologies for this. Please be assured that this was a genuine error and that we have implemented an additional checking process for requests that ask for statistical information in the future.

Best Regards
Carole Sheppard
Freedom of Information Team
Great Western Hospitals NHS Foundation Trust
Here are the revised numbers as they appear in the updated spreadsheet from the Trust: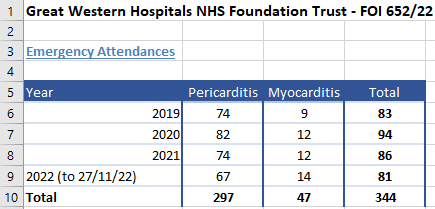 (Source: Spreadsheet screenshot taken on Mon Jan 9 18:10:23 2023 UTC)
The updated numbers are a small fraction of what was found in the original spreadsheet and do not show an increase in the two heart conditions. On January 7, 2023, Campbell published a new video on YouTube (archived here), noting the revised numbers. However, he did not pull down the original video with the incorrect information.
John Campbell
Campbell is a popular YouTube host with more than 2.6 million subscribers to his channel. Campbell is not a physician but a retired emergency department nurse. According to the About section of his YouTube channel, his Ph.D. "focused on the development of open learning resources for nurses nationally and internationally." Since starting his channel in 2007, he has posted thousands of videos on a variety of medical topics but has focused primarily on COVID since the start of the pandemic, promoting unproven treatments like ivermectin, spreading misleading death statistics minimizing the number of victims and misinterpreting data about vaccine safety.
The About page (archived here) on Campbell's YouTube channel features a disclaimer that states:
These media including videos, book, e book, articles, podcasts are not peer-reviewed. They should never replace individual clinical judgement from your own health care provider. No media-based material on this channel is suitable for using as professional medical advice. All comments are also for educational purposed only and must never replace advice from your own health care provider.
Additional Lead Stories fact checks of claims about COVID-19 vaccination can be found here.