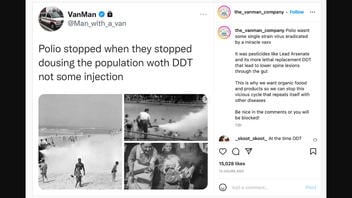 Did the end of the use of dichlorodiphenyltrichloroethane (DDT), not the polio vaccine, cause the sharp drop in polio cases? No, that's not true: Polio is an infectious disease caused by the poliovirus -- not DDT. Thanks to the vaccine, cases have dropped by 99 percent, according to health and medical experts.
The claim appeared in an Instagram post on January 22, 2023. The post included images of DDT use and read, in part:
Polio stopped when they stopped dousing the population woth DDT not some injection
This is what the post looked like on Instagram at the time of writing: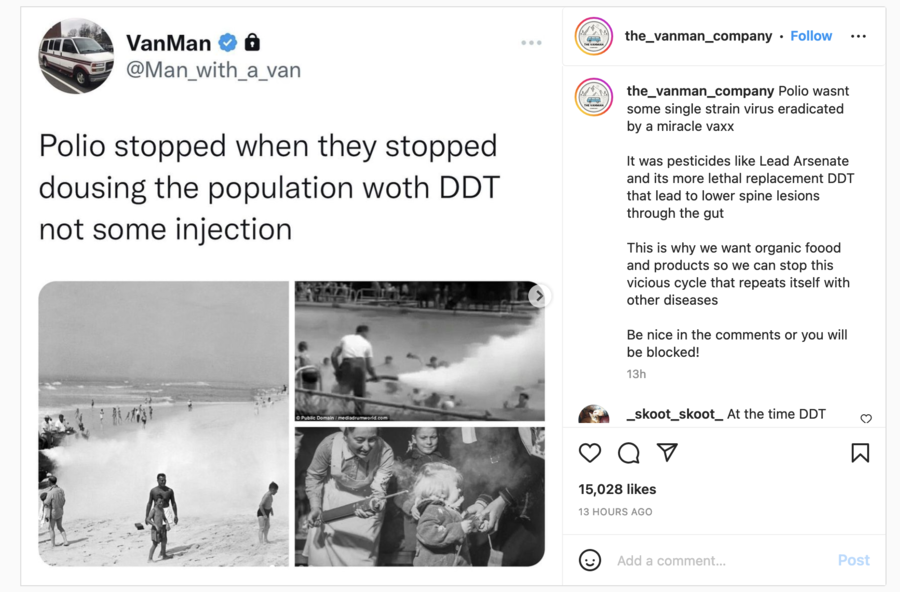 (Source: Instagram screenshot taken on Mon Jan 23 11:22:18 2023 UTC)
The post continued:
Polio wasnt some single strain virus eradicated by a miracle vaxx
It was pesticides like Lead Arsenate and its more lethal replacement DDT that lead to lower spine lesions through the gut
This is why we want organic foood and products so we can stop this vicious cycle that repeats itself with other diseases
It provided no evidence to substantiate its claim, which is widely contradicted by health and medical professionals.
Polio is an infectious disease caused by the poliovirus -- not DDT. According to the Centers for Disease Control and Prevention (CDC), the virus can infect a person's spinal cord, leading to paralysis. There is no known cure, but the polio vaccine can prevent polio. It is recommended as part of routine childhood immunization.
Thanks to widespread vaccination campaigns, polio cases have dropped by 99 percent since the late 1980s, the Johns Hopkins Bloomberg School of Public Health reports. The World Health Organization (WHO) similarly credits the vaccine with reducing the disease by more than 99 percent and with preventing more than 13 million cases of polio since 2000.
Significantly, polio has existed since prehistoric times. By contrast, DDT was not synthesized until 1874 and its effectiveness as an insecticide was not known until 1939, according to the U.S. Environmental Protection Agency (EPA). It was banned in the United States in 1972 because of its many known health risks, including vomiting, seizures and impacts on reproduction and the liver.
But, again, polio is not one of those risks.
Polio is caused by a virus and the vaccine -- not the end of DDT use -- is what's responsible for the massive drop in cases.