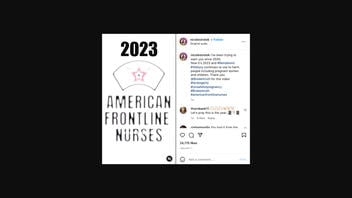 Does remdesivir, sold under the brand name Veklury, cause death? No, that's not true: Remdesivir is approved by the Food and Drug Administration (FDA) to treat coronavirus disease. It's prescribed for people who are hospitalized with COVID-19 or are in a high-risk category, such as the elderly or people suffering from autoimmune diseases. It has been rigorously tested in the most scientific way, according to a principal investigator in the federal government's 2020 clinical trial of drugs that could treat the coronavirus.
The claim appeared in a video on Instagram on January 1, 2023. The video's caption opened:
I've been trying to warn you since 2020.

Now it's 2023 and #Remdesivir#Veklury continues to use to harm people including pregnant women and children. Thank you

@Brokentruth for this video
#teratogenic
#Unsafeforpregnancy
#Brokentruth
#americanfrontlinenurses
This is what the post looked like at the time of the writing of this fact check: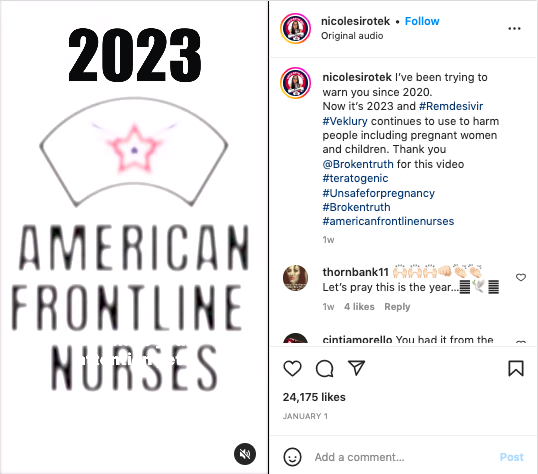 (Source: Instagram screenshot taken on Thurs Jan 12 14:29:26 2022 UTC)
The post is by Nicole Sirotek, the executive editor and founder of American Frontline Nurses. Sirotek has the same post pinned to her Twitter account.
American Frontline Nurses says its objective is:
to educate, equip and empower nurses, patients, and families to advocate for their healthcare and receive safe, equitable, and appropriate care.
Its website also has a disclaimer at the bottom of the home page:
Disclaimer: This website does not provide medical advice.

This information, including but not limited to, text, graphics, images, and other material contained on this website for informational purposes only. No material on this site is intended to be a substitute for professional medical advice, diagnosis, or treatment. Always seek the advice of your physician or another qualified healthcare provider with any questions you may have regarding a medical condition or treatment and before undertaking a new healthcare regimen, and never disregard professional medical advice or delay in seeking it because of something you have read on this website.
Sirotek does not offer any evidence in this video post to substantiate the claim that remdesivir is killing people.
The video concludes with a shot of a child who apparently has had some kind of brain surgery, but the video does not connect that child's condition to COVID or remdesivir.
Then, the video closes with on-screen text saying "Remdesivir and Veklury are poison." This claim is also not based on any evidence.
Dr. Andre Kalil, who was a principal investigator

in the federal government's clinical trial of drugs that may treat the coronavirus in 2020

, is an epidemiologist, a practicing physician and a professor in the Department of Internal Medicine in the Division of Infectious Diseases at the University of Nebraska Medical Center. He
responded to Lead Stories via emailed on January 13, 2023:
Remdesivir is an antiviral treatment that was evaluated in over 10,000 patients hospitalized due to COVID-19 in multiple randomized controlled trials, the most rigorous scientific way to discover safe and effective medical treatments. ...
Hospitalized patients due to COVID-19 have shown the following clinical benefits from remdesivir: faster time to recovery, shorter hospitalization duration, cuts down the need for intubation and mechanical ventilation (a life-threatening situation that requires an artificial breathing tube and a ventilator machine for breathing), and reduces mortality compared to hospitalized patients who did not receive it. Also, remdesivir has shown no more side effects than placebo in double-blind randomized studies. ...
Based on these results remdesivir is a safe and beneficial treatment that is currently an integral part of the standard of care of patients with COVID-19 - approved and authorized for use by the FDA.
The FDA wrote in a press release that it approved the drug in October 2020
for use in adult and pediatric patients 12 years of age and older and weighing at least 40 kilograms (about 88 pounds) for the treatment of COVID-19 requiring hospitalization. Veklury should only be administered in a hospital or in a healthcare setting capable of providing acute care comparable to inpatient hospital care. Veklury is the first treatment for COVID-19 to receive FDA approval.
In January 2022, the FDA announced the expansion of its use to certain non-hospitalized adults and pediatric patients for the treatment of mild-to-moderate COVID-19 disease:
This provides another treatment option to reduce the risk of hospitalization in high-risk patients. Previously, the use of Veklury was limited to patients requiring hospitalization.
This recent abstract of a study published on Nature.com on January 3, 2023, reports a substantially lower risk of hospitalization or death from COVID-19 in those non-hospitalized patients who used Remdesivir to treat the virus.
Remdesivir (RDV) ... has demonstrated clinical benefit in COVID-19 patients hospitalized with moderate-to-severe disease. A recent phase 3 clinical trial in non-hospitalized patients with COVID-19 who were at high risk of severe disease further demonstrated that a 3-day course of RDV resulted in an 87% lower risk of hospitalization or death compared to placebo ... Overall, the findings suggest that RDV treatment may accelerate the improvement of multiple biomarkers of COVID-19 severity, which are associated with better clinical outcomes during infection.
Additional Lead Stories fact checks of claims about COVID-19 can be found here.