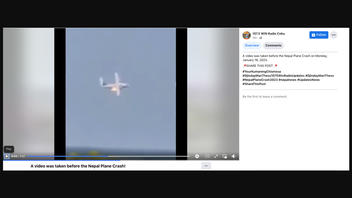 Was this video taken just before the deadly Yeti Airlines plane crash in Nepal on January 15, 2023? No, that's not true: The post's video, showing a plane on fire and then crashing, is of a Russian military transport plane prototype that crashed outside the city of Moscow in October 2021.
The claim appeared in a post (archived here) on Facebook on January 17, 2023, under the title "A video was taken before the Nepal Plane Crash on Monday, January 16, 2023."
It opened:
A video was taken before the Nepal Plane Crash on Monday, January 16, 2023.

SHARE THIS POST
This is what the post looked like on Facebook at the time of writing: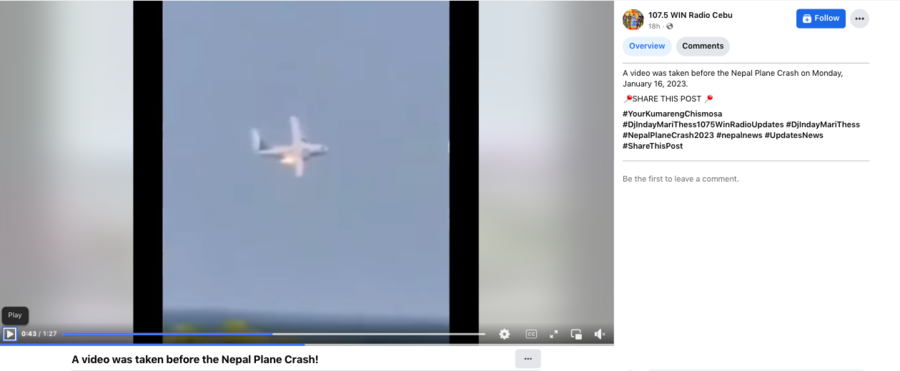 (Source: Facebook screenshot taken on Tue Jan 17 17:58:09 2023 UTC)
The domestic flight of Yeti airlines crashed near the city of Pokhara in Nepal on January 15, 2023, not on January 16, 2023, as this claim says. Officials believe all 72 people on board were killed, and the crash was Nepal's worst plane disaster in more than 30 years.
The first 1:02 of the one-minute, 27-second video from the post on Facebook shows a plane flying, catching fire, banking in a turn and crashing with a fiery cloud erupting on impact. It is not from the Yeti airline crash. It is a blown-up video that matches this video on the Moscow Times news site published on August 17, 2021, and the images also match a series of still images in this Associated Press article published on August 17, 2021.
According to The Associated Press:
A Russian prototype military transport plane crashed while performing a test flight outside Moscow on Tuesday, killing all three crew members on board, Russia's United Aircraft Corporation said.

The new light military transport plane, Il-112V, crashed in a forested area as it was coming in for a landing at the Kubinka airfield 45 kilometers (28 miles) west of Moscow, the corporation told the Tass news agency.

Two test pilots and a flight engineer were aboard the plane, and none survived, the corporation said.
The rest of the video in the post on Facebook after the 1:02 mark appears to be of wreckage after a plane crash but there is no explanation of when or where that crash occurred.
Lead Stories fact checks of claims about other plane crashes can be found here.