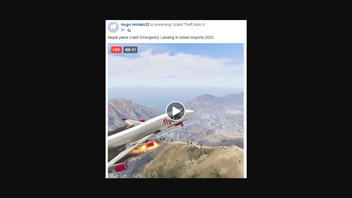 Does this video accurately show a plane crash or emergency? And might it even be live ? No, that's not true: This footage is not real. It is a computer-generated video from a popular video game named Grand Theft Auto V that is often used to generate long videos of airplane "emergencies", "crashes" or "emergency landings", sometimes with the purpose of keeping people watching for long stretches of time in order to boost the algorithmic popularity of certain pages or channels on social media.
An example of such a video appeared on Facebook on January 17, 2023 in a post captioned:
Nepal plane crash Emergency Landing in Indian Airports 2023
This is what the post looked like at the time of writing: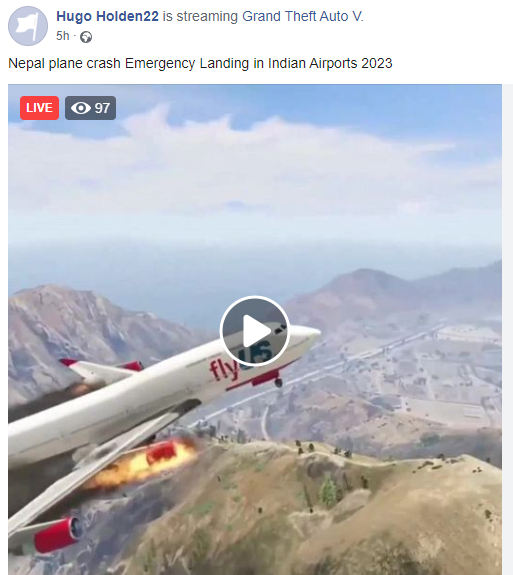 (Image source: Facebook screenshot taken on Tue Jan 17 16:54:51 2023 UTC)
This eight-hour, 10-second video does not display actual footage of an airplane making a dangerous emergency landing or crashing. It is clearly fake as it depicts a computer-generated scene, showing the plane maneuvering in impossible ways without damaging the plane or the surrounding area. At no point in the video does the aircraft actually land or crash.
Above the caption, it is stated that the Facebook account owner, Hugo Holden22, was "streaming Grand Theft Auto V." The Grand Theft Auto V YouTube account's description page says:
Grand Theft Auto V is a 2013 action-adventure game developed by Rockstar North and published by Rockstar Games. It is the seventh main entry in the Grand Theft Auto series, following 2008's Grand Theft Auto IV, and the fifteenth instalment overall. Set within the fictional state of San Andreas, based on Southern California, the single-player story follows three protagonists--retired bank robber Michael De Santa, street gangster Franklin Clinton, and drug dealer and gunrunner Trevor Philips--and their attempts to commit heists while under pressure from a corrupt government agency and powerful criminals. The open world design lets players freely roam San Andreas' open countryside and the fictional city of Los Santos, based on Los Angeles.
This video game also allows players to fly planes that appear to be on fire realistically, have smoking engines and crash.
An example of this was similarly depicted in a March 2, 2020, YouTube video titled "GTA V: FlyUS Jet Best Extreme Longer Crash and Fail Compilation." It displayed the same animated "flyUS" plane, which appeared to be smoking at one point in the video.
Hugo Holden22's Facebook account transparency page states that they are a "Gaming video creator."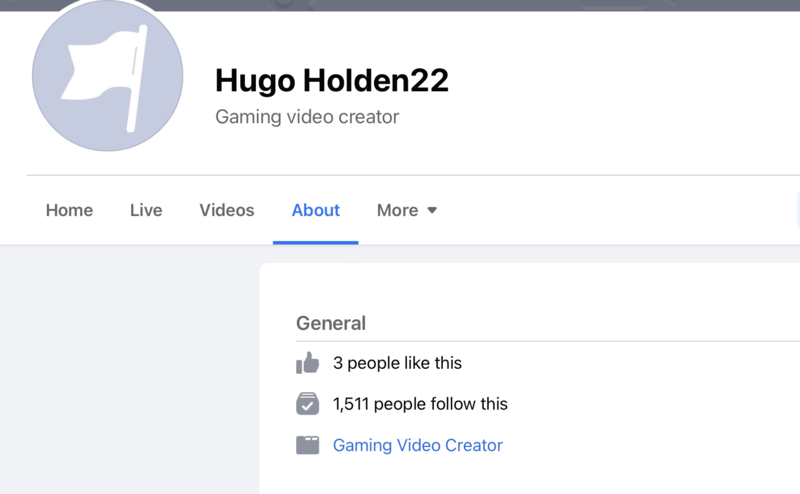 (Image source: Facebook screenshot taken on Tue Jan 17 17:30:51 2023 UTC)
A January 17, 2023, Google News search using the keywords "Nepal plane crash Emergency Landing in Indian Airports 2023" produced no results that would indicate any emergency landings actually took place in India the relevant time period. There was an actual plane crash in Nepal in January 2023 but it is unrelated to this footage.
Other Lead Stories fact checks about flight simulation videos can be found here.