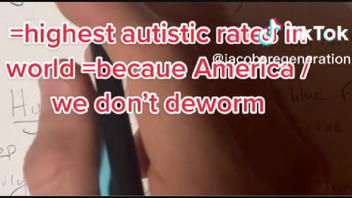 Do worms cause autism? No, that's not true: An expert told Lead Stories that there is "no scientific evidence" that supports the claim, made in a video on TikTok, that worms cause autism. There is no definitively known cause of Autism Spectrum Disorder, as of the publication of this fact check. Research has shown only that there are genetic and environmental influences that may cause the disorder. No known cause exists, the Centers for Disease Control and Prevention and other experts say.
The claim appeared in a video (archived here) on TikTok on December 20, 2022. The video opens with a voice saying:


This is how to make the blood clean, using hyssop, and how to create a healthy amount of white and red blood cells in the body, according to Psalms.
At the video's bottom, the first of many text overlays states:
Moses gives instructions on how to use Hyssop for one who is unclean due to touching a dead body. Numbers 19

This is what the post looked like on TikTok at the time of writing: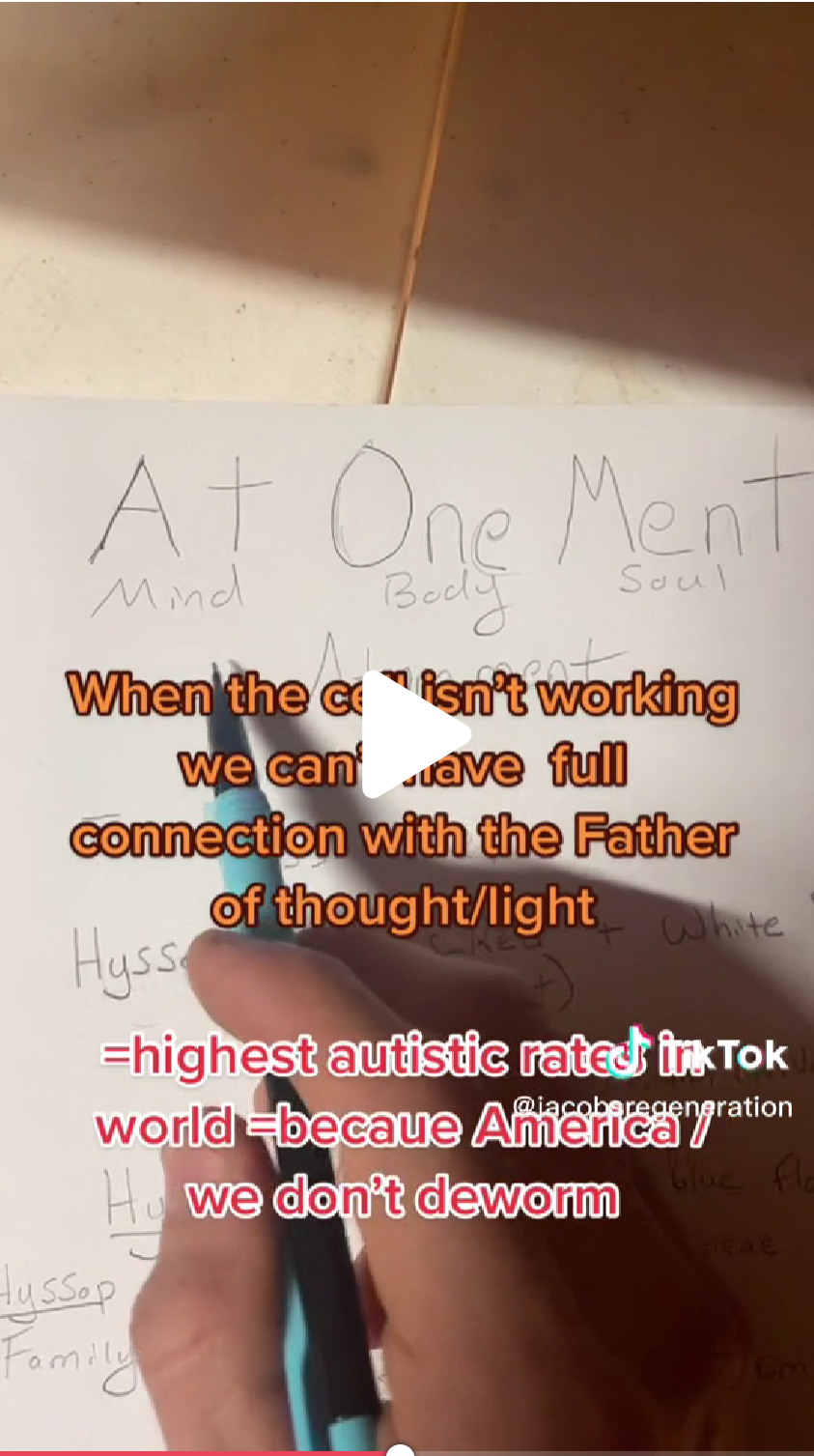 (Source: TikTok screenshot taken on Thurs Jan 26 16:44:11 2023 UTC)
The 3-minute-plus video has a narrator who talks about various biblical references to blood health, parasites and worms. At the 1:27 mark in the video, the text at the bottom of the screen reads, "America =Only country that doesn't deworm twice a year." At the 1:31 mark, the text at the bottom reads, "=highest autistic rate in the world =becaue America/we don't deworm." This is the claim this fact check addresses.
Dr. Sunil Mehta, a Minnesota psychiatrist who focuses on neurodevelopmental disorders, with an emphasis on Autism Spectrum Disorder, told Lead Stories via email on January 25, 2023, that autism is a neurodevelopmental disorder that likely begins before birth. Mehta said the claim about "deworming" is not true:
There is no scientific evidence that an acute infection by a worm, parasite, or any other pathogen causes Autism. There is also no evidence that taking anti-parasitic, anti-fungal, antibiotic, or antiviral medication cures or mitigates symptoms of Autism.
At 1:17 in the video, another text overlay reads, "3.5 billion people have the parasites and 1/3 of the world has T Gandhi parasite = Crazy cat lady disease/syndrome." Mehta told Lead Stories he believed that refers to the parasite "Toxoplasma gondii." There have been a number of research studies examining the link between maternal or prenatal toxoplasmosis and the risk of autism, he said:
For decades, we have known that Toxoplasma infection during pregnancy increases risk for neurodevelopmental disorders in the children, including Autism. However, more recent studies (including a medium sized cohort study from California and a large population based study from Finland) have suggested that the risk of Autism is more associated with the mom's immune response to the Toxoplasma rather than the parasite itself.
The Centers for Disease Control and Prevention (CDC) states that autism's cause remains unknown:
Autism spectrum disorder (ASD) is a developmental disability caused by differences in the brain. Some people with ASD have a known difference, such as a genetic condition. Other causes are not yet known. Scientists believe there are multiple causes of ASD that act together to change the most common ways people develop. We still have much to learn about these causes and how they impact people with ASD.
The CDC also notes that "[d]iagnosing ASD can be difficult since there is no medical test, like a blood test, to diagnose the disorder."

Contrary to the video's claim about deworming, the CDC writes on an information page about treatments for the disorder that, "There are no medications that treat the core symptoms of ASD."
A section on the page that addresses "Complementary and Alternative Treatments" advises medical consultation before trying such treatments:
Complementary and alternative treatments are often used to supplement more traditional approaches. They might include special diets, herbal supplements, chiropractic care, animal therapy, arts therapy, mindfulness, or relaxation therapies. Individuals and families should always talk to their doctor before starting a complementary and alternative treatment.
In a warning about "Potentially Dangerous Products and Therapies that Claim to Treat Autism," the Food and Drug Administration, which monitors botanical drugs, stresses on its website that "there is no cure for autism."