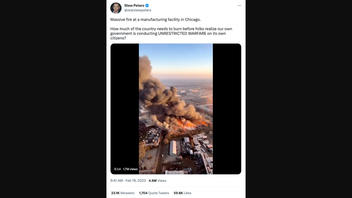 Was there an uptick in industrial fires in the U.S. in early 2023, indicating that the country is "under attack"? No, that's not true: Annually, there are between 2,600 and 3,100 structure fires in industrial properties in the U.S., according to 2016-2020 data from the National Fire Protection Association (NFPA), a U.S.-based international fire safety nonprofit. When compared with data from previous years, these figures "reflect no evidence of an increase in industrial property fires in the U.S.,"a NFPA spokesperson told Lead Stories.
The claim originated in a post on Twitter (archived here) on February 19, 2023, that read:
Massive fire at a manufacturing facility in Chicago.

How much of the country needs to burn before folks realize our own government is conducting UNRESTRICTED WARFARE on its own citizens?

This is how the post appeared at the time of the writing of this fact check: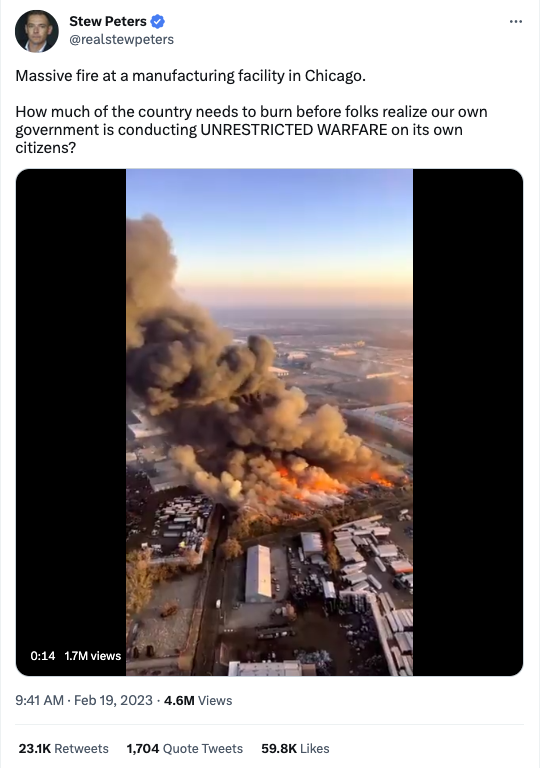 (Source: Twitter screenshot taken Wed Feb 22 22:53:57 UTC 2023)
Other posts on social media referred to industrial fires in other locations, including Brooklyn, New York, and Medley, Florida, to echo the notion that a supposed increase in nonresidential fires means that the government is conducting "unrestricted warfare on its own citizens."
NFPA: Industrial fires average between 2,600 and 3,100 annually
However, the NFPA rejects this claim. "These numbers reflect no evidence of an increase in industrial property fires in the U.S.," NFPA communications manager Susan McKelvey told Lead Stories in an email received on February 22, 2023.
NFPA data shows that roughly 2,600 to 3,100 industrial structure fires -- fires that occur at an industrial facility -- occurred annually in the U.S. between 2016 and 2020, the most recent data available. On average, that equals eight industrial structure fires daily, though the day-to-day rate can fluctuate, McKelvey said.
The NFPA table below shows the average number of industrial structure fires in the U.S. between 2016 and 2020: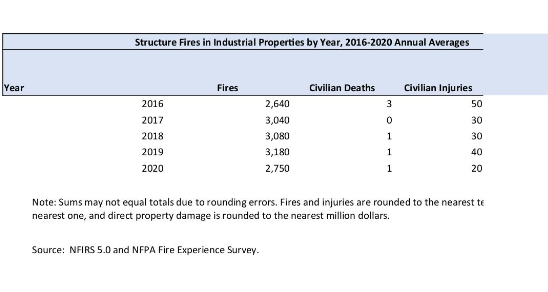 (Source: NFPA)
Trends align with non-residential structure fire data over last decade
Industrial fires are included in the NFPA's "non-residential" structure fire category, which includes all fires that occurred outside of a residence. Data from 2011 to 2021 shows non-residential structure fires in the U.S. have fluctuated -- a phenomenon that is not exclusive to the early months of 2023.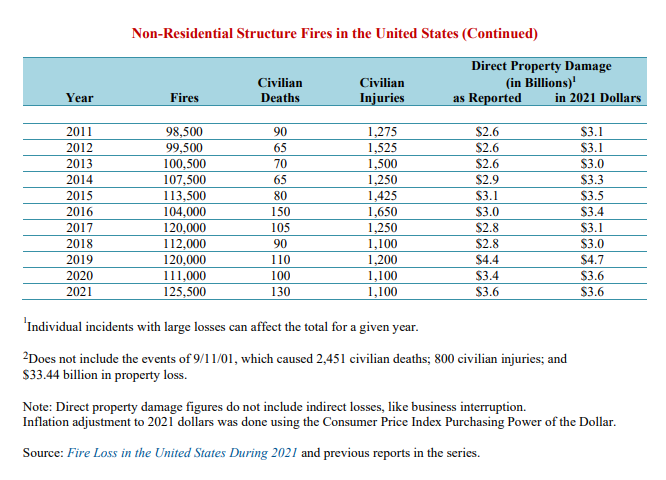 (Source: NFPA)
The figures above correspond to data provided by the Federal Emergency Management Agency's (FEMA's) U.S. Fire Administration. Those numbers show that an estimated 103,400 "nonresidential" building fires took place within the U.S. in 2020. Overall, FEMA estimates that such fires increased by 22 percent between 2011 and 2020: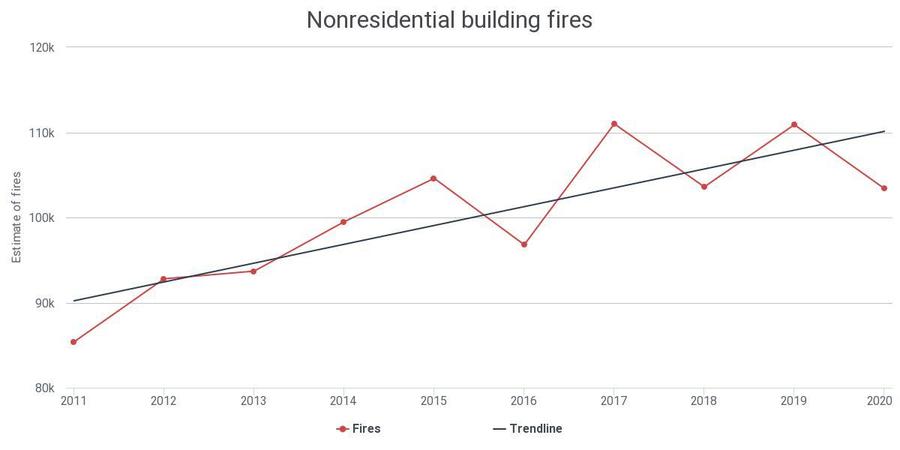 (Source: FEMA)
When looking at overall trends, however, the NFPA reports that the total number of fire incidents in 2021 was less than half the amount reported in 1980. This chart indicates an overall decrease in all types of fires in the U.S. over the last four decades: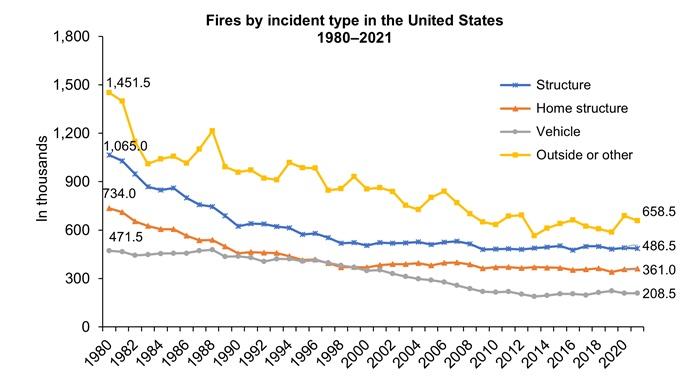 (Source: NFPA)
Lead Stories previously debunked claims that fires at food processing plants in the U.S. were part of plots to take over the world or to cause a food shortage.