STORY UPDATED: check for updates below.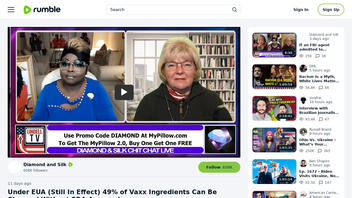 Can 49 percent of COVID-19 vaccine ingredients produced under emergency use authorization (EUA) be changed without telling the Food and Drug Administration (FDA)? No, that's not true: Even very small changes to a vaccine must be reported to the regulatory agency. A member of the FDA's vaccine advisory panel said such a notion about vaccines could only come from "someone who has no idea the way the FDA works."
The claim appeared in a video (archived here) published to Rumble on February 10, 2023, titled "Under EUA (Still In Effect) 49% of Vaxx Ingredients Can Be Changed Without FDA Approval." The video's description says:
Under The Emergency Use Authorization That Is Still In Effect 49 percent Of Ingredients In The Vaxx Can Be Changed Without Telling The FDA

Dr. Tenpenny Talks about How the COVID Jab Kills on Chit Chat
This is what the post looked like on Rumble at the time of writing: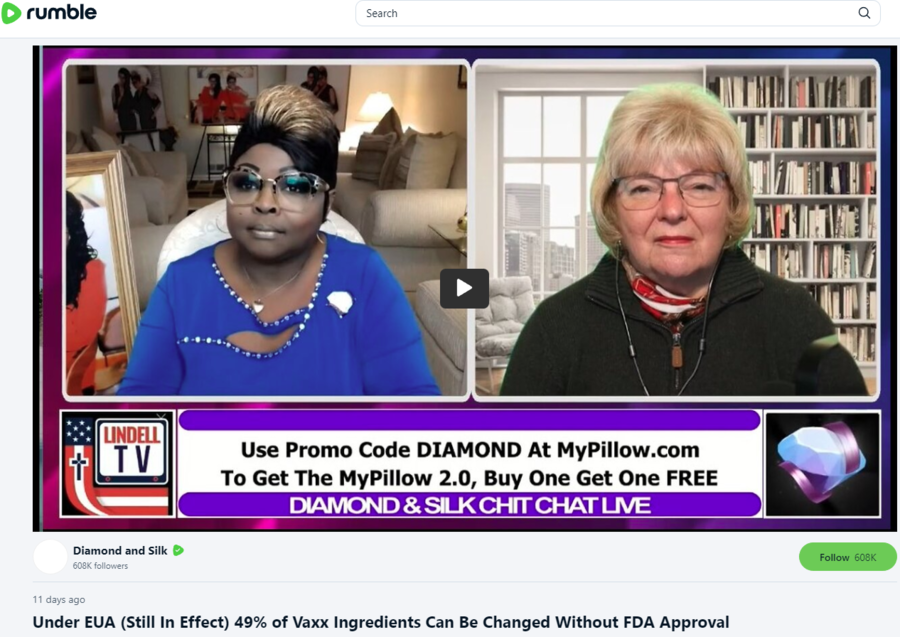 (Source: Rumble screenshot taken on Wed Feb 22 16:50:18 2023 UTC)
About 48 seconds into the two-minute clip, Dr. Sherri Tenpenny makes her claim. She says:
Because this is still manufactured under the EUA, under the emergency use [authorization], they can change up to 49 percent of the ingredients in any individual lot run of those shots and not have to tell the FDA.
She provides no evidence to support her claim.
Tenpenny is a controversial osteopathic medical doctor and is known for making a string of false and misleading claims about COVID and COVID vaccines, which can be found in other fact checks by Lead Stories.
The clip posted to Rumble is an excerpt from a nearly hourlong show, "Diamond & Silk Chit Chat Live," posted February 7, 2023, on the Frank Speech website. That clip begins at about the 18:27 mark in the longer video.
The same claim also appears in this Instagram post: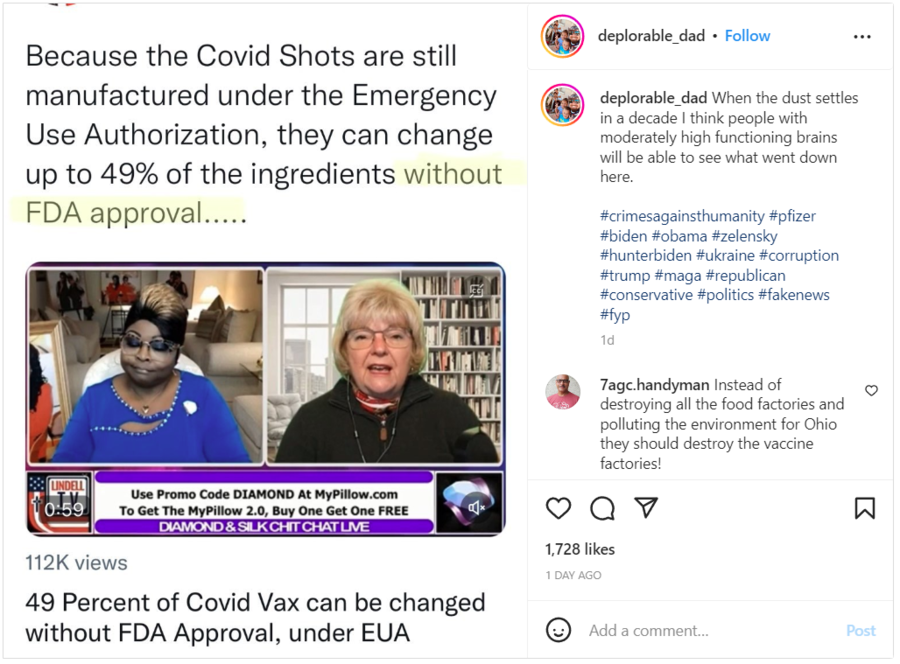 (Source: Instagram screenshot taken on Wed Feb 22 17:23:07 2023 UTC)
Vaccines advisory committee
In a February 22, 2023, phone interview with Lead Stories, Dr. Paul Offit, director of the Vaccine Education Center at the Children's Hospital of Philadelphia and a member of the FDA's Vaccines and Related Biological Products Advisory Committee, called the claim by Tenpenny "utter nonsense." He said there's no way a vaccine manufacturer could change 49 percent of the ingredients without telling the FDA:
The FDA is a regulatory agency. Nothing is going to be used unless the FDA says that a product can get out there. That's the only way it gets out there. So, believe me, they don't make big changes without telling the FDA. ...

Even a trivial change. ... Any change that you make is essentially a new product and it's treated like a new product. ...

The notion that you would change, whatever, 49 percent of the ingredients or you could change 49 percent of the ingredients and that's all OK. You change 1 percent of the ingredients and it's a new product.
Offit said that means the lengthy EUA approval process would begin all over again.
Food and Drug Administration
In a February 24, 2023, email to Lead Stories, FDA press officer Abby Capobianco provided a statement from the federal agency, which said the claim is "completely false." The FDA's response continues:
No changes can be made to ... COVID-19 vaccines used under Emergency Use Authorization (EUA) without prior evaluation and authorization from FDA.

FDA's guidance, Emergency Use Authorization for Vaccines to Prevent COVID-19, includes information regarding manufacturing of authorized vaccines (see section VI.B., Chemistry, Manufacturing and Controls). In addition, the letter of authorization for each vaccine includes specific language about the manufacturer's responsibilities regarding any manufacturing changes (section III. Conditions of Authorization, part H - "No changes will be implemented to the description of the product, manufacturing process, facilities, or equipment without notification to and concurrence by the Agency.").
Centers for Disease Control and Prevention and vaccine makers
Four COVID vaccines are approved or authorized in the United States, the Centers for Disease Control and Prevention (CDC) website says:
Pfizer-BioNTech
Moderna
Novavax
Johnson & Johnson's Janssen (J&J/Janssen) (CDC recommends that the J&J/Janssen COVID-19 vaccine only be considered in certain situations, due to safety concerns.)
In addition to being wrong about changes that can be made to vaccines under EUA, Tenpenny is also incorrect when she suggests all COVID vaccines are still being manufactured under that designation. They're not. Both the original Pfizer and Moderna COVID vaccines have full FDA approval. The Pfizer and Moderna bivalent boosters are being produced under EUA.
Pfizer media relations provided this response to Tenpenny's claim in a February 22, 2023, email to Lead Stories:
The EUA is still in effect other than the approved primary series (which is not the updated bivalent booster). The vaccine cannot be altered or changed without a regulator's approval.
In a separate February 22, 2023, email, a representative of Johnson & Johnson provided a statement from the company to Lead Stories. In part, it says:
Since EUA was granted, the Company has not updated its COVID-19 vaccine or changed the ingredients. We are focused on supplying the COVID-19 vaccine where people are in need. For the most up-to-date information on the COVID-19 vaccine and to view the Fact Sheets, please visit https://www.janssencovid19vaccine.com/.
Additional Lead Stories fact checks of claims related to COVID-19 vaccines can be found here.
2023-02-24T23:16:15Z

2023-02-24T23:16:15Z

Add details and context from the U.S. Food and Drug Administration.