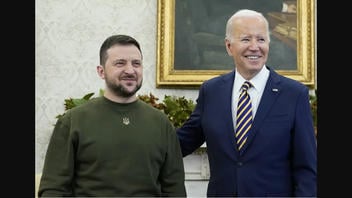 During his February 20, 2023, trip to Ukraine, did President Joe Biden promise Ukrainian President Volodymyr Zelenskyy a "stake in the United States" as a reward for "staying the course"? No, that's not true: This claim was published by a site known for printing fake news stories. The claim was part of an article with other debunked claims, including one about adrenochrome, which Lead Stories has previously reported is not obtained from frightened children and not used in rituals by the elite.
The claims appeared in a Real Raw News article (archived here) published on February 20, 2023. Titled "Biden Promises Zelenskky a 'Stake in the United States,'" the article opened:
Illegitimate President Joseph R. Biden has promised Volodymyr Zelenskyy 'a stake in the United States' as a reward for 'staying the course,' according to audio Russia's Federal Service Bureau (FSB) obtained shortly after Biden's fake Air Force One landed in Kyiv Monday morning. The unannounced 5-hour stopover took place immediately after the criminal president and his entourage visited Poland.
Users on social media saw this title, description and thumbnail:
The article continued:
While criminals Biden and Zelenskyy toured the gold-domed St. Michael's Cathedral, President Trump in Florida received an urgent call from none other than Vladimir Putin, who said undercover intelligence agents in Kyiv had recorded a 'dire' snippet of conversation that Trump had to hear at once, a Mar-a-Lago source told Real Raw News. On it, a man sounding like Biden said, 'You know, pal, if we win, you're getting a stake in the U.S. It's all about staying the course, and we'll do our part to make that happen,' to which Zelenskyy replied through a translator, 'I'd expect nothing less.'

In a second conversational fragment, Biden said, 'I've talked to [German Chancellor Olaf] Scholz and [French President Emmanuel] Macron. Any aid sent your way is yours to keep. Just don't forget to keep making that 'candy,' friend.'
The article alleged that "candy" is code for adrenochrome, which Real Raw News described as a "pharmaceutical amalgam of adrenal fluid siphoned from frightened children and synthetic opiates such as fentanyl and oxycodone and a staple product among Deep State elites who claim it extends life, invigorates the senses, and enhances sexual prowess."
Lead Stories contacted former President Donald Trump to ask about the claim that he received "an urgent call" from Russian President Vladimir Putin about the FSB's supposed audio recording of a Biden-Zelenskyy conversation. We will update this story, as appropriate, if we receive a response.
Lead Stories has previously debunked myths around adrenochrome, which we've reported is not obtained from frightened children and not used in rituals by the elite. We have also debunked the claim that Biden flies on a "fake Air Force One" because he is not really president. His Air Force One is authentic because he is really president.
Real Raw News is a website that regularly publishes made-up stories about U.S. politics that other websites or social media accounts present as real. However, the Real Raw News website includes a disclaimer that cautions readers not to take its content too seriously. Specifically, text in bold on its About Us page (archived here) cautions that the site "contains humor, parody, and satire":
Disclaimer:

Information on this website is for informational and educational and entertainment purposes. This website contains humor, parody, and satire. We have included this disclaimer for our protection, on the advice on legal counsel.
In 2021, NewsGuard, a watchdog that provides credibility ratings for websites, published a five-page PDF report (archived here) that decrescribed realrawnews.com as "an anonymously run website that has published baseless and debunked conspiracies about COVID-19 and U.S. politics." It cautioned that the website severely violates basic journalistic standards.
Previous Lead Stories fact checks of claims published by Real Raw News can be found here.