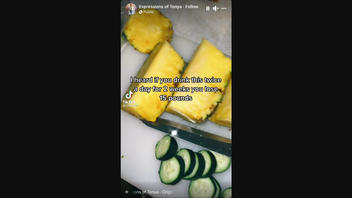 Will a juice made of cucumber, pineapple, ginger and lemon juice make a person lose 15 pounds if they drink it twice a day for two weeks? No, that's not true: A clinical dietician said if a person is eating/drinking other things also, they will "definitely not" lose 15 pounds in two weeks. And if a person is only drinking this concoction and nothing else, that is not safe and could lead to "electrolyte problems and muscle loss" from the lack of nutrients, they said.
The claim appeared in a Facebook reel published on January 19, 2023, that's a reposted TikTok. The video opens with the text-to-speech voice saying:
I heard if you drink this twice a day for 2 weeks you lose 15 pounds
This is what the post looked like on Facebook at the time of writing: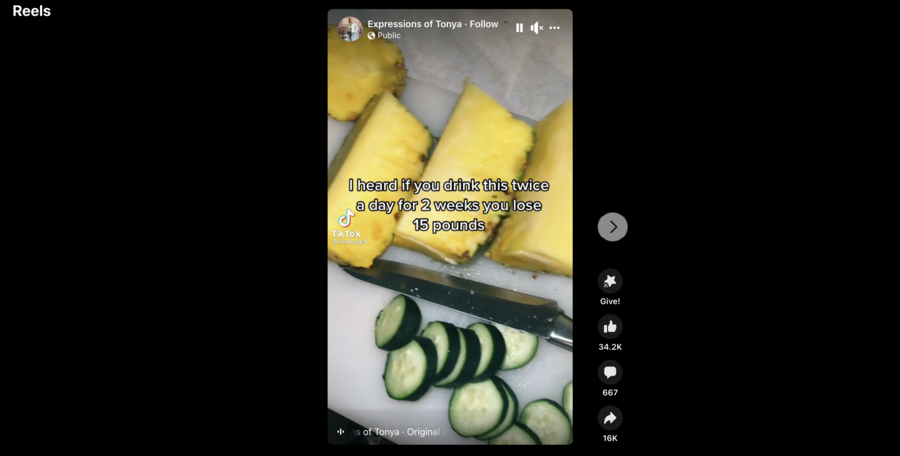 (Source: Facebook screenshot taken on Tue Feb 7 15:50:44 2023 UTC)
Someone adds and blends the ingredients on screen: one cucumber, pineapple, ginger, lemon juice and water.
Dana Hunnes, a senior clinical dietician at the Ronald Reagan UCLA Medical Center, responded to a similar juice claim for Lead Stories in July 2022. She told us in a July 20, 2022, email that cucumbers and pineapples are "gentle diuretics" that rid the body of sodium and water. She added, "It's unfortunately not a simple yes/no without more context and information, but the likely answer is no, unless it's the ONLY thing someone is taking in for a week." The rest of that fact check can be found here.
We contacted Hunnes again for this more recent claim and asked if she had anything else to add. She told us this in a February 7, 2023, email:
If that's the only calories they are taking in, yes [they can lose weight]. If it's in addition to normal food intake, definitely not. if it's the only food they are taking, that's not safe and could lead to electrolyte problems and muscle loss from lack of calories and protein.
Other Lead Stories fact checks about weight loss by juice can be found here, here and here.